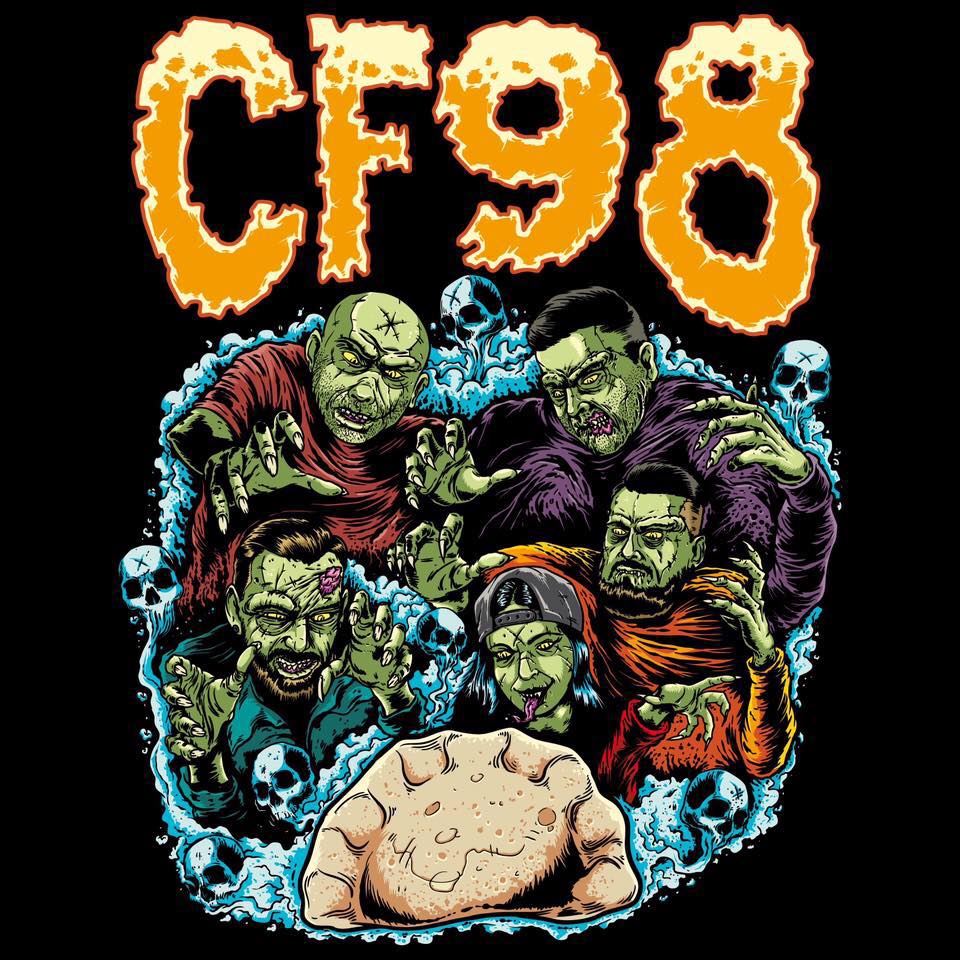 Skate Punk is a genre that has been very much ubiquitous and omnipresent since its initial drop down the halfpipe, populating the airwaves with some of the biggest names in the global Punk-Rock scene for over a generation. It's genre that in the past ten years has seen something of a resurgence after its cousin Melodic Hardcore had it's own and it's exactly where we find Kraków natives, CF98.
The band very much hold the genre in the centre of their sonic microcosm of a world, they have the poppier- sing-a-long melodic Punk and Pop-Punk to the one side and emotive-Melodic Hardcore ala Rise Against (to name but one seminal revivalist) on the other. The band majoritively cathartically release in English but they do have some song in their native tongue and they make no less of a punch.
The primary purpose of these introduction articles is to provide the basis for one, some or all of the people reading this to develop your on spin on the band. Starting with Enjoy (2005) the band's hard-edged, Easycore-esque, raspy, buzz-saw 90's Skate/Pop-Punk has aged really very well and and is an excellent starting point and not just because it's was their first real foray into music.
The Pop-sensibilities so prevalently seen on Enjoy were matured, refined and supplemented by the time of the 2008 second full-length and inventively (to say the very least) titled Tiny Drum, Apple Juice and A Virgin Island On The Magic Store. CF98 embrace Easycore more readily, increase the skill at which they tribute a more classic Pop-Punk sound while also taking a leaf from the very brass book of Goldfinger in a manner just enough and not at all over-encompassing, a mistake often seen with Pop-Punk bands emulating the horn-laden wing of the genre.
With this second release, nods towards the likes of the Descendents are seen in the likes of 'D.O.G' while bands such as New Found Glory and Four Years Strong are seen elsewhere.
2010 saw the band releasing the Polish language third album Nic Do Stracenia. CF98's ascension to greater comfortability and skill is obvious here. The Easycore breakdowns are harder, sharper and superior in production and when this stylistic isn't being flawlessly executed, the band burst their banks in the direction of a more emotive, still sharp but more driven melodic Punk direction seamlessly, see the eponymous 'Nic Do Stracenia'. Nic Do Stracenia admittedly doesn't flow quite as smoothly but due to the the actual changes in style being so well executed, this isn't too much of an issue on the band's most diverse album by this point in their career.
2013 saw the the aptly titled 13, another Polish language album, that is broodingly heavier from the first note. CF98 infuse their already multifaceted Punk sound with faster and more cumbersome Melodic Hardcore, Post-Hardcore and a confusing but notable nonetheless, slither of Hard Rock. By this point in their career, as you move through the band's chronological release history, their technical ability unambiguously shines through their development. In fact, stylistically speaking, this is a very different CF98 that although has released an album precarious when compared to their records up until this point, retains just enough of their collective identity and you can't help but respect them for such a move.
As you move through the thirteen years of CF98, it's entirely possible that you may well react the same way as myself and I don't mean type away for far longer than you planned to, rather marvel at the transition and transformation you see so bare in front of you. It is safe to say CF98 are an ambitious band and they absolutely garner respect throughout this little adventure.
The most recent incarnation of the moniker CF98 released Story Makers in 2017 and not only is it the band's best effort to date but it as you may have guessed, it changed direction once more. The band have seemingly tried their utmost to delve into as many of the distant branches and sapplings of the Punk tree as they can and have effectively, more or less, gone full-circle. Story Makers is a Melodic Hardcore-edged, Pop-Punk appreciating, melodic Punk championing Skate Punk album, the result of years of expertise and perfectly fitting into the contemporary scene.
I'm a firm believer that Skate Punk in particular is somewhat lacking in more inclusive line-ups and as much as it is admittedly on the up – in the Punk scene in general in fact – bands such as CF98 are very much championing this change.
On a final note, the band have recently re-released, refreshed and reinvigorated the track 'Buffalo's Eye' from their debut full-length, Enjoy, which you can find below along with all things CF98.