Without Love – Northern England, United Kingdom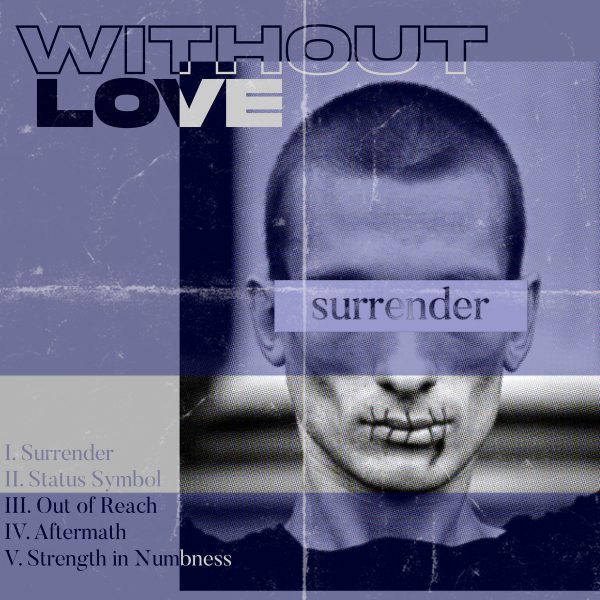 Without Love and Surrender are together a double-fold debut entering into a Hardcore scene experiencing a nuance on the "standard" but equally blasting odes to and expanding on previous eras simultaneously, resulting in an effervescent and expressive cathartic drive into the now. This is where Without Love enter, crashing through more than one stylised era but heavily rounding their sound to that of the seminal, influential and crucially contrasting melody underpinning early 2000s Hardcore Punk-Rock.
Without Love and Surrender, then, straight to it.
'Surrender' fervently soundtracks the raw, reverberating rebuttal of a bitten tongue and the ill, disappointing feeling following the sour victory of atrophied confidence. Without Love are indisputably tied to the aforementioned period in Hardcore history where Melodic Hardcore had perfected it's aggravated but streamlined delivery. A period where Hardcore fevour had learnt the from trailblazing Post-Hardcore and evocative straight-edge scenes, forming a barrage of melodic but certifiably "hardcore" Punk music leaving buried feelings in the antiquated dust. Both 'Surrender' and the following, guitar-notable and poignant societal observation of 'Status Symbol' epitomise this to the highest possible quality.
I wholeheartedly implore fans of the seminal Sinking Ships, Distral and much of the Safe Inside Records ilk to pay attention.
Surrender is subject to and charged by its thunderous kit, providing a platform from which stunningly orchestrated layered melodic leads and lines can soar and permeate the harder, shredded, riff-heavy lineage the band also channels. In many ways, the band capture this balance in the manner of the indomitable Comeback Kid and yet also apply nuances stemming from harder NYHC-esque inspirations as well as emotive Post-Hardcore interludes.
'Out Of Reach' stands as the shortest on the debut and further maintains the streamlined Melodic Hardcore on display. Interestingly so, track three also marks the band members' respective ages with a strong, tributary 'core favouring the earlier work of Rise Against and the faster, more aggravated side of Strike Anywhere. Without Love are gazing at what could be as it rapidly becomes what could have been and 'Out Of Reach' sonically represents the tenacity of EPs ongoing cranial strife born from existence.
'Aftermath' opens amidst jabbing riffs and complex drum patterns, cycling toward the pace the band simply cannot stray too far from. Without Love are catapulted into gear as a wild melodic line rears itself from the rhythm section when necessary before this environmentally prophetic Hardcore Punk borrows from viscous and vicious Thrash strings, charging the battery for the next push. Without Love are shamelessly inclined to more melodious Hardcore but they excel at deviating in the most timely fashion, hinting towards, perhaps, whatever is next.
Without Love close Surrender with 'Strength In Numbness', an observationally-backed attack on the finite and violent maelstrom of "toxic masculinity". The band fully embodies the entirety of their thoughtfully composed barrage here. They are varied but familiar and confident to the last note, all of which does nothing but stand Surrender as a masterful display of emphatically honest intent.
Surrender is out now on all the usual platforms but also physically on cassette via Footloose Records (UK), Ugly and Proud Records (Bulgaria) and Modern Illusion Records (Germany). Find everything you need below!
Updates:
Music:
Physicals: