Stay Awake – Bangkok, Thailand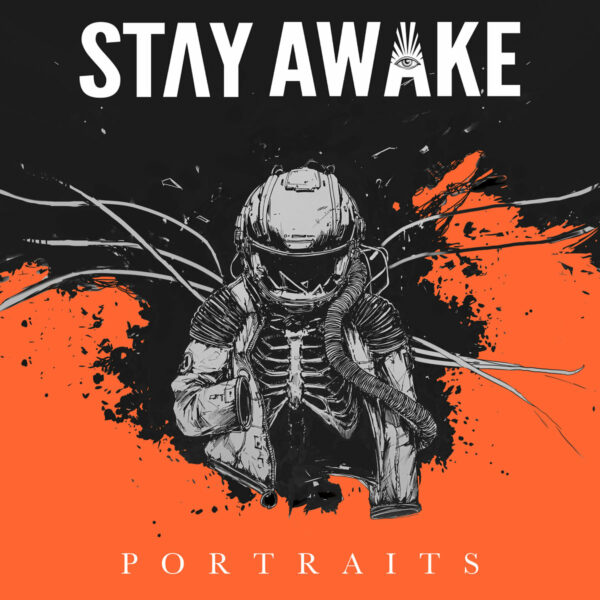 Punk music and community have permeated the globe. This is entirely where Stay Awake and the Portraits EP come in. Though Thailand isn't usually synonymous with Punk and underground Rock, such a sentiment would be a mistake. It's definitely there and entirely why a band comprised of members from the UK (namely England and Scotland), New Zealand/Australia and the Philippines have found themselves there. Having been to Bangkok myself, such affiliations are often hiding in plain sight and ready to indulge in, much like Stay Awake and the Portraits EP.
The band's debut EP, One Stone Away, provided a blend of heavy, melodic and harmonic Skate Punk crossed with equally crooning, driven and angular Post-Hardcore-leaning, Emo-ish Alt. Rock. It is hard not to collate the band into the sound pools of Rise Against, Good Riddance, Only Crime, A Vulture Wake and Boysetsfire though I'm certain I'm missing some. For Portraits, the band had help from one Yotam Ben Horin of Useless ID, of whom the band toured Japan with alongside Sweden's Satanic Surfers. It is safe to say that your ears are in a veritable company. Portraits it is then.
'Brave New Normal' emulates much from the pools of influence above with its earnest, anthemic Skate Punk intro. This drive persists throughout track one interchanging with mid-paced cathartic refrains as Stay Awake navigate shifting pandemic social structures. Track one is evocative and pushes a shameless emotional resonance as the band match their faster-Punk influences to their more prevalent mid-paced anthemic Punk-Rock. The production of this second EP is instantly and exponentially superior as the symbiotic nature of the band's melodic vocals and again, anthemic leads, is effortless.
Though the band's music is sold on its melodic appeal, that's not it's all. Stay Awake's driving rhythm section is by no means left out by said production. There is a looming, brooding and subtle heaviness outside of the obvious stylistics and the way the EP has been conditioned does nothing but help. The eponymous 'Portraits' is another indicative of this. 'Portraits' battles mental health strife in open defiance with what I would argue to be one of the best on Portraits-proper. It is also here, amidst the A Vulture Wake, Only Crime, Rise Against hybrid, that a mature but clear influence for early-2000's Emo-ish Post-Hardcore laps gently against the band's shore.
The four-piece's penchant for Skate Punk is a key part of their sound but it is never the dominant drive. Though they aren't from that epoch per se, their meandering guitar lines and contrasting blasts of Skate Punk drumbeats leave a lot of fans of all things fast. That said, the band's real power is in the harder, angular riffs that accompany tracks like the politically disaffected 'Beacon Hill'. Stay Awake are have chosen their hybridised Punk well and own it. 'Beacon Hill' and its near-constant tempo-alternation and harmonic emotional display, commands attention as it cascades what makes Stay Awake tick. This isn't necessarily anything new, but it's hard to argue it's not thoughtfully composed. Track three is another where a looming heaviness teases.
Teases, but does not appear. A stripped, acoustically-led and orchestrally infused track seeks clarity and encourages you to do the same in 'Through The Mirage'. 2020 was an eye-opener globally and it permeated and inspired much of this second EP. Track four is a key display in the Stay Awake arsenal. However, it does last long for, as the brooding power is finally unleashed. Stay Awake are defiant again as a serrated early-2000's Post-Hardcore intro cuts the shit in 'Inroads'. The first verse holds this conditioning close as the other stark power of that era is exuberant and effervescent. Again, Stay Awake arent a Melodic or Post-Hardcore band wholly, but it is the aggressive, rhythmic punches and following streamlined drives of 'Inroads' that show how well rounded and capable they are.
The power persists. The closing 'Bangon' channels the intensity of the penultimate into a rousing Skate Punk anthem sponsored by a floor-dwelling, maniacally smiling Hardcore-esque bass-line as Ulysses Garcia easily toes the line between fast Skate Punk and classic Hardcore drumming. Of course, however, there is more to it. Portraits is shamelessly confident and 'Bangon' is no different. Though Stay Awake are hurtling towards a considerably more aggressive and faster sound, they aren't fully resigned to it. 'Bangon' despite being the vanguard of this charge, still captures the hybridized sound the band favour. It is these constantly shifting call-backs, subtleties, forward motions and deviations of them, that make Portraits what it is.
Stay Awake and the Portraits EP are nothing "new" or idiosyncratic necessarily, but rather a varied collection comprised of conviction and quality. But what I know, eh?