Oh The Humanity! – Massachusetts, USA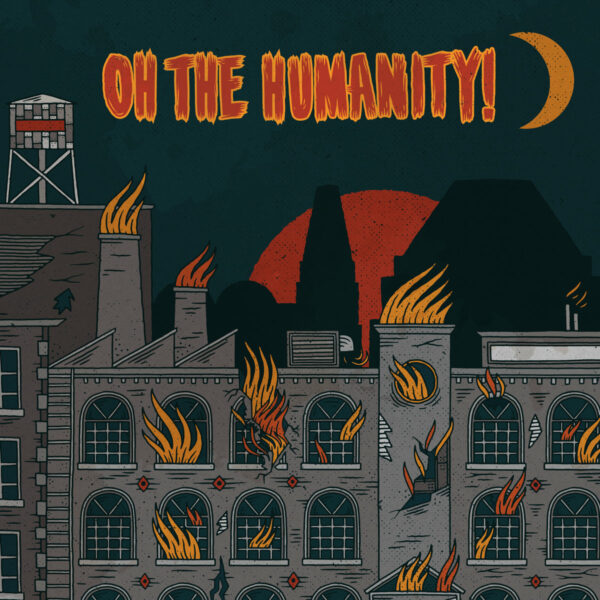 After seven years since a full-length and three since their last release, Oh The Humanity! and their Self-Titled appear now in this 2021. The Massachusetts five-piece cascade through the legacy of approachable melodic and Pop-Punk. They simultaneously exude cathartic and ripping Melodic Hardcore as they chase technical yet melodic and evocative permeating leads contrasting the driving rhythms they are built on. This, all the while, motions to and from the Skate Punk middle ground. That was the band's MO until now, that is. For, as stated above, via Hellminded Records, Oh The Humanity! have returned. Shall we?
Though the band's back catalogue is rife with crooning, almost early 2000's Emo-Post-Hardcore-esque melodies and Pop-Punk-isms, themselves leaning as much on the classics as they do the more mature variant, they are known to alternate within and per track. It is no real surprise then that 'At Out Lowest' sounds the way it does.
Within seconds it's hard not to compare OTH! to the likes of early Rise Against, Winning Streak, A Vulture Wake and Mute. A Post-Hardcore-esque brooding intro lumbers as it transitions into a technical Melodic Hardcore riding complex drum patterns ahead of a vintage Skate Punk drive. The meandering, hook-laden and captivating leads of the band's previous 2014 full-length are beyond confident and all else is tightly wound yet effortless behind them. The constant cycling tempo-deviation of this Melodic Hardcore and Post-Hardcore hybrid occupies and retains the cycling power ahead of soaring for the most part Skate Punk beset with this looming, harder supplimentary confident bite. And so passes track one. – 'Here we go again, charging headfirst into opposing wind with nowhere to run to'.
'Wits End' befittingly leaves you no time to recover in what can only be described as an ode to the legacy of A Wilhelm Scream. Kevin Athas' vocals hit somewhere between Chad Price of ALL, Drag The River and A Vulture Wake combined with the joint vocal cords of both JP and Etienne of Mute. A point that is only compounded in the best melodic manner in the pace-cutting but emotionally evocative 'Never Worse'. Oh The Humanity! have never been a band to shy from their mental health or that of any emotional strife. 'Never Worse' is a bare-all lyrical expulsion of inner turmoil comprised of plodding drums and crooning everything. Track three is an example of how comfortably the band display their influences as well as how confidently they can change direction.
'Everyone In Gainesville (Looks Like Someone I Know)' recalls a journey to a masterclass of how to merge tuneful-Pop-Punk with nothing short of ripping, precise and abrasive Melodic Hardcore Punk. Where there is a melodious hook, line or sinker, there is a shredding retort. It is no wonder then that No Trigger have been mentioned in conjunction with the OTH! tirade. 'Future Killer' teases a lumbering Post-Hardcore-ish intro but only as the catapult is wound. Track six, along with the following seven, showcases the contemporary comfortable foundation of the band. Though both push Melodic Hardcore and Skate Punk classicism, the lingering, satisfying and consistently metallic technical proficiency is never far behind. On this Self-Titled, Oh The Humanity! balance everything keenly from serration to melody and from brash tempo onward to reflective slower ebbs.
'Altruism Born Of Suffering' boasts exuberant '90s Punk laced with the band's sentient technical lead maintaining continuity. Seven is truthfully one of the best on the record. The Mute-esque anthem persistently airs its existential thoughts from a fast Skate Punk beat to jabbing, playful yet anthemic and robust rhythms as both sadness and positivity equate each other whilst looking forward. 'Defeated' rolls in after the deal-breaking seven has altered the records flow just enough. OTH! will ensnare you with their tenacious tempo but there is far more to this band. 'Defeated has complete command of your attention though slower and the chugging, Easycore, Skate Punk-hybrid of 'Dreamer' maintains the band's confident variety.
Oh The Humanity! are, to be succinct, pigeon-hole resistant but in complete control of their consistency. This does mean that those of more focussed taste may prefer specific aspects of the band's work but regardless of deviation in sound and fandom, the quality here is unquestionable and a huge step up from previous work. 'Retreat' presents as a melodic and harmonic yet abrasive hybrid of all that came before it and yet maintains strong links to the albums exemplary latter half.
'Lhdm' effortlessly, intentionally or no, channels the lasting seminal influence of Mute once more. Oh The Humanity! and their Self-Titled end on a high within skill but another poignant, evocative existential truth as a low. 'Lhdm' is catharsis incarnate as much as it is in complete unequivocal equation to contemporary human complacency. OTH! have crafted an album at the apex of their need to vent. This is certainly nothing new for the band but it has reached its zenith here and its compositional backing is intrinsic to it to the highest degree.
You know what? I think this album is rather good. It's out now digitally and physically on vinyl via the band and Hellminded Records.
Updates:
Music:
Hellminded Records: