Grow Rich – Jakarta, Indonesia.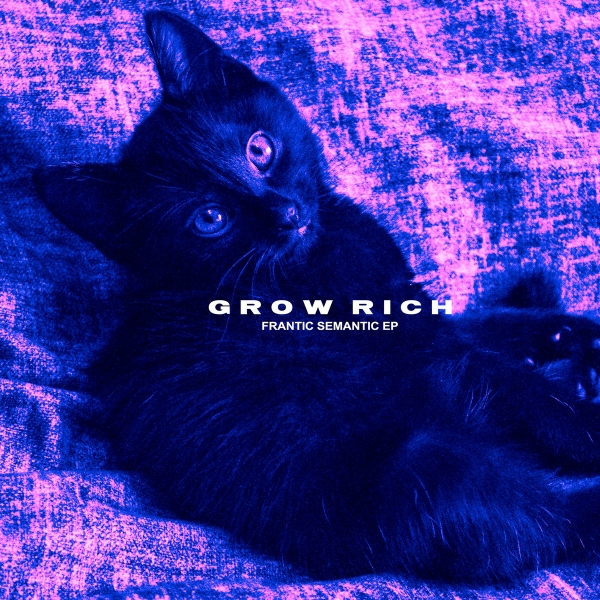 If you take a look at the world of Alternative music in general right now, you'll find two echelons and/or stylistic bases that are doing particularly well, those being the ever-diversifying Punk music scene and its often gloomy, ever adaptive cousin Alternative Rock, itself healthy with all its near-constant infusions with just about whatever the respective artist, band or collaboration wishes.
This is exactly where I found Grow Rich during the Musically Fresh years – Here and where we now find ourselves examining the new EP from Abdur Rahim Latada and friends, also known as Grow Rich in far-away Jakarta.
The Frantic Semantic EP opens with 'Bounce Back', a track instantaneous with its clear representation for Latada's love for the Pop-tones and classic Punk-grit of the Ramones as much as it does his penchant for Post-Punk and Shoegaze. This is impressively all within the first 0:35 of this simply titled opener. To those who are new to Grow Rich, this track is very much a staple of the project and from the perspective of existing listeners its nice to see the roots of it all still appreciated.
However, with all this talk of continuity, for reasons that matter as much as they don't, 'Bounce Back' plies an already low-ridden grit with thick metallic riffage and thundering drumming that although surprising, for whatever reason it exists it does so wholly and well.
The Indonesian language 'Kawan Lama' ('Old Friend' in English) expands on the foundation-Grow Rich sound more so. On this third release, a far darker sound presents itself less and less sporadically and between the lines and you can't help but feel how it suits the project. The Shoegaze tone is omnipresent as thick, simple Grunge-filtered Punk riffs akin to Nirvana or Sonic Youth permeate the track. The Metal aspects of Frantic Semantic are less overt here and far more integrated and obvious within the sound as a whole rather than obnoxiously protruding and again, they suit where this project is going.
'The song is about being in temporary sadness – wipe your tears, face and embrace the current reality and move on. […] many people experience the particular situation when the one you trust the most simply disappears and since you love that ghost, you cannot ever really hate that person without fully understanding the whole story regarding their actions […] their actions have affected you really badly […] In the end it is only bittersweet memories that are left […]'
Stylistically, to be blunt, Grow Rich shows-off and has some fun with the arsenal of instruments and influences at his disposal in 'Kawan Lama' and of the four, it is perhaps the better of the EP and leads excellently to the ominous, dark and brooding 0:59 of the penultimate 'Tenderfoot'.
'Tenderfoot' carries a bass-line and rhythm rooted in Hardcore Punk, matched with again yet more metallic drumming itself supplemented with brief yet sharp melodic vocals conveying one message – 'Fear, anxiety, don't let them stop you – Come what may!' The only crime of this third offering is that it is simply too short and you can't help but feel this style could have been explored further in regard to this song specifically.
No matter though, for by now, new listener or not, you've been accommodated and made to feel more at home that you would initially expect after hearing Grow Rich for the first time. The band/project may not be anything new specifically but the way in which all these facets of underground Rock have been put together very much gives it a sense of uniqueness and idiosyncrasy.
Frantic Semantic closes with 'Cat Flag', starting with a spoken word performance set to classic Punk rhythms, slowed and played to the mid-paced Alt. Rock Grow Rich is known for. It is here that after all the dark and brooding forays, Grow Rich falls back on his earlier and melodic material in which the guitar work and the light, shoegazey aspects really shine. The heavier elements are still very much present but they are but a side note to a soaring melodic Rock song.
Frantic Semantic is out now on bandcamp and will be making its way to streaming services soon!