Please Use Right Excuses – São Paulo, Brazil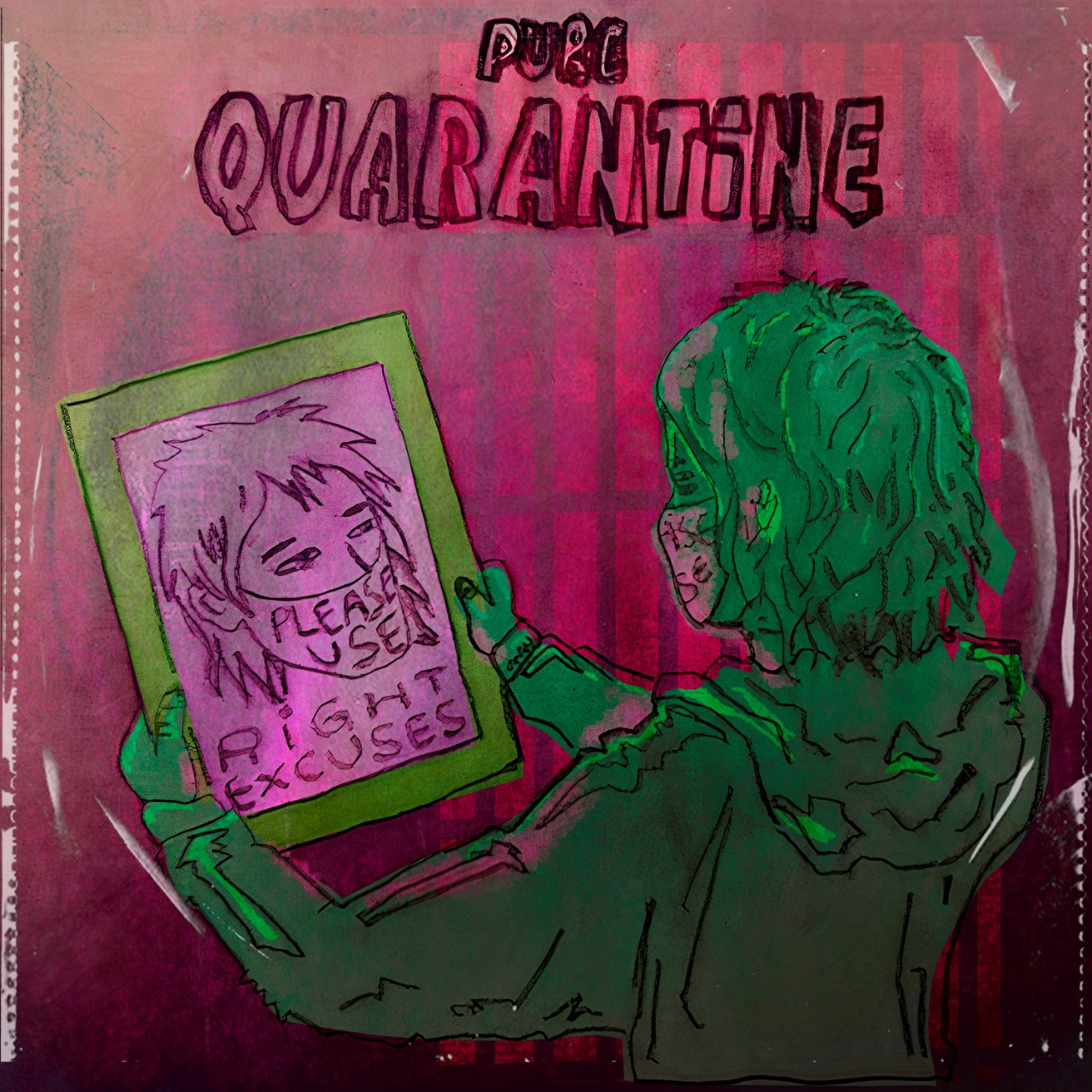 Please Use Right Excuses (P.U.R.E) and Pure Quarantine are living proof and its product that the lockdown-centric releases aren't quite spent. Though various lockdowns are still phasing in and out in other parts of the world, generally, the post-lockdown period is upon us. The fruits of the previously confined labours are now ripe and ready to pick. Or something like that. It's been a fruitful year or so for Punk and Hardcore and their wildly varied spectrums but you'd be a fool for thinking existential rage, societal criticism and general mania were confined to that.
The '90s paved the way. With Punk-Rock splitting in new directions seemingly every minute, the gusto, rage, disdain and need for a straight-forward catharsis yielded a variety of Alternative Rock, Grunge, Riot Grrrl and more. You don't have to play beyond fast just to release. Enter, Please Use Right Excuses and Pure Quarantine. To São Paulo.
With band's such as Nirvana, The Pixies and The Vines having paved the way for bands in this vein with their deep-rumbling overdriven riffs, warped, melancholic and sardonic groove and their inherent fuzz, there is little nuance to this stylised pool now. However, that doesn't mean that it cannot be done well. Which, consequently, is what we are here to find out. Pure Quarantine was entirely home recorded with the exception of the backing vocals in a true testament to the pissed off, rough-cut and double-fuzzed bedroom rock aesthetic of the '90s. 'Lost Man' trudges with a sad smile on its face in this very bedroom and throughout the house.
'Isolation, locked inside of my mind' captures the feeling many had in the early lockdowns before the drudgery of it all took hold. The slow, meandering trudge onward to madness is playful but only in a way resigned to its fate. The band's backing vocals capture the madness looming over the relatively sane but slow cracking mainline vocals. Please Use Right Excuses flank this two-fold and limited existence with cathartic, heavyset rhythms, flanked by leads that can only really be described as Grunge in its bare all form.
Grunge is genealogically linked to '80s Hardcore Punk and Punk as a whole and it's hard not to feel that power though repurposed and overdriven in track two. 'Anxious' matches its namesake. The power hammered home by the three-piece captures the anger of a panic attack. The moment of realisation when you know what is happening and you punish yourself for it. Do yourself a favour and indulge in the band's previous work and then return back to 'Anxious'. Then you'll see how far they have come and how comfortable they feel now. 'Anxious' is rife with an infectious yet foreboding groove and see's the band at their most unfettered heaviness, respective of their ill-feeling.
'Should Be Lithium' carries heavy notes of Nirvana in more than one way. Track three in its own way leans on a spun-out, determined but somewhat distant Stoner Rock aesthetic as it slowly ambles along. P.U.R.E utilise some of their beast dual vocal work and somewhat eerie harmonisations on track three. Moreover, though it is not quite as notable as tracks one and two, it does add fuel to a future fire made by a comparatively more intense and heavier Please Use Right Excuses.
For those inclined to heavy rock, the riff-heavy or just something raw to soundtrack their modern-existential tedium and powerlessness, Grunge and its ilk are usually a good option. This is the very effectiveness of Please Use Right Excuses and Pure Quarantine. There isn't anything new here. No particularly notable nuance and yet, there is an effortless and moreover natural feel to Pure Quarantine. 'Dreaming Trip' ends the band's reflection on social confinement in much the same way it entered, amidst a naturally occurring, self-sustaining tirade of cathartic fuzz-rock. However, albeit this time, specifically within the dreamscape of hope beyond four walls.