Ryan Martin – York, England, United Kingdom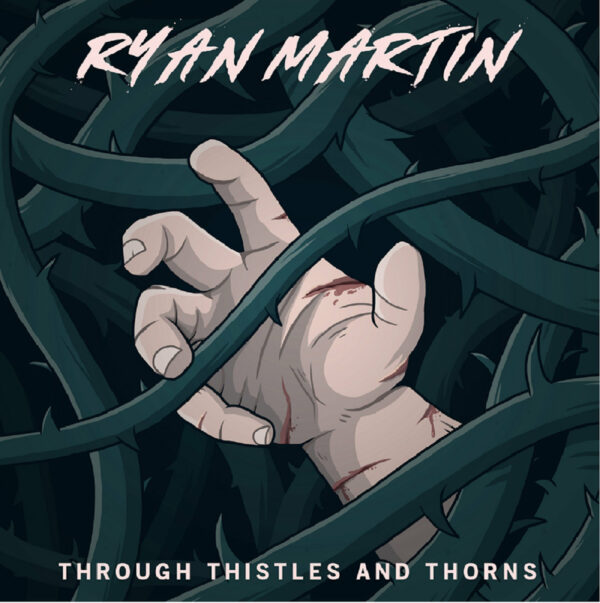 The words "Ryan Martin" and "Through Thistles And Thorns" are now appearing across your visual cortex in an effort to dispel the "solo-artist" assumption. In other words, this relates to the assumption that most in this vein are bound simply to an acoustic guitar. Hailing from York, Ryan Martin, despite numerous dabbling in the cliché attribute ambling above, this very 2020 has had other ideas. Mr Martin over the course of this year of woe and abject negativity has spent his time culminating his collected experience on the underground Rock and Metal scenes into a stream of releases written, recorded and released almost single-handedly.
His 2019 saw a demo and his 2020 has eventually cut a path to the Through Thistles And Thorns EP. Combining Hard Rock, a Punk, Grunge and Alternative Rock trident and Alternative Metal inclinations, Ryan Martin's latest effort went as follows.
'Inferno' enlists one Kieran Kemp on bass and one Adam Thorpe on solo-duty and instantly, the track's status as an original forerunner and first track of the EP is an obvious choice. 'Inferno' is harmonic and teasingly leaning towards anthemic melodic Punk, at least initially. The track's two-stage intro pushes layered and melodic Alternative Rock but still denotes to the lasting influence of Punk. However, prior to the first verse, Ryan Martin alernates briefly in a sharp, telling refrain straddling metallic Hard Rock. Vocally, the harmonisations and backing vocals envoke a gloomed atmosphere, indentured by the very bleak realisations of the very same. 'Inferno' despite its punked-melodic Alt. Rock is a track on the precipice of Metal-edged combustion and battles this until its end.
'Dry' presents its self as a direct hybrid of the early-2000s Alternative Metal crossed with the lingering sentient disinterested tone of Grunge. 'Dry' lumbers along, beset with its very specifically formulated output. Track two knows its target. Ryan Martin holds continuity with his gloom-subsisting vocals and further leans towards dated but contrasting metallic Hard Rock. 'Dry', again, is from a specific place and for a very specific audience.
'Bleed No More' toasts to the lasting influence of Nirvana. Track three certainly hits this tone but yet hybridises enough to appeal to ears either side of the notorious "G" word. 'Bleed No More' very much comes and goes without too much fuss. This, importantly, is not to say that it is in any way negative. The track is designed to "do its thing" effectively and lead on to whatever is next. Ryan Martin has found the location of his feet. He knows where he wishes to settle, but the exact spot is still to be decided. This very cliché-esque statement is only negative based on your own opinion of his music. 'Bleed No More' is an arguable and bonafide example of what you'd show any prospective ear-drums.
'What You Say' closes the 2020-to-date of Ryan Martin. This final foray is more of a slow and reflective trudge. 'What You Say' battles the drudgery that is contemporary discourse and the resulting hopelessness. Musically, Ryan Martin's low Grunge rumble is lined with just enough melodic conditioning. Such a facet of his sound is purposeful though. The artist's ability to create easy-listening, but by no means "soft" or "weak" music is resoundingly strong. The prior "descriptions" are hardly worthy of such use but in this case, they are assisting in the making of a point. This onset point being that Ryan Martin has crafted genre-crossing, mostly pigeon-hole resistant underground Rock. This "mostly" has annexed the avian dwellings either side of its foundational cubby-hole and yet, still has ample room to experiment.
'What You Say' closes and finally toasts to Ryan Martin and Through Thistles And Thorns with another Hard Rock-centric display from Adam Thorpe.