Gamblers – Northwich, England, United Kingdom.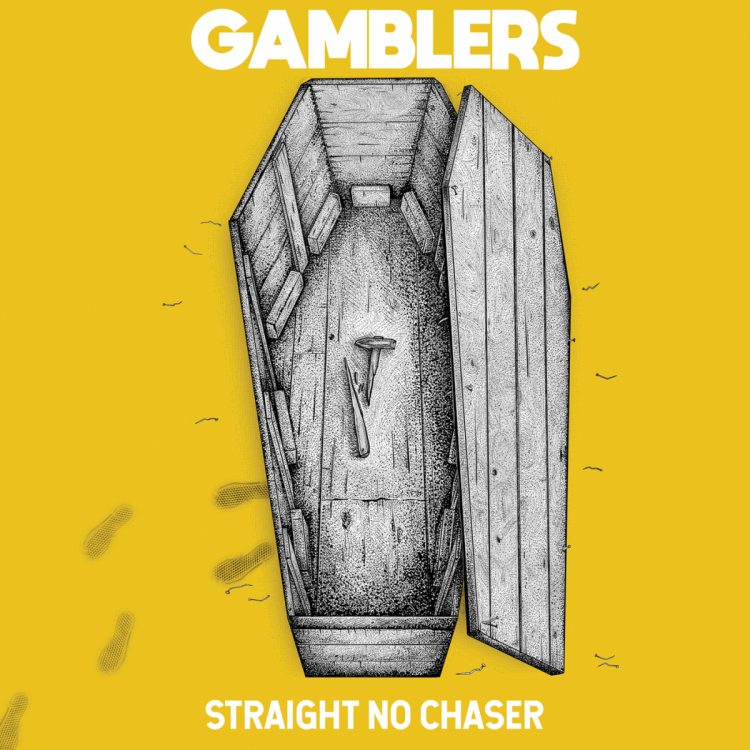 Here – for our previous work on the band.
Since I found an email concerning this Northwich five-piece in my inbox, the "please hurry up" thoughts and often audible words in regard to a debut release I found myself thinking and uttering respectively began to annoy me. Above you can find a piece on the band from a little while ago wherein I described them as an abrasive mix of Cancer Bats, Every Time I Die and The Bronx with a dash of Rock n' Roll. Now, as it's January I would like to update refresh such an opinion; Gamblers sound like if Cancer Bats, Every Time I Die, The Bronx had been listening to Rock n' Roll while drinking excessively in a confined space where some sort of sexual encounter ensued. A child was then born with an english accent, in five parts and playing Hardcore Punk.
'Casket Face' has classic Cancer Bats written all over it with a guitar tone reminiscent of that first stomper of an album had it been recorded with The Bronx doing whatever they do to make such excellence next door. 'Casket Face' is unrelenting classic Hardcore Punk filtered though the genre's latter flirtations with Southern Rock and Hard Rock nearer to our own time with a slither of contemporary melodic guitars.
'Higher Power' was a forerunning single and was an excellent option for such with the words, those viscerally screamed words of 'NO HIGHER POWER CAN SAVE YOU NOW' sticking with you far beyond the songs duration. The band achieve an unrelenting, intense, accosting Punk song without simply playing fast and it's fantastic.
If you weren't already paying fixated attention by this point then the words – 'Ive been this low before, I won't be again' – definitely solidify said attention ever more. If that's possible that is. Mid-tempo, thick riffs and vocals segueing between the hard and strained to the melodic really add that appreciation for The Bronx even more but also, through that, show the strength of the band. What do I mean? Well, to emulate such a band with such a following this quickly, their own way and in a manner standout in the UK scene, is really bloody impressive and itself something key to this EP; it's ability to impress. In short, 'The Riot Life' is fantastic and with that brief flash of a melodic guitar towards the tracks end, it ensnares you fully.
Groove? Danceable drumming? Playful metallic rumbling and jagged tom-riffery (sic) all expertly matched with a chorus that holds just the right amount of melodic hooks? 'The Black Brick Road' is fantastic and is your "societal distaste" anthem for this debut release and it's made fun. – 'Follow me down the black brick road, these streets are filled with snakes, they don't just want your body, they want your mind and soul'.
The Garage Punk Rock n' Roll of the closing 'Drown In Sin' is something you were expecting but in the best way. Gamblers motion their more classic-appreciating sound towards Punk rather than Hardcore at a mid and infectiously jagged, ear-worming pace that is once more melodic in the best way. I'll let you break-down this final number fully yourself.
Now the band have closed, I can close. Running your own site is quite free, I can write when I wish and what I wish, so here it is. It's only bloody January and this is likely the best Punk/Hardcore EP of the year, you can fight me if you like but just to let you know, I'll be over there taking  – '[…] this last drink no chaser' and well, you know the rest.