The Liverpool Punk-Rock All-Dayer – Studio 2, Liverpool, United Kingdom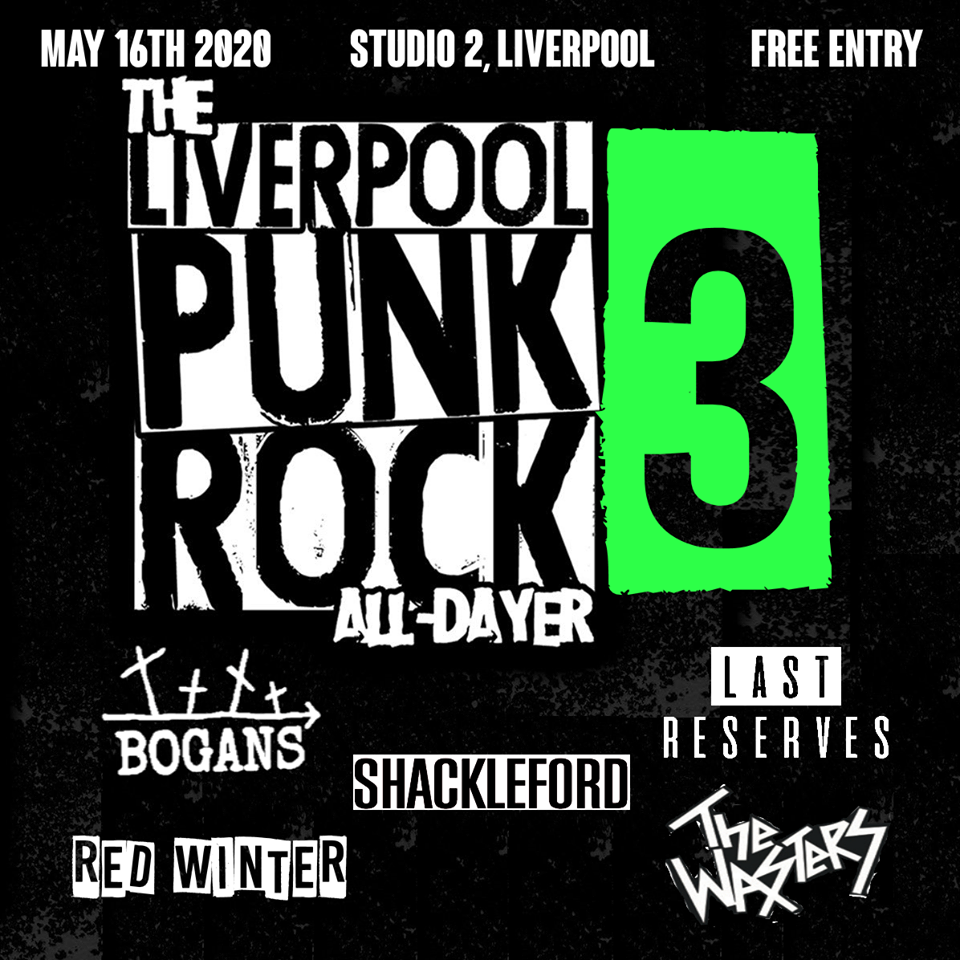 The Liverpool Punk-Rock All-Dayer 3, the cat is out of the bag… more so that it was prior to this lovely image and accompanying sentence. Next year on May 16th 2020, on the notorious and world-renowned Lagwagon day, LPRAD will be returning to Studio 2 Parr Street in the city of Liverpool for number three, numero tres, the big 3, the 3rd thing and various other terribly worded wordy-words detailing the fact that this celebration of live music has entered it's third consecutive year.
If you digitally-mosey on over to – Here – you can sample last years pre and post-event press effort from this very wordsmith and on that note, I'm honoured to say EN is very much back on board this year if that wasn't obvious. But again and as always I digress. The bands, oh the bands.
Do you know what is highly arguable to be synonymous with Punk-Rock music? Garage Rock n' Roll. This is exactly what Liverpool locals The Wasters are bringing to the table. The protoform of Punk music has been ubiquitous and intrinsic to the genre since the off; defiantly sharp in its playful delivery. The Wasters and their Garage Punk hybrid cast clear call-backs to the seminal first release by The Clash and the band's own permeating obsession with Rock n' Roll. The Wasters also nod in the direction of later in the timeline when Punk began to cathartically express all the heavier. Sample it below.
Shackleford have found their way onto the 2020 edition of LPRAD. The band's addictive and melodic classic '90s Pop-Punk with a bite of the Punk-Rock good stuff is not something to miss. With two highly additive EPs on the table, the band takes all that makes the likes of MxPx, Teenage Bottlerocket and Descendents great and splice it with their own love of their craft. You can't have a Punk-music all-dayer and not have a few sing-a-long choruses now, can you?! We at LPRAD wholly support this notion. Don't miss Shackleford.
You can find a review of their 2018 EP II – Here and some tasty dopamine below!
Now then, the returning bands. If I haven't told you already, The Liverpool Punk-Rock All-Dayer is in its third year and with that, the staple band for the event have returned. Red Winter counts LPRAD main-human Mr. Pep Winter in its ranks as the lead projecting voice-box of the five-piece Punk-Rock, Pop-Punk and Rock n' Roll crossover. For when he's not running around making sure all is well, he is on stage doing "a music" or ten.
The band's 2018 debut full-length Leave It All Behind is essential listening as it bridges many of the gaps in the stylistic connection that LPRAD delivers. Notably, last year, the band's rendition of the Enrique Inglesias number 'Hero' went down an unexpected storm and was shortly followed by a grown-man downing a tin of spaghetti hoops. Will it happen again? Is it possible that will they be your hero baby? Could it be ravioli this time? May 16th 2020 will yield all these answers.
Insider Info: EN has heard some early rough-cuts of the band's new material, so maybe you'll hear some on the day!
LPRAD 2 saw Last Reserves take the stage as the second band of the day and did so explosively. The band's output is an accosting mix, appreciation and emulation of late '70s Punk. Yet also spans gloom-ridden Post-Punk and ever-increasing strays into the realm of early Hardcore Punk, onset with volatile socio-political lyrical rage. Last Reserves are a band that emulates and adheres to much of what Punk began as and set in motion, yet instead of staying in the past entirely, refresh it into equally dark modernity.
EN reviewed the band's latest single 'Pink Bits' recently, which you can find – Here and through which you can find some words on their 2018 EP Bad Days.
You know the deal, sample below.
Finally, for this announcement, we have another returning band that made their LPRAD debut last year, the Wrexham/Chester five-piece, Bogans.
With fast melodic and often technically proficient Skate Punk standing as perhaps the strongest it has ever stood, shredded and quite possibly kick-flipped, Bogans are joiningLPRAD again. With two EPs to date and another set to release via Side Mission Records, the band's dark, foreboding sound straddles Melodic Hardcore as much as it does the aforementioned techy-Skate Punk. If the likes of 88 Fingers Louie, The Human Project, Fair Do's, Cigar appeal to you then Bogans require your attention.
The band's obvious skill, excessive but welcome use of "Woah-ohs" and deserved a place in the current Skate Punk scene tick all the boxes. However, there is more. Vocalist Adam Wright is idiosyncratic within the genre for both his vocal tones and his animated stage antics. Last year the band were one of the best of a-best bunch, miss them and The Liverpool Punk-Rock All-Dayer 3 at your peril.
Find EN's look at their latest single – Here.
Find the event, the photographers and all else below! The Liverpool Punk-Rock All-Dayer 3, be there!