Shackleford – Nuneaton, England, United Kingdom.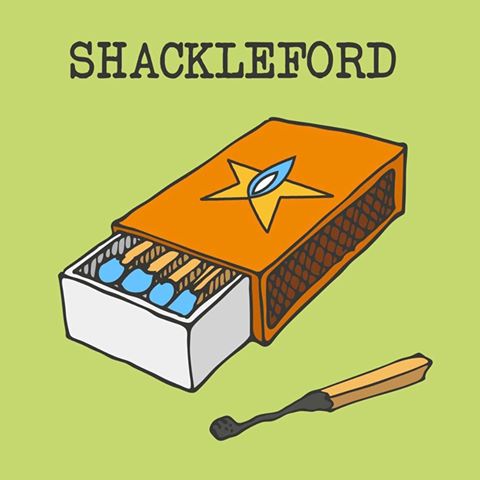 Shackleford are a band not messing around. They play Pop-Punk in the fashion of the old-school before all else. That's not to say that the contemporary scene isn't producing stellar music but Shackleford are now two EPs in and have made their bed, with mid-to-fast tempo sheets and '90s-styled covers and pillowcases.
Imagine a bed that hate's this town but would rather make the best of it and play music natural to itself inspired by a mix of NOFX, Dillinger Four, Descendents, Jawbreaker and a whole host of other-household (or linen cupboard) names.
In many ways the opening track to EP#2, 'Dopamine', very much takes you back to a time where the Ramones were doing there infamous "thing" or when the invention of the name 'Ramonescore' became necessary. In short, 'Dopamine' is a classic Pop-Punk song and it works, addictively so.
'Letterhead' channels the aforementioned Ramonescore into a track best described as UK Pop-Punk styled by MxPx for the addictive chorus and perhaps Teenage Bottlerocket for the majority of the rest. Either way, two tracks in you're in good company with playful yet very real-sounding Pop-songs with enough Punk-grit to please listeners from more than one sonic persuasion.
'Blue Tip Matchsticks' has an intro reminiscent of Banner Pilot before another classic Pop-Punk verse and chorus sells the listener another tuneful head-bob-worthy moment or nine. Shackleford shouldn't be lumbered too much with the result of many a tendency to lambast it all as cliché 'I hate this town' or 'She broke my heart' same-old, same-old. These may be Pop-songs but they are well written and "not just a phaseee mommmm".
'Let It Rain' closes and there isn't a huge amount to say about it. It's well put together and tuneful enough to compete with the current-gen of Pop-Punk but ultimately sits in the not-too-distant past. But that's what I love about this band, they write, they practice then they do and it's seamless.