Supportive Parents – Minneapolis, Minnesota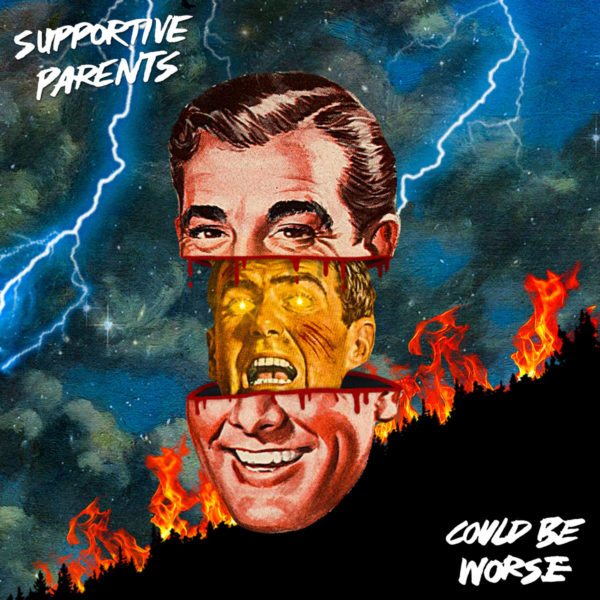 Supportive Parents – Could Be Worse sounds like something you'd say to a friend that was complaining incessantly about something completely superfluous. While you all briefly think back to hearing such back in school, I will inform you that said collection of words actually denotes to a Punk music band from Minneapolis.
Before we begin, one of the band has actually recently become a supportive parent themselves so congratulations to you, Brian. Moving on, the band have been at the gruff melodic Punk game since 2014, with a demo, a full-length and their most recent EP, Could Be Worse.
The band are sat somewhere between early 2000s Melodic Hardcore, the groundwork laid by Lifetime prior to that and a good old fashioned slither of classic Pop-Punk. To put more names to that sonic-imagery, the likes of No Trigger, Kid Dynamite and Shook Ones all appear as the band's influences. The 0:57 of 'Stop Me If You've Heard This One' is an anthem for the modern-day. Supportive Parents launch themselves at high-velocity off-the-back of rumbling, riffy-Hardcore Punk before progressing to a melodic drive. The five-piece display themselves fully, progressively and in stages.
After the above and its lambasting of ridiculous self-indulgent rhetoric, the band push more melody. Supportive Parents are gritty, yet playfully direct. Their citation of No Trigger is unambiguously on the money and if you're partial to PEARS then you're in good company. See 'Shoulda/ Woulda/ Coulda' and it's fast, cuttingly melodic Punk-Rock that is not remotely afraid of increased Pop-Punk melody. Find it in our '90s-centric Punk playlist – Here.
Don't let this mention of the "P" word worry you. It's not a dirty prefix and never should be. Supportive Parents apply such to their choruses the correct way. 'Shoulda/ Woulda/ Coulda' is the perfect prerequisite for 'Groundhog Day'. With the move towards the more melodic stylistics in full force, the fast Skate Punk of 'Groundhog Day' thunders through its intro and verses before another welcome sing-a-long chorus. Supportive Parents easily appeal to those who prefer harder, riff-led, Hardcore rooted Punk but also have more than a penchant for Pop-Punk how it should be played. 'Ground Hog Day' can be found in our "working week" playlist – Here.
Although admittedly many will overtly focus on the upbeat melodic nature of the band, it really isn't their whole selling point. Through production, various stages of Punk and Hardcore grit and intelligent lyricism, the band transcend obvious melodic Punk appeal. The middling point there is the most relevant. The Hardcore elements of the Supportive Parents have been present and looming throughout the release post-track-one and really come into their own in the final two offerings.
'Vicious Shit Cycle' bursts in via high-octane Hardcore Punk battling paranoia and existentialism. But, as you'd expect from North American Punk in this vein, the last cry for help is beset with melodic vocal-chords and the expected but nonetheless standout gang-shouts. The track also features guest vocals from one Aaron Weseman of Disembodied and Pyralis.
The finalising 'All My Friends Do Drugs' close the Could Be Worse "life-songs" so intrinsic to our shit-ceity. 'All My Friends Do Drugs' is the realisation of yet another cycle that's only appealing before the coming of punch-face-reality. Musically, the band are arguably at their best. The final track blasts vintage Melodic Hardcore pace plied with Supportive Parents-brand sing-a-long necessity where required.
Supportive Parents are drawing from whatever facets of the stylistic Punk tree that they please. The release is more than just an accessible point between Pop and melodic Punk and onward to gritty-cathartic Melodic Hardcore. Could Be Worse not only adds a youthful exuberance to this stylistic way-point but an honest approach to the trials of everyday existence and is utterly addictive.
Could Be Worse is out now in all the usual places, with a 7″ available from the band with a special arrangement of sorts – 'Up until the 7″ release show, 20% of each purchase will go to the Greater Twin Cities United Way's COVID-19 Recovery Fund, providing food, shelter, childcare, sanitary/hygiene supplies and financial assistance to those most vulnerable to issues caused by this pandemic. If you'd like to donate more, 100% of additional money you give over $10 will go their way.'