Sky Tigers – Lowell, Massachusetts, USA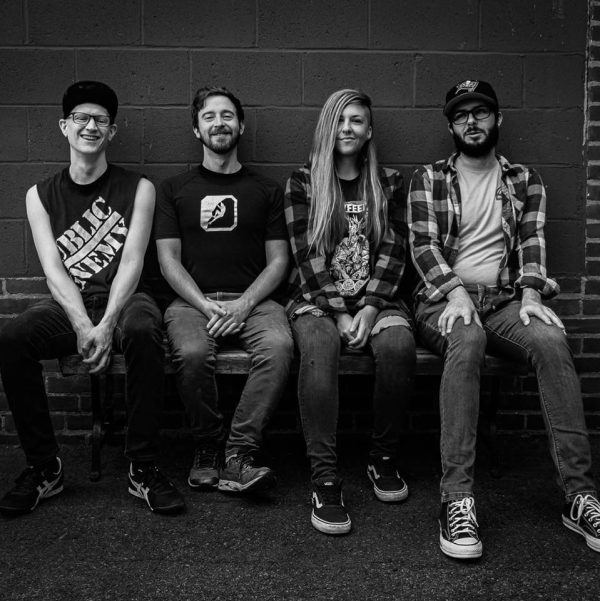 Ah yes, the inextricable tendrils binding Punk, Hardcore and Thrash and the invariable tendency they have to coalesce. Introducing SkyTigers is relevant to that sentence and the meaning drawn from it. The Massachusetts band started in 2010 and until recently were unknown to me, so upon hearing and playing through their back catalogue, I elected to partake in introducing them to whoever else may not have heard their serrated yet melodic hybrid.
SkyTigers' releases for the first-time listener, are best experienced sequentially. Trust me, I'm a (self-declaring) audio nutritionist. To 2015 we go!
Flowing, meandering, whirling and anthemic leads intricately lace the band's debut, wishfully entitled Appetite For Reconstruction. Powerful aerodynamic drumming offers a cycling and lightly metallic complexity as guitars either croon happily or pound down as a rhythmic whole. Cohesively, SkyTigers in their hybridised state sit somewhere between the classic Thrash and the Skate Punk-infused Melodic Hardcore of No Trigger, Allout Helter and A Wilhelm Scream.
'Casualty Friday' exists in neither of these camps wholly and owns it to the highest, fist-in-the-air degree. 'Whore Pigs' then follows such with its reverberating riff-heavy groove playing with Metallic Hardcore after three track's preceding them both plied with the very same, streamlined and ear-worming aggression.
It's functionally impossible not to hear the legacy of Motorhead in the music of SkyTigers. For, whether you like it or not, objectively speaking the seminal band's Rock n' Roll assault wrote much of the book for what would follow across Punk, Hardcore and Thrash. The band's second release, Disasterbation (2018) not only shamelessly displays this adoration but also closes with a cover of the ubiquitous 'Ace Of Spades'. SkyTigers's raucous Thrash-spun Hardcore Punk n' Roll reaches its infectious highpoint on the vintage chord progressions and whirling lines on 'Grenade Point Average'. From the stylings of early 2000s Comeback Kid imbuing the former and onward to the Crossover rager that is 'Truth Decay' or the wholly Thrash-led, foreboding and demonic gyration-inducing 'Nobody Puts Baby In A Dumpster (Stillborn in the U.S.A.)', experiencing the journey of SkyTigers sequentially is as high octane as it is rewarding.
But what of their more recent work? Well, in 2020, SkyTigers returned with Eulorgy. The latest offering boasts rehashed AND re-thrashed versions of the likes of 'Affordable Garbage' and its violently pill-encumbered Melodic Thrashcore. 'Grenade Point Average', 'Nobody Puts Baby In A Dumpster […]' and 'Truth Decay' also reemerge confidently with their unbridled power and skill magnified, presenting the ripping intensity as it should experienced. Eulorgy also, along with its incontestably better production and aesthetic as a whole introduces the unadulterated, lacerating displays of both 'Speak and Destroy' and 'Denihilism'. Here the band easily join the ranks of the likes of This Is Hell, Wolfrik, Rash Decision and Grand Collapse in making the case for much in the way of high-quality Metal and Thrash emanating from the Punk and Hardcore scene. That's just my opinion, of course.
The re-glossed and now gleaming 'Keep Christ In Christmas (And Out Of Rock n' Roll)' writhes through a humourous and secular rant of shameless Thrash Metal whilst SkyTigers coalesce this keen edge into the standout 'Anti-Social Control'. Track five of nine takes this exuberant and adorative bounce and plies it with a considerable two-fold Hardcore play. SkyTigers draw on their roots in 'Anti-Social Control with equal parts Melodic Hardcore and the other genetic half of the Crossover MO. It is also here, that it's difficult not to hear Propagandhi-esque mannerisms equally so through SkyTigers' Thrash and socio-political articulation. The four-piece close their latest the only way they know how, with the unrelenting, frenetic and frantic abrasion of 'Angel Of Debt'.
Urgent, aggravated and having an indisputably fun time airing such catharsis. Introducing Sky Tigers, that'll do it. And everything above, obviously.