Shellycoat – Hamburg, Germany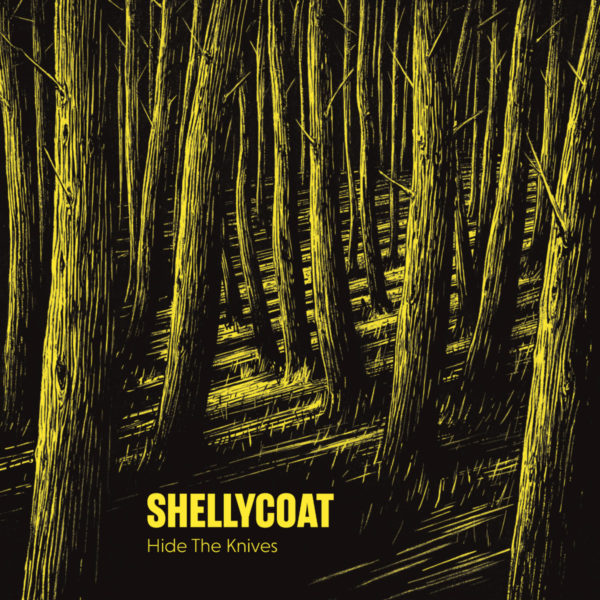 The legacy of '90s Punk is a lucrative well of sonics that outdoes itself. Shellycoat and Hide The Knives enter via the influence of the seminal period but in a manner open and free in its exploratory desires. The Hamburg band have been slogging it out since the early "twenteens" and in this here year of "WHAT", have unveiled their second full-length record via Fond Of Life Records. But what of the style in which they twist their Punk via said exploratory desires? Well, that is where they stand out amongst the mass of consistency.
Shellycoat are known for their love of the above. The fast, melodic sound of mid-to-late Good Riddance with its blunt lyrical trauma would be a good comparison, along with the emotive delivery of Rise Against with a focus on their latter career instrumentation. However, Shellycoat are not a collective shy away from Pop-infusions and further experimentation. The band, for example, have been frequently compared the idiosyncratic Post-Hardcore, Alt. Rock and Indie-infused Punk of Billy Talent. This is 2015's Neonsomia in a nutshell, sauteed with the band's unique flair of adaptable intensity. But what of Hide The Knives? Well…
'Antidote' instantly exemplifies the band's scope. Track one merges harmonic and vintage Pop-Punk with a mild awareness of technical-late'90s Skate Punk. Shellycoat mire their harder-to-melodic-to-glossed influences in a three-way play-fight built around a balanced contrast. Speaking in a contemporary light, a comparison to Poland's CF98 is arguable. 'Fake Friends' with an increasing mark-up in aggression, follows on from the excellent drumming of 'Antidote' and builds on the anthemic and melodic guitar-work on offer. 'Fake Friends' is rooted in Skate Punk intensity but conditioned with spasmodic changes in pace and a wholly Post-Hardcore-legacy-bound structure. Shellycoat effectively splice two-tracks into a modest 2:21. Modern social-structures are indeed strange.
'Reverberation' exuberantly bounds over a reverberating verse intrinsically and suiting to its name. This is juxtaposed by straight-cut mid-paced, harmonic melodic Punk before a second verse of '90s Skate Punk. Shellycoat are refusing to resign themselves to a single strong structure. 'Scream To Sleep', I'd wager, specifically, takes a lot of influence from the underrated III from Canada's Billy Talent as it breaks the albums jostling tempo with ballad-centric Alternative Rock. 'Neonsomnia, Pt. 2' breaks from its riff-heavy older sibling and refines itself after a brief, brooding callback. This "callback" then becomes a fall-back and refrain as it balances the books between blasts of emotive, Punk-fulled Alt. Rock. 'Neonsomnia, Pt. 2' and its constant genre, tempo and structural changes are perfectly suited to the dark tale of manipulation.
Six, 'It's Your Job, For God's Sake', is testament to the Post-Post-Hardcore world of Gruff-Punk merged with the onset '90s penchant of Shellycoat. Notably, six also boats some of the best lead-vocal work in its verses. 'Harbour Scene' then alternates again and softens the band's catharsis but only in instrumentation. 'Morphine' then breaks down the door. Shellycoat blend Classic Punk rhythms with latter-timeline Skate Punk that is classic-enough within its own right. Shellycoat's in-album and in-track alternation is indeed a gamble at best. However, is also at best within said-best. 'Get Well Soon' then further develops the Post-Hardcore Alternative Rock in a manner intense but comfortably outside of overt tempo. The five-piece own their variety in an unabated shamelessness.
Pop-Punk? 'Sirens' is very much in the camp of "why ever not?". The majority of 'Sirens' lays within this realm, but it's never that simple with Shellycoat. The five-pieces unpredictability reigns and laces 'Sirens' with an Alt. Rock weight and a brilliant, rumbling playfully defiant and heavy-set bridge between 1:21 and 1:51. 'Siena Candle' adheres to much of the Hide The Knives-brand reverberating Alt. Rock and stands its tallest via its groove-laden verses. 'Terrible Place To Live' through its slow Emo-gloomed Rock onward to its increasingly layered, melodic Punk and punch-face difficult-escapism is utterly substantiating regarding the band's contemporary sonic-locale.
'Ich Geh Da Nicht Mehr Hin', which roughly translates to "I'm not going there anymore" in the melodic, emotively open Shellycoat mantra, closes an ambitious release. Hide The Knives, despite its near-constant deviation, is a record transparent in its aims, status and comfortability. Shellycoat exist within the legacy of Punk music and twist it as they please and Hide The Knives is a canvas of variety. It's not straight running and resigns itself to no one branch of the immortal Punk-tree. And that, that is why it works.
Shellycoat and Hide The Knives can be found below digitally and physically via Fond Of Life Records.
Updates:
Music:
Fond Of Life Records