Ripcord Records – Scotland, United Kingdom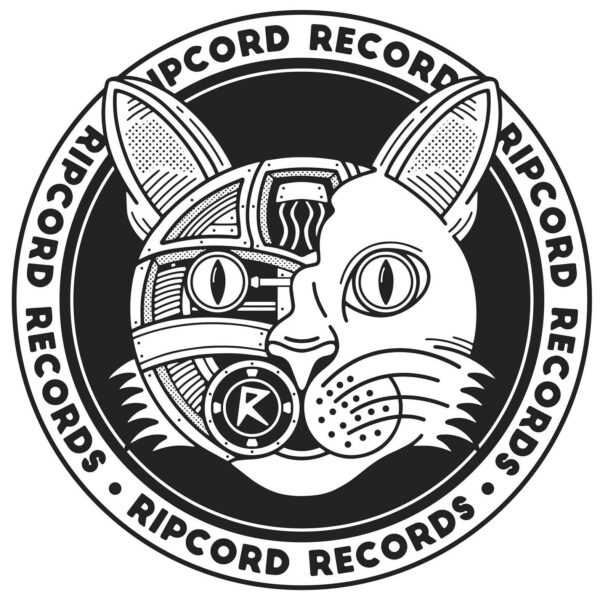 At the beginning of February and after a gargantuan amount of work Ripcord Records, Refuge Part I and Refuge Part II were unleashed. So, why after over three weeks of public airing and a lengthy run-up to both the respective releases, am I electro-scribbling about this now? Well, it's all very simple really. Not only are the compilations donating their proceeds to a worthy cause, but due to the limitless expanse of the internet, there's a chance that you may have missed their unveiling.
But what does this latest from Ripcord Records entail? Well, firstly, the label are not adverse to using their powers for charitable causes and to support the underground music scene. Ripcord have previously produced some stellar work within this vein with one of the most notable being the Lockdown Unplugged compilation which you can find – Here.
The aforementioned and its proceeds made their way to Mind in their battle to help those suffering with the stacking mental health ailments of this modern age and I recommend you sample it above. Now however and with Refuge Part I and Refuge Part II, Ripcord have decided to donate all proceeds to Refuge, a charity doing its utmost to help Women and children that have experienced domestic abuse. In an ideal world, charities such as these would have no need to exist but in this world that they sadly do, Refuge provide invaluable work.
---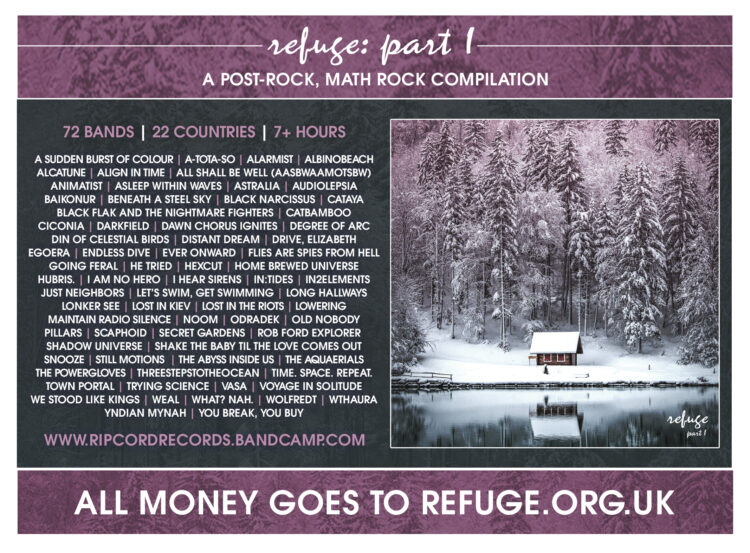 With the "why" aside, what of the very "what". Well, both these compilations have a very set directive regarding their colossal cornucopia of sound. Refuge I, reflective of a considerable aspect of Ripcords sonic-mantra, focusses on the explorative world of instrumental and progressive guitar music. Refuge I boasts an ambitiously diverse range of seventy-two bands hailing from twenty-two countries around the world ranging from here in the UK, across the pond to North America and onward to the likes of India, Australia, Poland, Denmark, Chile and further. If you have read anything in the way of EN's content regarding this immersively illustrative soundscape and musical community, you will know that I resolutely stand by the impressive manner in which it has capitalised on the expansive medium of the internet. It is then no less than obvious then that compilations like this stand as indicative proof of this feat.
This first of the two compilations cascades around the spasmodic, twinkling, alluring and intricately complex musings of Math-Rock and its innate ability to captivate and impress. Refuge I also pushes the immersive and all-encompassing diversity that is Post-Rock. A genre that, for myself anyway, provides a beautiful escape from it all, be it as a soundtrack to a walk, a background to soften daily tasks or as an alternative-soundtrack to whatever open-world RPG I'm grinding through.
Post-Rock boasts a varied yet cohesive set of stylistics. Be this long-drawn-out durations guiding you through the ethereal plane or sudden, dramatic, heavy-set, combustive catharsis, its ability to create landscapes or to enrich them is unparalleled. In fact, anywhere on this release and its impressive seventy-two strong tracklist, you can simply drop in and out instantly and exist with the worlds it is creating. Be it the sonically, jarring but intriguing jaunts of Math-Rock, the above or an intrinsically symbiotic hybrid of the two, I challenge you not to agree. Refuge Part 1 clocks in impressively at over SEVEN HOURS of resounding and unquestionably beautiful artistry.
---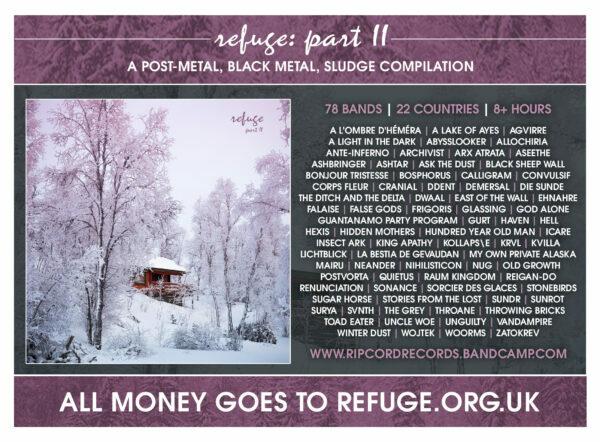 However, as many fans situated throughout the progressive guitar-music-verse will likely yield, there is another closely aligned realm really not that far away. Ripcord Records it seems were more than aware of this and simply couldn't leave the mini-verse of Refuge I on its artful not-so-little todd. Refuge II is yet another veritable whos-who of the underground and it's more than relevant how inextricably linked this second compilation is stylistically speaking.
That is before it distances itself from this bridge and further toward blast beats, shattered fret-boards and frayed maniacally-drive vocal cords. In the best way possible, obviously. Ripcord's Refuge II captures the other side of the fence often straddled by Post-Rock's heavier tendencies, amplifies its heavy-footing to a degrees way beyond itself, all whilst staring straight into the aforementioned etheric ambient plane. The Post-Metal on offer matches the melodious nature of its reserved sibling as it catapults this comp, at more than one sequential and or arbitrarily chosen point, into the visceral, demonic world of Black Metal and its own borrowings from the greater realm of progressive guitar music. Refuge I was nothing but immersive and intense but in its own defined way.
Refuge II on the other hand, is caustic coated, serrated by nature and comparatively unrestrained. The latter of the two monumental collections of noise is set to a wider scope sonically. At any point, you can dip in and out, either by track or after a particular run of any the seventy-eight listed. Ripcord have pulled and compiled another resource yet again. Refuge II pulls its riff-heavy, wailing and terrifying displays from twenty-two countries again, with Russia, France, Italy, Sweden and the Ukraine joining bands from those already listed. Refuge II is intense and unhinged and yet enthrallingly chaotic. From its blackened displays, its ambient links to Refuge I to its maniacal abrasion and satisfyingly gratuitous Sludge Metal, its a ride beyond wild. The seventy-eight-strong mass of dirge is (also) melodious in its own fashion and more than once in its own warped way adds credence, balance and contrast to Refuge I.
It is releases such as this that add an unequivocal credit to the less obvious aspects of what is considered heavy-music. Akin to its forebear and sibling in arms, Refuge II is a writhing mass, boasting over EIGHT HOURS of entertainment fighting the good fight.
---
Regarding Refuge Part I and Refuge Part II, Ripcord have truly outdone themselves here and I have likely rattled on for longer than was necessary. The label have listed and linked all the respective bandcamp pages at the very bottom of both Refuge I and Refuge II of all the bands involved which substantiates further how much of a resource these compilations are. You never know, you may find your next obsession.
For more information regarding Refuge and their works and all things Ripcord Records, head below.