Rachael Webster – Sheffield, England, United Kingdom.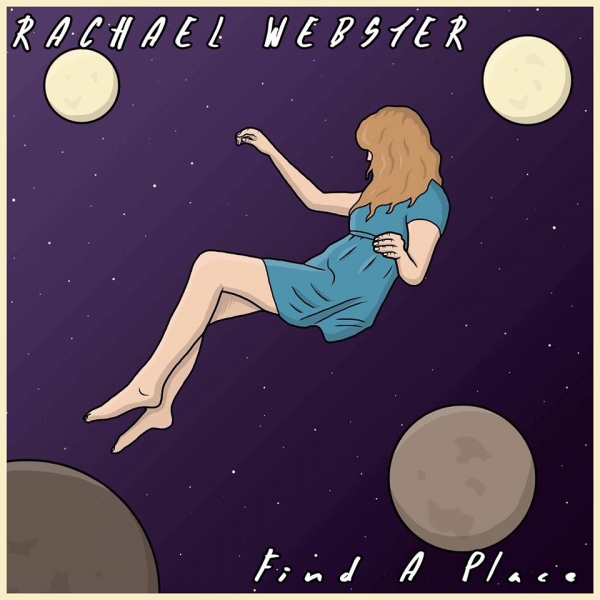 The term singer-songwriter, you'll find most people will admit, conjures an image of a lone human with an acoustic guitar singing their heart out to anything from slow Indie-Folk or perhaps more classic Folk with a reasonable amount of acoustic covers of Pop-songs to keep the casual listener happy.
Now as much as this is often the case, it isn't the whole rack. Some singer-songwriters purvey such a  stereotype as either a side note or one supplemented by session musicians, live bands and more than an occasional usage of amps. This is where Sheffield's Rachael Webster enters, with her genre crossing variation of the "far too easy" description.
Find A Place begins ironically relatively near to the stereotype I just tried to lessen in stature but far enough away to stand as it's own. 'Coming Home' begins with almost Dream-Pop melody applied to a twinkly Indie-Pop sound not limited to just an acoustic guitar. 'Coming Home' is a song of realisation that really "takes off" around the two-minute mark where the emotive vocals are given a strong foundation of mid-tempo Pop-Punk that is unexpected but suiting.
'Whisky and Cream' continues with this Pop-Rock-leaning Pop-Punk sound where the anthemic guitars and a weighted but subtle heaviness completely changes the direction of the release. In fact, if this had been the first track you'd heard of this artist, you'd likely assume this to be her sound.
'In Too Deep' changes direction again, with sombre subdued vocals as low as the accompanying strings. This doesn't stop as brooding licks populating the background as layer after intricate layer is built towards the track's centre, where a slow, cumbersome drumbeat adds but another layer as the track's increasing use of keys reaches full fruition. Track three is very much a Pop-song but a Pop-song happily self sustaining itself away from the generic "sad-boii" tunes of the mainstream, rather opting for an existence more genuine and the result of musical proficiency.
Find A Place is very much a debut with a concept and a debut with a point to prove, the point being that that underground equivalent of the "mainstream" really has something to say (play). 'The One' is another acoustic-string-led track accompanied by soaring guitar-work and intricate layers far more indicative of the more progressive tones of Post-Rock and Math-Rock than Pop-Punk-esque Indie-Pop. And that mish-mash of genre names people, is why 'The One' is perhaps the best on this EP.
'Lost In My Head' is the best of the more "full-band" approach from Rachael Webster, it closes an EP that from it's opening notes didn't leave too much of an inclining of how it would end. Without a doubt, each of these five tracks would undoubtedly stand on their own two-feet live in either their full-form or simply played by that one human with the acoustic guitar.