Out Of Love – London, England, United Kingdom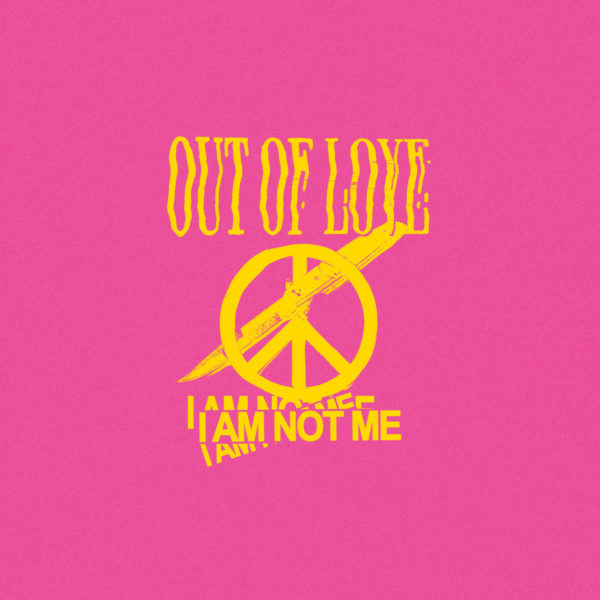 With so many DIY and underground labels populating the UK scene now, trends are forming. This is where Out Of Love and 'I Am Not Me' enter the stylistic fray via Venn Records. The London Alt-genre-fluid label is a dependable source from which ears can find all the new noise outside of the Skate and Hardcore Punk scenes and is an unquestionably crucial part to the UK scene as a whole. This point is further extrapolated by a collection of bands pertaining to the sound so clearly shown by Out Of Love. That being, of course, the lingering and adaptable canvas of Punk.
This is the open-border transition that Out Of Love regular travel care-free across. The band's debut EP is set to unveil soon via Venn and this is what you're going to get, via an """officially""" licensed audio-dietitian.
It is fitting that 'S.L.U.M.P' opens the band's debut via is own status a debut single. Number one is led in via a warped-psychedelically twisted line mockingly soaring above playfully disinterested Grunge-Punk. The band's crisp vocal-tones echo strongly of their locale and sit slumped yet sardonically smiling at their self-deprecating existentialist gripes. Out Of Love ebb forth via their lumbering yet upbeat Grunge with their Punk-streak as clear as our dystopian plummet. 'S.L.U.M.P' is an every day 2020, capitalism sponsored anthem.
After existential, fiscal, life-crises, it is onward to the crisis of the mind. 'I Am Not Me' is the all-important eponymous number of the band's debut and so by default carries considerable risk. Luckily, said risk, one of being sub-par and crushed by the "title track" pressure, is well-negated. Out Of Love embody the underground Grunge resurgence from the moment the lumbering baseline and tone take the stage. Psychedelic-fringe warped and discordant Grunge tones permeate the track thoroughly as the band's lyrical excellence stares itself in the mirror, bins the rest off, and accepts it all. 'I Am Not Me' very much validates itself with ease.
'All Grown Up' injects the driven tempo that I Am Not Me was openly missing. The penultimate number contrastingly spans over 1:25, in a fitting match to its Punk-Rock trajectory. 'All Grown Up' is youthfully exuberant but not limited to such. Out Of Love's everyday focus continues and the tracks only crime is that its the only one of its kind. Thus far, that is. With its given variety, not releasing the track as a single, suddenly makes all the more sense. Playful yet complacent escapism it is then!
Although 'All Grown Up' was the EPs main deviation, it still held the all-important flow. The closing 'My Perfect World' pulls us back to the main in-release stream. The band's grounded melodic Alternative Rock and Grunge hybrid breathes a more positive air. Despite how hopeless it all seems, there is indeed hope and a place where the pain (and ignorance) can be stripped away. 'My Perfect World' is the national anthem of this place, just follow the warped melodic line and the beckoning, excellently layered vocals.
I Am Not Me being limited to four-tracks, was already up against it. This is very much the way with debut EPs such as this and that's hard to argue against. However, I Am Not Me lays more than a stable foundation. The four-track openly bares all while also teasing further forays into faster-tempos later on while working intrinsically unto itself. The debut from Out Of Love is an organic underground Rock release that not only shows the lasting legacy of Punk but also is a shining example of where the UK underground currently is mentally and stylistically.
Out Of Love and I Am Not Me is set for the 17/07/20 via Venn Records and can be pre-ordered Here and Here.
Updates:
Music:
Venn Records: