One Million Motors – Newcastle, England, United Kingdom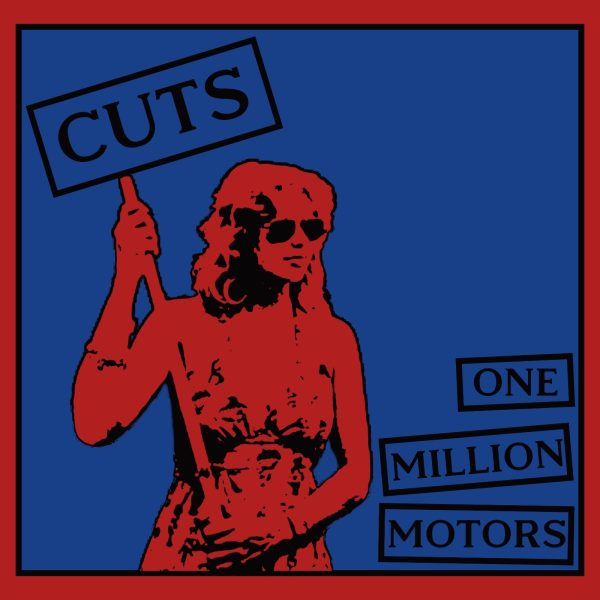 One Million Motors and Cuts are the order of the day. Over the past two or so years, the Newcastle "Alt-Punk" four-piece have been undergoing a transition. Now, if you're new to the band, the aforementioned metamorphosis has as of now, been confidently cemented in a fashion completely taking ownership of the self-moniker above. The band's movement away from Indie-Punk and the legacy of the other one with the pre-fix "Pop" in front of it has been explosive across both their most recent singles, 'Poisoned Lungs' and 'You're Not Viable (You Just Don't No It Yet'). I'll let you ponder on what the latter of those pertains to but cohesively, both tracks presented a brooding, politically motivated Post-Hardcore Punk foundation writhing across whatever direction is needed.
Think both Hot Water Music and Ship Thieves and you will have a solid idea of where this band are currently. That said, there is obviously more to OMM and you can read a review of 'You're Not Viable (You Just Don't No It Yet') – Here.
With all that in mind, the band are to release an EP I suppose you could consider the "debut" from this era of the band on the 25th March. I was lucky enough to hear it early and this is what I found.
'They're Getting Away With This' is the band's opening 1:22. An eerie, meandering guitar line populates most of this opening number, setting the disgruntled aesthetic as it twists and turns through the litany of complaints and observations depicted by OMM. Though contrasted by a simple yet rousing chorus, One Million Motors are emphatic in their disdain. The band choose not to scream and shout here, rather to convey their message melodiously and in a manner both organic and resonating.
'Distractions' makes use of the spooled engines of the predecessor. The powerful rhythm section that began to warm itself in track one is now free to roam. Thick, jagged, reverberating riffs laced with chugging bridges and thudding, precision stop-starts that are no less sharp, allow the meandering guitar work to soar.
Lyrically, the band know as many of us do. Governmental and media distraction tactics are hollow and yet continuous, charged by an intentional incredulity fuelling the 'carousel' as it perpetually radiates hubris. Though not everyone is fooled, too many are. To soundtrack this, One Million Motors are not breakneck on track two but prove without a doubt that comparatively, mid-to-fast tempo Punk can be just as combustive, evocative and effective in propagating a challenge. 'Distractions' is OMM at their most comfortable in this newer sound, furthering, honing and refining the groundwork laid by their previous two singles.
'ACW' was the band's chosen single for this EP and it's easy to see both why that was and further in, why it's been placed where it has on the EP. The four-piece, as Cuts flows, incrementally up their disaffected, disenfranchised and downright determined, dissenting tirade. Though short, the persistently punching propulsion of track three utilises a vintage, direct and classic Hardcore Punk chord progression segueing in and then out of their brand of melodic Punk for continuity. 'ACW' in its way, along with Cuts-proper, echoes the jarring, disjointed yet melodious work of both Only Crime and Greek Post-Hardcore revivalists Hoi-Poi. I would thoroughly recommend both bands.
'Know What's Best' closes Cuts. One Million Motors again masterfully own the mid-to-fast tempo range with determined drumming exerting seamless control, paired with a bass tone rumbling low and out of sight but more than audible as it emanates a foreboding, writhing yet at times sardonic and playful dread. The band boast incendiary, pummeling and raw riffs juxtaposed with hopeful, playful and ripping hypnotic leads. On top of that, 'Know What's Best' is imbued with constantly alternating tempo and dynamic changes with refrains that do nothing but keep you in place.
'Know What's Best' is enthralling. There is such power to this now entrenched era of the Newcastle four-piece and its intrinsic by definition. In quality, the band rival the "go-tos" of the scene and again most importantly, exude such confidence that all you wish for is for it to continue. One Million Motors are pissed off and just getting started.
Heed my words. You'll be eroding the repeat button with this one. The Post-Hardcore revival continues. But again. 25/03/22 is the day.