Meadow Burials – Bath, England, United Kingdom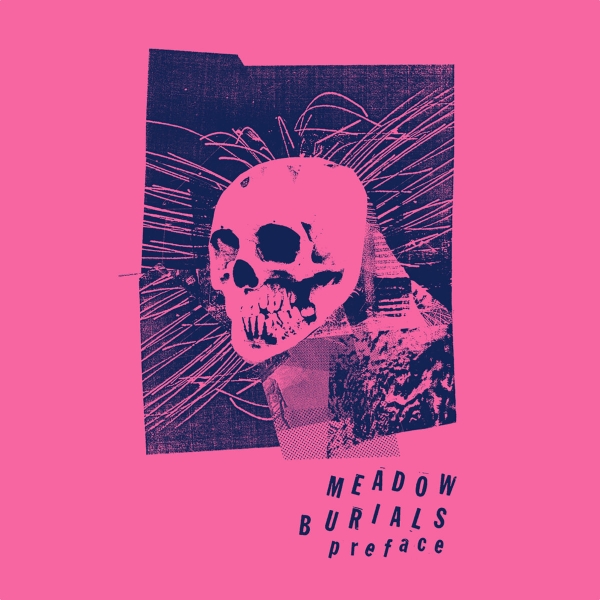 Based somewhere in but likely in actuality around Bath, Meadow Burials is a somewhat elusive former bedroom-based but now fully-fledged project by one Mr Nick Wiltone. You know that name if you've spent any time around the south-west England music scene in recent years, for Mr Wiltone plays in Punk n' Roll two-piece Ghost Of The Avalanche and is formally of The Operation who had a sold-out reunion show recently. But right now, despite the ever-long wait the south west UK Punk scene has had on the next Ghost of The Avalanche release since their new line-up and teasing spots on bills, it's all about a double-fuzzed EP entitled Preface via Meadow Burials. *Edit*You can now find said GOTA release – Here.
With a momentary flutter fooling you into thinking you're about to suffer some low-key Electro-Punk, 'Rock, Scissors, Paper' at eight of its total forty-six seconds catapults in via bedroom-Punk lo-Fi production and fruition. With fast vintage Hardcore Punk filtered through Garage Punk grit and a healthy appreciation for the masters of such a move (The Bronx), track one is over before you know it, prompting repeated plays until it sinks in.
'Trapped Bird' maintains pace and continues with the semi-subdued vocals ever-fighting for supremacy with the tightly knit abrasive past-adoring Garage 'core on offer. Once again, for some reason, confusing beeps of electronic sound are added but they ultimately matter not, for the 0:59 blast on offer is another over soon but well-received via that initial energy of '80s Hardcore. I can imagine feeling like a trapped bird is probably pretty shit. Find it in one of our house playlists alongside 'Rock, Scissors, Paper' – Here.
The genealogy and carry-over from Nick Wiltone's experience in GOTA is playfully added to break the pace with the warped Garage-Pop tones the mother-band is known for, all supplemented with a classic Punk grit in the excellent and stand out 'Let The Right One In'. That said, the track does annoyingly break the pace you felt was accumulatively building towards a heightened aggression but in truth that is the only context within which this "pop-song" of the release can be feasibly criticised.
If an early Black Flag that had travelled back in the timeline, kicked about in the Proto-Punk years and then completely miscalculated their return, ended up in the present day and were as a result partial to a little more Garage Rock and Punk exuberance, then I would imagine 'Vampires' would very much be a part of their repertoire; that and if OFF! were also partial to any of that.
'Addiction' champions the project's tendency for a sing-a-long and a need for cathartic release. Which is something, although subject heavy distortion, the final track clearly needs. The very nature and context of addiction is questioned and motioned towards a pseudo-positive force to soften and negate the external influences we are often subjected too without choice and to then combat the lack of stimulation in daily life. 'Addiction' talks of having the need to find something better to combat the menial banality of it all.
As you would expect, over-all this existentialism, you are guided again by double-fuzzed and stripped-back lo-Fi Punk played in the manner of a bedroom converted from a garage and given life outside of it.
Preface totals at a modest-time fitting to its Punk inspirations via a duration of 5:57. Are one-person Punk bands a thing now? Possibly or maybe this is just the preface to such. Preface is out now via DIE DAS DER.