The Expanse Of The Internet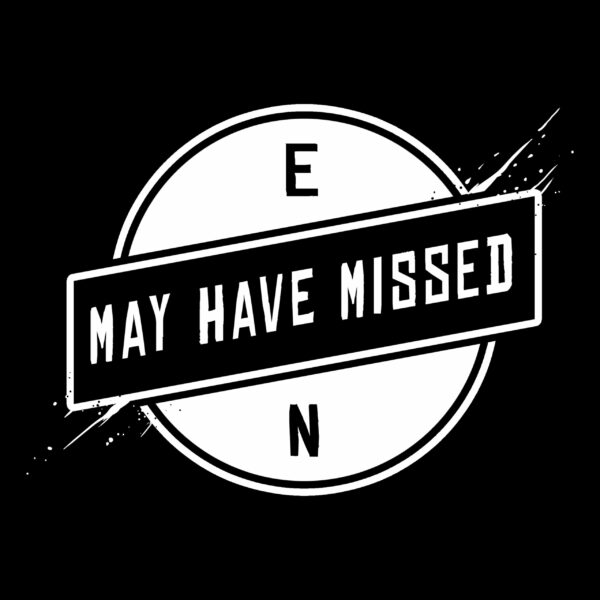 "May Have Missed Volume 1" is an attempt to counter the volume of requests I receive in the various Ear Nutrition inboxes as I type away. The venture of EN, when it boils down to the barebones of itself, is a spare-time hobby. I try to do what I can, as, after all, there is only so much I can electro-scribble down on a screen. Some don't fit, others are simply irrelevant to the site but overall, if they pique my interest or fit the site and whatever trend it's pursuing at that time, they get featured. I obviously don't have the time to cover everything and even though I would if I could, it's just not possible.
So, without further waffle, here is some music that I haven't had the time to sit down with-proper. The purpose of this series is to provide some varied new noise as an enticement to indulge in the plethora that is the underground music scene worldwide. "May Have Missed Volume 1″ consists of cuts from the inbox, but also outside of it. Enjoy!
---
Deny / Böset – Split (October – 2020)
(Crust Punk/Hardcore Punk)
Deny of Sweden and resultingly Böset, were actually the first bands to populate the list for "May Have Missed Volume 1". The former have actually been featured on EN before with their earlier in 2020 full-length, a review of which you can find – Here. Deny are soon to release yet another relentless blast of Crust Punk and have more planned for 2021 but for now, the split with Böset beckons.
The five-piece further push the eerie, turbo-charged and warped melodic drive that Crust is known for. Alongside this, the dark, distorted raw explosion that is the seminal D-Beat is omnipresent but where the band excel, is how rounded they feel. This is entirely the case with their side of this split. Deny push archetypical Hardcore and Melodic Hardcore Punk symbiotically within this dark realm of Punk and through doing so, make it more approachable without sacrificing the inherent veracity. The split is actually more than arguably a better and condensed example of the band's contemporary format. 'Indifference' is the band's best on their side of the release as it crucially contrasts the exhausting break-neck pace the band push. My advice, crash through this split and the go back and fully indulge in Deny.
Böset, although existing on the same cut cloth, push harder and seamlessly contrast. The band's Swedish-language Crust is harder, less melodic and comparatively more vintage. This is the instantaneous case in 'Ett Smutsigt Spel' (A Dirty Game). If Deny are lead-guitar focussed, Böset are so with their down-right filthy bass. Böset match the speed of the former band but cut their riffs harder and with increased vigour. The band push classic Hardcore in a similar proportion but again, utterly hurtle away on their own before doubling back to the continuity of the split. 'Krossa Fascismen' needs no translation via its name and in its own way, echoes the melodic nature of Deny. Böset's Hardcore Punk is resoundingly suited to the second half of this release. The band's 2020 split not only shows the comfortability of the post-2016 Deny line-up but also of what excellent company they are in.
Together, both bands round off twelve minutes of dirge that is replayable countless times.
Deny: Facebook / Instagram / bandcamp / Spotify
Böset: Facebook / Instagram / bandcamp / Spotify
---
Partholón – Follow Me Through Body (Vinyl Reissue) (October – 2020)
(Post-Metal)
Despite an apparent irony that many beings I know are baffled by, despite my overarching interest in Skate Punk and Hardcore, the realms of Post-Rock and Post-Metal intrigue me. The sheer levels of intensity, beauty, catharsis and dramatic overlay that these progressive guitar music genres embody is nothing short of powerful. This is where Partholón of Ireland enter. Follow Me Through Body although originally released in 2016, was given the vinyl treatment by one Paranoid Beast Promotions / Records this past October.
Post-Metal redirects and renditions much of what can be considered grandiose from more mainline Metal but that doesn't mean it can't sometimes over-do the veracious tendency for crushing riffs and pummelling everything else. Unline Post-Rock, vocals are more prevalent and this can again, be overdone. However, this isn't the case Partholón. The band's dissonant sound is backed by an eerie but non-harmonic melody dramatically and emotively contrasting the heavy-set, strained, sore and harsh vocals as they crackle earnestly through every word. This constant contrast between this almost anthemic, simplistic yet robust melodic guitar work and that of the cutting vocal cords is intrinsic to the highest degree. 'To The Stars' is instantaneously captivating.
Follow Me Through Body, within its immersive thirty-eight minutes takes the stripped-back structure of Post-Rock and Metal in its purest and most natural form. Partholón sequentially construct foreboding layers over long periods and progressions to balance their vocal output rather than overplay. The band's lumbering drumming and cumbersome, serrated and gargantuan sludgy-riffs are nothing short of intense throughout. In fact, there isn't one second throughout this release that you would want anything else.
Partholón: Facebook / bandcamp / Spotify / Apple Music / Deezer / YouTube Music
---
Motion Sickness – 'Catch Your Breath' (November – 2020)
(Melodic Punk/Melodic Hardcore)
Canada's Motion Sickness are personally one of my top 2020 discoveries and released one of the best lockdown and COVID-centric albums in this year of "what". A full review of Isolate can be found – Here. However in a nutshell, as Motion Sickness cut their way through '90s melodic Punk and Skate Punk and edged toward their contemporary counterparts, the band on the other end, pushed toward a driven and even more cathartic Melodic Hardcore Punk. Isolate is rife with sardonic humour, stress, anxiety and 2020 malaise and it's now led to the recent 'Catch Your Breath'.
Instantly, the Motion Sickness of 'Catch Your Breath' preach a simultaneous refinement and progression. The band's regular Skate Punk drum-beat rescinds in favour of the choppy, fast and steady melodic Punk formula for the most part. Motion Sickness are still fast enough to propel the instantly heavier everything, however, as it fights the band's inherent melody. The chorus of this new single is the band you know. However, the heavier set, darker turn embattled in a struggle to breakthrough is no longer but an underlying hint. Although the band have always been heading this way, they enlist a little help for their final charge. One Shane Told of Silverstein lends an interchanging powerful scream to soaring melodic vocal and back again as the band finally reach their Melodic Hardcore destination.
Do not pass over this band and support inclusive line-ups.
Motion Sickness: Facebook / Instagram / Spotify / Apple Music / YouTube Music
---
Mars Addict – Lamecoaster (August – 2020)
(Classic Punk/Pop-Punk/Power-Pop)
No matter how hard Hardcore raged. No matter how intrinsically elements of Metal have infused Punk and no matter how the precise and emotive Post-Hardcore has influenced modern Punk music, the buzzsaw sound of the Ramones and its latter renditions beholden to it found in the '90s have endured. This is entirely where the Mars Addict of Sāo Paulo rambunctiously bounce around over clean-cut, archetypical Ramonescore capturing the playful yet dangerous OG sound as organically as it can be captured nearly fifty years later. Throw in early-Green Day tantalisingly dangle some premier tier Teenage Bottlerocket, The Queers and Masked Intruder and 2020's Lamecoaster is where you'll arrive.
Lamecoaster captures the popped-playful Punk-Rock both the early days and the Pop-Punk of the '90s and early 2000s respectively and simultaneously embodied. The albums clean-cut production still sounds raw and yet rounded toward ease of listening hard to deny. Despite all this rounded and bonafide Pop-isms, Mars Addict still cut deep across the release with the seminal guitars that inspired so much. Truthfully, there is little more I can utter on such a release, the band have the harmonies, melodies, brash-Pop and a sense of humour to top it all off. See 'Snowboarding With My Dealer'.
Mars Addict also released a two-track EP containing acoustic renditions of the tracks 'I'm Not Ok' and 'Lamecoaster' which can also be found below!
Mars Addict: Facebook / Instagram / bandcamp / Spotify / Apple Music / YouTube Music / Deezer
---
Paper Tigers – 'No Ghosts Walk' (October – 2020)
(Alternative Rock/Post-Hardcore/Punk)
It's been a fantastic year for Belfast's Paper Tigers. The band's aggravated, visceral assault of Post-Hardcore and Punk-jet-fulled Alternative Rock, despite only existing in three singles, has lacerated the sound waves with a collective 41,882 plays on Spotify at the time at which I am writing this. Driven forth on heavy-set drumming and bass-lines, soulful lead-vocals, cathartic backing and guitar-work owing to both Noise Rock and the expansive seminal influence of Post-Hardcore, Paper Tigers dance teasingly at the mainstream world while reverberating around the Alternative.
That, in a nutshell, is where the band are currently. For more on singles #1 and #2, mosey on over – Here. For now, "May Have Missed Volume 1" really wouldn't be without 'No Ghosts Walk'. The band's third-single builds on the rhythmic and spasmodic Alt. Rock of the first and overcharges the Punk-Rock so prevalent in the second. Paper Tigers are never far from intrinsic combustion and yet single #3 is the resoundingly refined final product. 'No Ghosts Walk' perpetually cycles ala the band's foundation genre-crossing Alt. Rock. Even after three singles of this formula, the band still feel dangerous, unpredictable and enthralling. The 2:03 mark sees Paper Tigers shift from their Post-Hardcore tone into an unrestrained, low-ridden Punk-Rock with a track defining contrasting blast of Hardcore-esque vocals alternating from the main soulful-display. The band then fall back into Post-Hardcore-Punk chaos, hybridised with their heavy-set thud. 'No Ghost Walk' is where the band were always meant to end their 2020.
Paper Tigers: Facebook / Instagram / bandcamp / Spotify
---
Kayleigh Morgan – 'Innocence' (December – 2020)
(Acoustic/Folk) 
Welsh singer-songwriter Kayleigh Morgan is perhaps best known for her work with Ignitemares of fellow Welsh label Smash Mouse Records who released a rather monumental tribute to Tony Hawk's Pro Skater 1&2 earlier this year which you can find – Here. Kayleigh herself also gave her own rendition of a Swingin' Utter classic for the compilation.
Although Kayleigh's background is one of Punk and Alternative, her solo work since 2015, has been almost wholly penned on an acoustic guitar in pursuit of a more sombre array of notes. That said, Kayleigh's social-political jabs and earnest catharsis and conviction translate seamlessly nonetheless. 'Innocence' is a stark contrast to the Stranger Things inspired 'Upside Down' of 2019. 'Innocence' is comparatively softer in tone as it gently cycles through a lament to youth and innocence pre-societal corruption and pre-conceived social trajectories. This 2020 single is one of complete, wonderful yet fiery and resolute contrast. 'Innocence' is a lament, yes and compositionally it is a stripped back easy-listening ebb but its lyrical inspirations are of deceptively heavy-going relevance. Innocence is a virtue too often forsaken and usually not by the complete volition of the being.
Despite being the track of the most contrast on "May Have Missed Volume 1", I felt it was yet another worthy addition.
Kayleigh Morgan: Facebook / Instagram / Spotify / YouTube Music / Deezer
---
Silverjet – 'Everybody Used To Love You' (November – 2020)
(Hard Rock)
As stated at the very beginning, "May Have Missed Volume 1" is a collection of musical musings that I haven't had the time to sit down with but also a collection of intentionally varied noise. This very and first chunk of varied noise is designed to not only show the wealth of the underground music scene but to also showcase the world of guitar-driven music that I and my alter ear-go EN are all about. It feels fitting then that the hearty party Hard Rock n' Roll of Silverjet should close volume 1.
2020 saw the three-piece return to the fold with their first slice of anthemic yet playful party-ish Hard Rock since 2014. The band's past is laced with riffs, Classic Rock wails and Rock n' Roll abandon beset with the occasional Punk streak. On that note, I beckon you to indulge in it once you are finished here. However, November 2020 was met with the return of Silverjet via odes to the Classic Rock that no matter your opinion on, very much happened. Jokes aside and each to their own, from its jagged, stripped back punches to its oh-so classically toned lead lines and soulful piss-taking of so-called "Rockstars", Silverjet have delivered.
Regarding and based on vocals alone, 'Everybody Used To Love You' is infectious and replayable countless times. The instrumental backing, although more than obviously existing within classic Hard Rock, is cheeky, playful and definitely itself. Silverjet plod along to a laughing drumbeat as both bass and not-bass axe unambiguously nail the care-free Rock the band are after. That said, despite this "care-free", fun-loving mantra, through the ear-worming, harmonic chorus, the sour mood toward the song's inspiration reaches its full fruition.
I challenge you to not have this embedded in your cranium after one full listen.
Silverjet: Facebook / Instagram / bandcamp / Spotify / Apple Music / YouTube Music
---
Well, that was"May Have Missed Volume 1″. This whole feature is an experiment in itself and there is definitely at least one more coming.
A special thanks must go to Laurence Crow Illustration for the new artwork for this series. As per usual, the man behind all the Ear Nutrition artwork reaches full nutritional fruition with his efforts. There are multiple variants of these so expect to see them regularly changing!
In the meantime, at the time of writing this, there are 431 published articles for your perusal on this very website and a handful of Spotify playlists for your audio nutrition. Enjoy!
Laurence Crow Illustration: