Lost From The Start – Limburg, Belgium.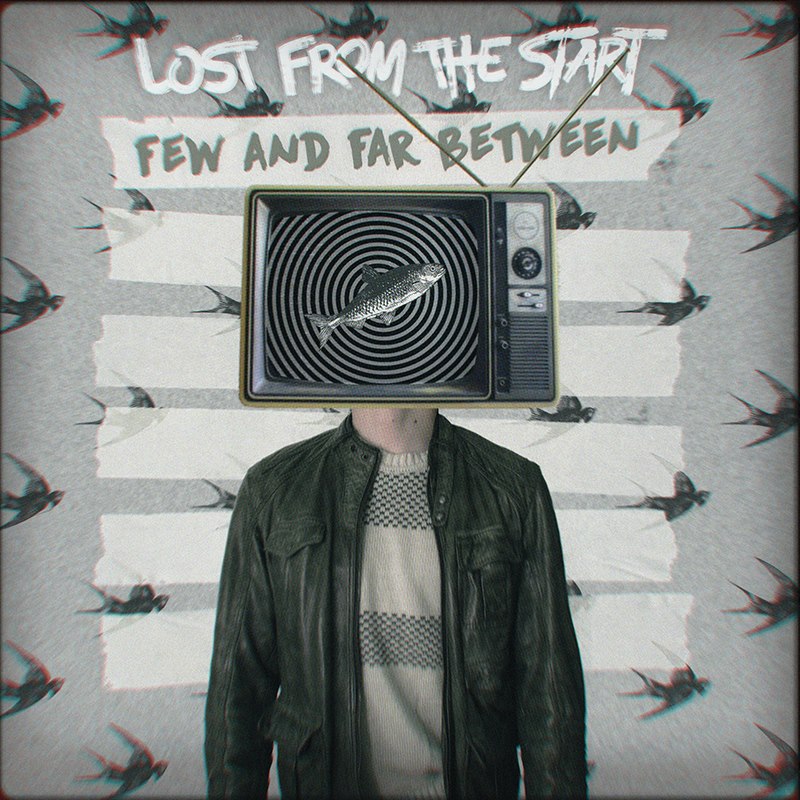 Belgium's music scene is always one you hear of here in the UK, it's the first stop for UK for bands heading out to play in Europe and vice-versa in that it's also the last stop before crossing that annoying little channel causing so much pointless fuss at the moment. But I digress! Lost From The Start are a Pop-Punk band hailing from Limburg in Belgium, currently riding the wave after their first UK tour and debut full-length album.
Lost From The Start play unapologetically on the poppier side Pop-Punk loaded with soaring guitars and more vocal hooks than you can shake a stick at. The band are clearly inspired by the genre's presence post-the year 2000 citing the likes of ROAM, Paramore, State Champs and notable household names The Ataris. This is all lovingly laid-bare in 'This Is Getting Out Of Hand' as Few and Far Between gets going off soaring leads and Pop-Rock verses indicative of the early 20-teens.
After said Pop-Rock/Pop-Punk crossover, 'How Things Turned Out' very much polishes this formula further with more heartfelt lyrics and a welcome vocal-interplay. LFTS very much "tick-off" the token "ballad" track that every Pop-Punk release in this vein has with a soaring chorus and a slight but welcome Alt. Rock heaviness.
'Out Of Left Field' explores this glossy, melodic and slightly Emo-esque Alternative Rock stylistic further with the subtly heavier sound suiting the band but leaving you still wanting some of that snappy, playful and classic Pop-Punk tempo. That said, track three is still a release highlight. 'Sore Throat Weak Knees' is very New Found Glory and begins to show more of what the band are capable of with another welcome return of the dual vocal approach. 'Sore Throat Weak Knees' is very much the summer sing-a-long anthem.
'April Showers Bring May Flowers' shows off more of vocalist Hilde's soaring melodies alongside another well-practised effort from the band and their tendency for soaring and emotive Pop-Rock. 'Castles' instantly captures your attention with this excellent lead-guitar and again, subtle heaviness as the band seem to be teasing you with brief bursts of pace.
Few and Far Between is not an album for those expecting fast up-tempo Pop-Punk or a classic rendition of the 90's. Lost From The Start may have the stellar and well executed soaring melodies from the more recent era of Pop-Punk but focus far more on the rockier and more vocal sing-a-long-centric sound concentrated less on writhing pits rather more on having the words lovingly sang back at the band as they do their thing. See 'Monitor The World'.
'Off The Hook' is very much the track heading in the direction the band almost certainly should consider more-so. Lost From The Start are unambiguously very good at what they do but arguably, sometimes at least, sit a little too far away from the faster, more traditional Pop-Punk sound they flirt with. That said, 'Off The Hook' is well layered and impressively laden with vocal harmonies alongside very suiting lower bass-tones.
'Cold Shoulder' is as emotionally driven as you'd expect and is particularly enjoyable for those who admire mid-career Paramore. It's another jagged Pop-Rock track designed for those chilled evenings where you realise some things and indeed certainly some people are better left behind and you're perfectly content with that.
The band close with Hilde's best performance yet in more of the same but as well-executed as you'd expect. Few and Far Between is an album for those more inclined to and have a penchant for the mid-tempo, sing-a-long side of a genre that doesn't have one set of rules.
As much as I would like to see more of charged and up-tempo sound from Lost From The Start, the band do what they do very well. Few and Far Between is out now with physical copies available from Bearded Punk Records.
Updates:
Music:
Bearded Punk Records: