INVEKTIV – Copenhagen, Denmark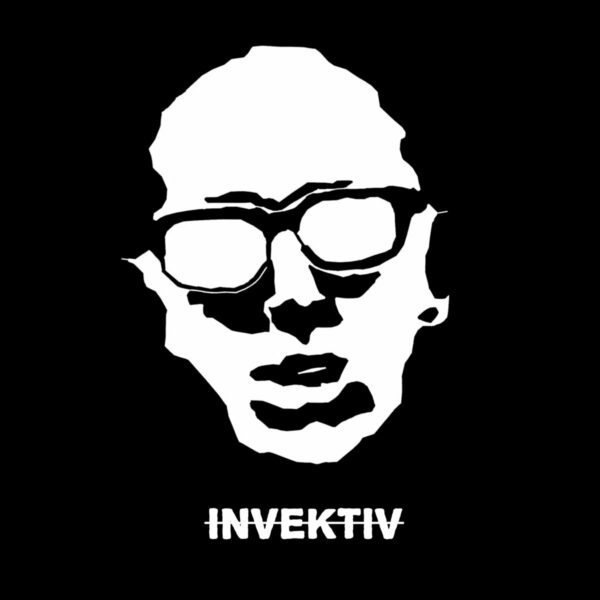 INVEKTIV and Bleach Solves Most Of My Problems are a band and a second release I have been meaning to cover for a while now (aka fucking ages). The Copenhagen-based multi-lingual and multi-origin four-piece have been eviscerating ears since 2018. With their member's origins cut across Argentina, Italy, the Netherlands, France and the UK, the band are drawn together in cohesion by a love of fast, abrasive, discordant and volatile Hardcore Punk. July of this year saw the follow up to 2018's Smack IIII Flash. The former's tirade of classic west coast US Hardcore, Rock n' Roll-enriched groove, occasionally melodic overlays and powerfully fast D-Beat, are all reasons to note it down for later. You could even disappear for eleven minutes and thirty-six seconds and then come back.
However, in these incomprehensibly dismal times, it seems that bleach is the key. Now, where have I heard that before? The origin is truly trumping me. Oh, well. To Copenhagen for INVEKTIV and Bleach Solves Most Of My Problems!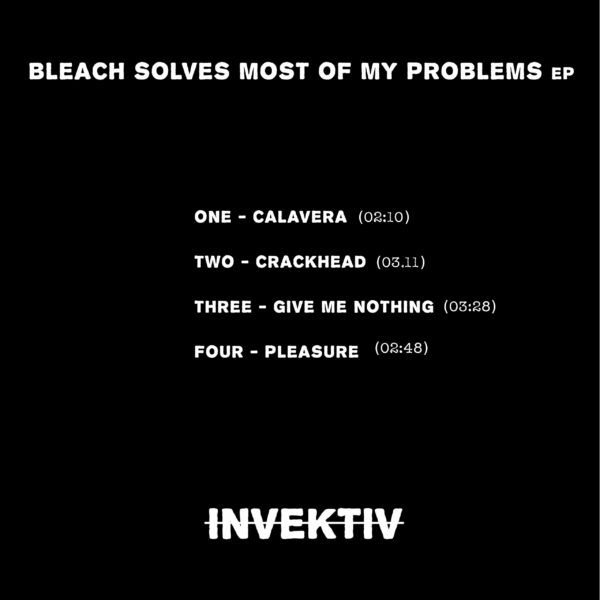 'CALAVERA' makes use of Agu's Spanish and will truly imprint itself in your head regardless of linguistic comprehension with a smiling yet abrasive ease. (Calavera is Spanish for Skull and is often synonymous with the Mexican "Day Of The Dead".) Track one's serrated grin is pushed by a crashing and classically-inclined Hardcore. However, true to the INVEKTIV MO, it is nuanced and corrupted further by a maniacal, smiling and unhinged lead guitar in the verses. The fact that said lead and the latter one-word (and further lacerating) D-Beat chorus is flanked by interchanging stop-starts is plainly indicative of how INVEKTIV can propagate, proliferate but control their powerful cross-section of chaos.
For a supplementary contextual tidbit, Agu, Marijn and Mike are in the Blackened Hardcore/Metal band THROWE.
Digression aside, it is obvious why the band chose 'CALAVERA' as the lead single.
'CRACKHEAD' takes a risk. Track two lumbers forth in a cumbersome, brooding metallic trudge with a reduction in pace for its majority. The band's snarling vocals, crashing drumming and prominent lead are in complete and stark contrast to the tempo of the former. That said, crucially, INVEKTIV maintain a sense of intimate dread. In the band's own words, 'These new songs embrace the extreme and uncaring excess of life with a more personal tone: too much is never enough.' This conditioning is very much felt and then pulled back to the faster continuity of the band's foundation in a final and expedited twenty-nine seconds. 'CRACKHEAD' has a tough act to follow, it's true, though and does its own thing. I'll leave you to judge.
Mike's resolute and crashing drums permeate the bilingual 'GIVE ME NOTHING'. Track three has the brash charm of early Hardcore but morphs into a latter-timeline warped but melodic Crust-esque catharsis. Track three is vitriolic, bitter, and contemptuous. INVEKTIV's more 'unfiltered' approach to songwriting but also their unfettered aggression, being the fuel that nourishes it, are a bombination of volatility. The debut from 2018 is more than worth your time, that much is a given. However, from that point therein, INVEKTIV with Bleach Solves Most Of My Problems are another force entirely.
Again, to backtrack, the band's first EP had a prevailing melodic edge that on Bleach Solves Most Of My Problems has taken a corrupted turn. 'PLEASURE' rivals the opening 'CALAVERA' for its leads as they meander through a structure somewhere between vintage Hardcore, Crust and Post-Hardcore. Agu's snarl is backed as usual by the rest of INVEKTIV but with the added and initial inclusion of a contrasting vocal tone, 'PLEASURE' bolsters its prominence. The rounded but far from softening melodic edge of the band's previous returns but again, is corrupted, contemptuous, concentrated and contrasting. Fast, abrasive and rage laden Hardcore is all well and good, but it's the nuances that matter.
INVEKTIV's reason for existence as a musical unit was to indulge in a passion for fast Punk and Hardcore. In 'PLEASURE' despite closing Bleach Solves Most Of My Problems with yet another in-house and well-orchestrated deviation, INVEKTIV are in complete command. In fact, dare I say that track four surpasses the excellent 'CALAVERA'? well, maybe. What do you think?
Throughout the EP, there isn't one moment where Simon's drumming isn't hypnotic or enthralling. Not one moment where vocally, the band's efforts aren't genuine or natural and one moment where the cohesive clout of the axes (bass included) aren't exactly where they need to be. INVEKTIV have released an EP of fantastically intrinsic urgency. And, it's also fun. Fancy that.
Punk crosses borders. INVEKTIV and Bleach Solves Most Of My Problems is out now. Find all you need below.
Updates:
Music:

*Bleach Solves Most Of My Problems*
is bandcamp only for now but will reach streaming
services soon.