Forever Unclean – Copenhagen, Denmark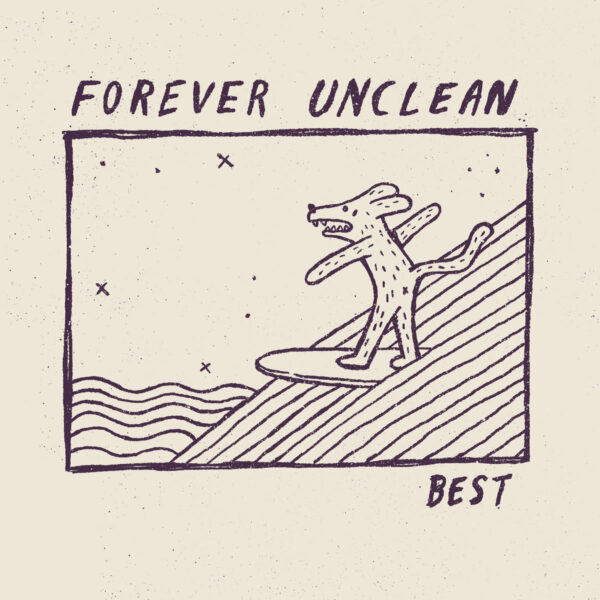 Forever Unclean and Best are yet another of the recently announced pandemic and pressing plant defiant releases now ramping up to audible freedom. The Copenhagen three-piece are being escorted by a trident of veritable DIY Punk record labels from the band's native Denmark, here in the UK and Atlantic-side via Nasty Cut Records, Disconnect Disconnect Records and Hidden Home Records respectively. The Danish band's succinct syllables and one-word song titles have become well-known across the scene-a-verse. In fact, I'd go as far as to say that their raucous, smiling and soundly-idiosyncratic hybridised Indie-Skate Punk beset with its heavier and equally jovial infusions, has made quite an impact since 2015.
The 1st of January 2022 is the day for the full-length many have longed for and fortuitously I had it early. Shall see what you're in for? Yes.
'Dream', in quite typical fashion opens Best as the band often open live. Cathartic but smiling. Forever Unclean's buoyant Indie-Punk-Rock juxtaposes its higher and lower toned self whilst providing a little nuance on the process of "living the dream". No matter how upbeat this band are, there is almost always a residing power waiting to spring from the dark. The following 'Persona' pushes a brooding, almost Hardcore-rooted Grunge for its first few seconds before their (seemingly) carefree drumming casually separates this brooding Punk from their integral and playful Indie guitar work. 'Persona' battles the perception of itself and whether it's worth it or indeed real. The band's constant and again brooding Grunge-isms and dichotomy of mood represented by both bass and accompanying contrasting guitar work, capture this introspection perfectly.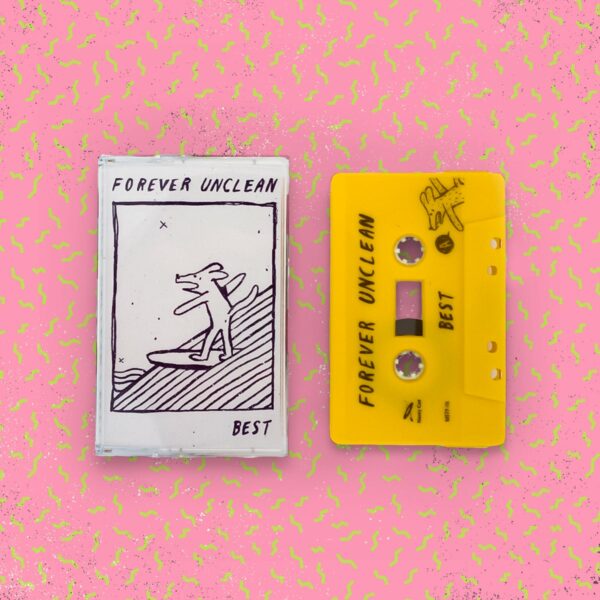 Though already a mesh of tempo and stylistic deviation, the Danish three-piece continue to be the antithesis of "sitting still". 'Rules' persists with the introspection and a fixating obsession with past actions in a 0:33 of vintage Skate Punk cut with the increased brooding riffs standing Best apart from its predecessors.
'Crowds' re-reads this '90s Punk memo and simultaneously, in a true testament to the tradition of upbeat cathartic Punk, smiles sardonically at its own woes.- 'It feels such a waste of breath, to berate my ceiling' and 'It seems like such a waste of time, speaking words that are not mine and it will be too late before I figure out, how to truly be myself inside these horrifying crowds' speak for themselves as Forever Unclean flank this lapsing self-confidence with a reflective and near-whole cross-section of their unique sound across 'Crowds'. Four will likely resonate with many.
'Woods' was chosen as the band's second single and it's easy to see why. Five is charged by the tenacity of Skate Punk, the youthful merriment of Indie and the newer-found power permeating Best. 'Mandy' yearns for escapism, battles insomnia and marks an excellent mid-point on an album that though as raucous and as fun as you'd expect, is also purely poignant and unashamedly honest.
'Scars' was the band's initial "hello we have returned". Track seven is at war with the very definition of the word "scars" and isn't overly fond of hindsight as it's notably heavier and lower driven Alt. Rock moves on to inspire the riff-heavy same before a segue into the charged, Indie-Skate Punk of 'Kold'.
Track eight is one for the Triple Sundae fans, one of the best of Best and also one shamelessly teasing tempo as you'd expect. No matter how sporadic and even playfully irritating these constant tempo alternations are, Forever Unclean would categorically not be themselves without them. 'Kold' is sung in their native Danish and perhaps they are simply taking the piss out of this (actually quite enjoyable) frustration. I certainly would.
'Broken', akin to 'Mandy' carries a straightforward charm complete with some of the best instrumental coalescence on the record, substantiating how the three-piece format still has a place in it all. 'Smile' is another where the band command their craft with seamless ease. 'Smile' motions from brash Punk to the omnipresent Grungey-core that pervades Best. A crisp yet raw Skate Punk follows ahead of a meandering guitar and vocal refrain provides respite to a plodding beat ahead of more cycling riffs. The penultimate of Best is a contender for its namesake.
Forever Unclean, despite such a youthfully exuberant approach, have always been a mature band in their way. Best, on par with their previous efforts, is just as carefree in its catharsis but the catalyst for it has remained the same. 'Change' finishes an album that refines what the band are known for, adds a blunt-force but smiling heaviness to it to match their existentialist rants and proves that ageing doesn't equate to "boring" or "banal" when it comes to the maturation of a Punk band. 'Change' is another coming to grips with the inexorable process of ageing, change and the token "going grey". Track eleven though initially light and aerated gives way to the frustration of such through gritty Punk-Rock ahead the albums finest heavier sections in a complete synonym with 'Change' and the prevailing theme of Best.
Forever Unclean and Best. I'd say it lives up to its name. Outside of the irony that is. 01/01/22 is the day with vinyl and cassette shipping later that month. Find the band and all such pre-orders below.
Support the independent music scene.
Updates:
Music:
Pre-Orders: