NEXØ and False Flag are soon to enter into a world where unsurprisingly to anyone, Punk music and its persistent penchant for the proliferation of pertinent political discourse is at an all-time high. A "high" that is also as you'd expect, depicting an abject and crushing low. Or something like that. Punk-Rock and its plethora of genealogical offshoots are again at a zenith of quality, prevalence and conviction, regardless of individual stylistic craft. However, quite notably, it is Hardcore that seems to persistently permeate a vast portion of it. That was a lot of "P" words, wasn't it? Moving on.
On this coming 15th of April, ahead of the infamous, notorious and illustrious Manchester Punk Festival, NEXØ are set to release their second full-length. TNSrecords, Kink Records, 5FeetUnder Records and KODA are all involved, so with THAT said. Let's go!
The band's 2019 New Normal blasted a manically smiling and sardonically toned tirade of existential Hardcore Punk, one cut from early '80s Hardcore all the way to the latter developments in both D-Beat and Crust. With 'Eulogy' setting a foreboding and ominous stage ahead of the album's opener-proper, 'Truthcide', it's the latter stylistics that greet you. 'Truthicide' whirls with a winding Crust lead treading on Metal tonally and is propelled forward by a beat that only relents into a buoyant refrain to allow you time to think. Unlimited access to information is not the blessing its thin surface presents.
NEXØ, very much within the realm of contemporary European Punk, are easily comparable in more ways than one to the veracity of fellow Copenhagen Punks INVEKTIV, label-mates Incisions and French mentalists Jodie Faster, who are also their label compadres. Both 'Demise' and 'Out Of Sight' present a band that has intentionally blown their debut far from its already erratic position in the waters lapping the rapidly eroding shores of shit-ceity. NEXØ are faster now. They are considerably more tightly wound and not afraid of warping their expertly placed melodious layering to contrast their rhythmic jet propulsion.
False Flag is one of many albums from a period of human history that you only wish was a contrived fiction. Yet, as I hear each of "these" albums, the genuine conviction is never contrived itself. There is nothing banal here. NEXØ's forthcoming touches upon it all. Riots, both externally and internally in 'Lachrymator'. Mental health and coping mechanisms unsettlingly rocking on the precipice of no going back in 'Out Of Sight' or the jarring life-equivalent of the infamous "404" error code in '404'. On False Flag, the four-piece are intrinsic to themselves and their surroundings.
Though False Flag presents a voracious tempo as an underpin, the riff-heavy and considerably more (stylistically) Punk-Rock-centric elements of their debut encroach upon it beyond just tactical refrains. Tracks such as the Chuck Palahniuk inspired quest for RICH-ly flavoured sustenance, otherwise known as 'Adjustment Day', not only depicts a perverted and wishful cannibalistic 'wet dream' but juxtaposes both wings of the NEXØ sound as much it sees them coalesce. 'Anger' furthers such with a display best described as a Black Flag, DC Post-Hardcore and Melodic Hardcore hybrid, complete with release notable guitar work and contrasting bass work that is fantastically vintage on two counts. – 'Anger is a symptom of a world gone mad'.
'Anger' is also, I'd go as far to say, perhaps the best track on False Flag. And if you're into it, check out a band by the name of School Drugs – Here.
Tracks seven, eight and nine take the melodic Crust Punk that has permeated False Flag where it feels it should and pushes into a more rounded Melodic Hardcore without any sacrificial loss of their snarling retort to existence. Nine is lyrically far too real and cleverly balances the two-fold melodic sound of the record's latter half with the penchant for groove that NEXØ cleverly imbues, timely where satisfyingly necessary.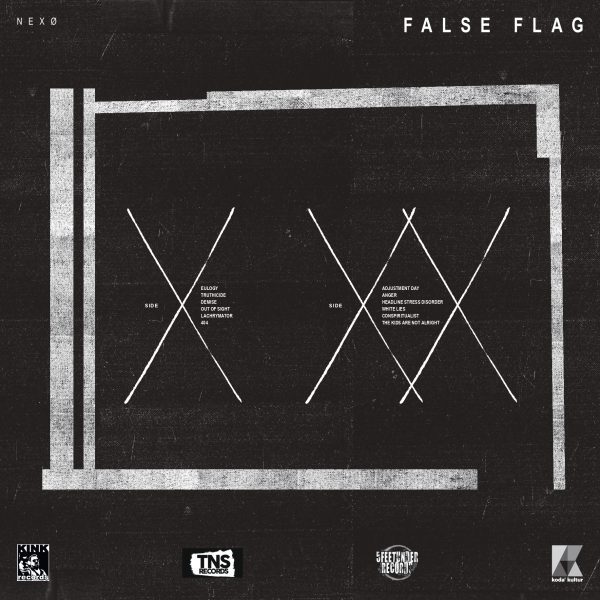 'While Lies' is perhaps the purest refinement and utmost completion of the paths New Normal strode. 'Conspiritualist' then pertains to exactly what you think it does in this age of "what now?!". NEXØ's menacing yet unquestionably tight rhythm section and tempo alternation represent the twists, turns and severity of the track's lyrical modus operandi, whilst the warped melodic overlay and shrill vocals complete a backdrop that becomes more and more twisted as it unravels and gives way to a myopic regression.
And that is where I will leave it for the most part. Unsurprisingly, despite their brash Punk vigour, NEXØ close False Flag with further poignancy and I encourage you to take heed of the words when you hear them. That is either during or after the streamlined and vintage fast Punk that constitutes its soundtrack.
You can find all things NEXØ below including pre-orders for False Flag. As stated, the band are playing this year's Manchester Punk Festival. Nice.
Updates:
Music:
Pre-Order: