The Midnight Dogs – Leicester, England, United Kingdom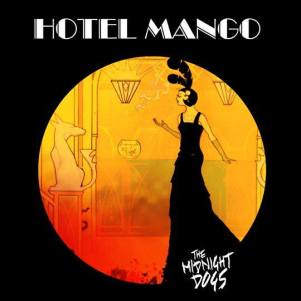 Introducing The Midnight Dogs is quite easy and shouldn't take too long, especially as the band do such a good preliminary job of doing so. "Good Old British Bar Room Rock & Roll" is how the four and sometimes more piece describe themselves. And, to be honest, via a considerable and likely terribly inconvenient detour to USA Rock history, that's about right.
Forming in 2013 in Leicester and knocking around the midlands with various line-ups, one thing has remained the same with The Midnight Dogs. And what is that? Their tributary adherence to much of the OG and culturally standout facets of Rock history of course.
The Midnight Dogs are the definition of "kicking it old school". The band's Rock n' Roll encompasses playful bluesy twangs, Garage Rock and dare I say mild forays into and awareness of Punk and a clear penchant for theatrical Hard Rock. The opener to the latest effort, Hotel Mango, is a show-off.
Those on the lookout for admittedly cliche but alluring and more than satiating danceable Rock n' Roll complete with glossy Classic Rock guitar work will not want to pass up on Hotel Mango. See 'I'm With You' and the Garage Rock n' Roll of 'Whiskey Bender'. The semi-acoustic Rolling Stones-esque Blues-Rock of 'Dead Man Ain't Gonna Change' and the American Country of 'Until My Dying Days' make for welcome variety the Hotel Mango.
You can't argue with the production clarity of The Midnight Dogs. The band's cascade over Rock-history is crisp but still captures much of the jagged, vintage grit that juxtaposed the melodic croons of blues-tones that haven't quite died off just yet.
'Let's Go' flirts with Punk and 'Centre Of The Universe' epitomises the danceable Rock n' Roll the band are aiming for. This is the sort of music that wants you to let loose and forget the day's woe. Simple as that. This isn't anything new, but it's fun and that's what matters.
Introducing The Midnight Dogs. See! Easy.