Icantdie – Bridgend, Wales, United Kingdom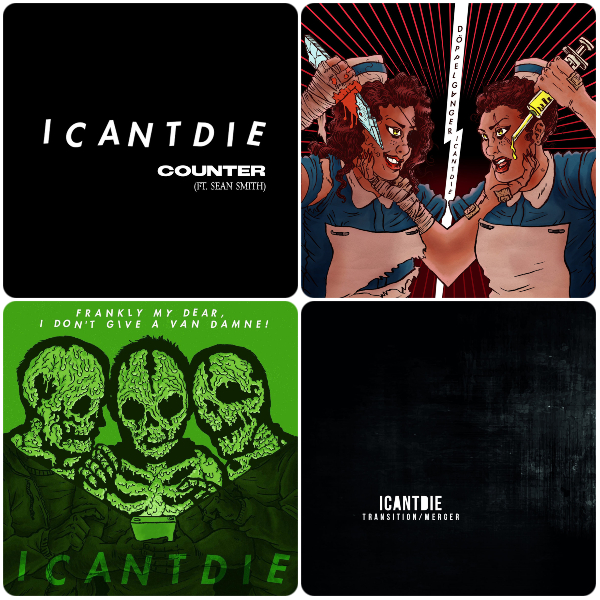 Given the three-pieces' stylistically straddling flexibility, introducing Icantdie is no simple task. 2016 saw the Welsh noise makers dramatically emerge from Bridgend via an organised but cacophonic-inclined blend of self-monikered "Heavy Alternative Rock" beset with an earth-shattering heaviness borrowed from more than one camp. Icandie's first EP, Transition/Merger, conveyed this addiction to amalgamative heavy-music chaos. Imagine the cutting Southern Rock-esque riffs of Cancer Bats and Every Time I Die. Think back to the discordant chaos that early Gallows, Blackhole and The Ghost Of A Thousand invoked and then the legacy of early 2000's Post-Hardcore. Now, imagine all this with the sharpened metallic-edge that united all the aforementioned and you'll have an idea of where you're about to reside. That and a considerable nod, accidental or not, to the Post-Hardcore chaos of The St. Pierre Snake Invasion.
But what of the "Alternative Rock" contingent of the band's moniker? Well, despite my own descriptions, such a foundation is never far from an Icantdie recording. That said, it is considerably corrupted by the above. Transition/Merger boasted soaring yet discordant melody in the opening 'Transition' and furthered such in the refrains of the Hardcore-riffed 'Merger'. Icantdie aren't a band to shy away from their evident and gratuitous need to play heavy but also aren't one to ignore the need for a well-timed and soaring stylistic contrast. The obsessive and existentialist 'Charlie Kelly' reverberated over a mass of teetering-Hardcore chaos, Post-Hardcore-gloomed Alt. Rock and emotive guitar work. 
'Golgothan' pushed further way, refining the riff-work more so towards a symbiosis with the melodic Post-Hardcore-led melodic leads and stripped back corrupted Alt.Rock. Despite a resoundingly melodic effort, notably so due to cleaner vocals, Icantdie couldn't resist themselves in 'Golgothan' as it shows a band capable of effortless melodic Rock without negating their intrinsic intensity.
2019 then began its rotation. 'Doppelgänger' further pushed the indomitable legacy of Hardcore Punk and how it has shaped bands such as Icantdie. That's not to say that the band are bonafide examples of this vein. However, the raw veracity and abandon of their craft are indicative of this seminal legacy. Track two of Doppelgänger furthers the violent technical blasts of riff-heavy Hardcore and punch-face Metal inclinations. The band glide through with a wake of destruction, without wholly sitting in any such camp definitively. Icantdie are seamlessly shameless as they navigate their heavy-set-dirge and relative to the title of track two of Doppelgänger, truly don't give a van damne.
On 'Crazy Animal?! Ok, I'm A Crazy Animal!' the band wholeheartedly push towards a violently abrasive Alternative Metal and capture much of the attitude the 2000s and twen-teens Metalcore wish it had. Through the band's work, a permeating and transfixing rage is felt throughout, crucially held together by terrifyingly vocals and an innate rather than inane need to be as heavy possible.
But how do I undertake introducing Icantdie in 2020? Well, via their noisy entry into April. 'Counter' features one Sean Smith of The Blackout and Raider fame, lending his vocal tones to the three-piece's shortest duration yet. Icantdie battle mental confusion, ill-feeling and the indomitable tide of force-feeding. 'Counter', much akin to the band's previous work, straddles heavy music lasting longevity and enriches it therein. The 2020 single is short, slow, riff-heavy and only marginally melodic purposely to add that respite and contrast before re-entering the fray. In yet fewer words, 'Counter' is as persistently pummelling as its subject matter.
Trufully it's hard to comment on Icantdie anymore than what I have already. This is a band that combined decades of heavy-set stylistics. A band that cares little for how they cathartically express other than to push it to its ear-drum perforating limit between teasing eerie refrains. The Bridgend three-piece fit not in one place, but hold their own across the heavy-music-verse. Change my mind.
Introducing Icantdie? I'd say that'll do it. Now, excuse while I track down some new ear-drums.