Good Friend – England/Northern Ireland, United Kingdom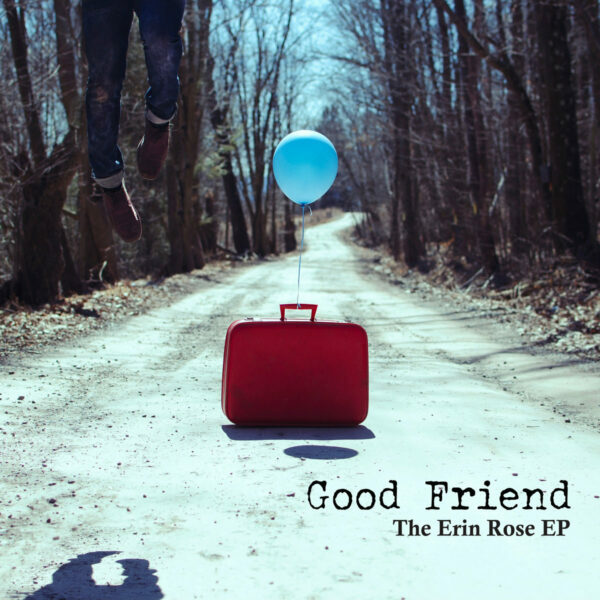 Good Friend and The Erin Rose EP dropped surprisingly on the 11th December. Although Good Friend had been teasing the follow-up to 2016's Ride The Storm, the exact release date was mired in uncertainty. Between the time in which the aforementioned created the excellent benchmark that it did, the band toured their little six-feet off. A full introduction on the band can be found – Here. However, as much as Ride The Storm is very much ageless, with hopes on music scene normality eventually returning, the band need something to supplement their repertoire. Enter now again, Good Friend and The Erin Rose EP.
Through their melodic, yet gruff and heavily Alternative Rock adjacent Punk-Rock, Good Friend are no less than poignant and evocative. That said, the two-thirds Irish three-piece, split between Northern Ireland and Newcastle in north-east England, can also approach this cathartic release via noise a little more upbeat. 'Erin Rose Drinks On Shift' pushes the contrasting and calmer side seen on Ride The Storm. Good Friend boast a playful, Indie-Punk with their inherent weight subsiding near entirely. Track one is stripped back and light-hearted in sound with only its rumbling, Gruff-Punk bass-tone tieing to the majority band's previous effort. 'Erin Rose Drinks On Shift' may well be melodic and upbeat, but it's a sardonic song about being lost and reminiscent. That said, from its forward flutter to its melodic lead rounding off the harsh-bass tone, it finds its way.
The further sardonic title of 'We'll Burn That Bridge When We Get To It' enters with a slow, tipsy ebb. Track two is carefree and gentle in its aimless meandering. At least initially that is. The inherent weight of former work breaks from its confines into a slow, Alt. Rock rumble feeding on its own disdain. Good Friend alternate between this release and back to the tipsy and contemplative meander. Track two, despite its dreary observations and bedraggled perspective, is a song of hope. 'The world could be a pretty place if you can look at it in this way […] a pretty place if you could just take the time'.
Good Friend are beset with the collateral as their heads are mired in a battle between chemicals and demons and yet, they want to see the worlds beauty. Not only is track two purveying a message worth heeding, but between 2:18 and 3:25, the band conjure a resolute rousing resonation and singalong laden with this conviction.
'Rusted Friends' closes the new EP from Good Friend. Instantaneously, an anthemic sombre tone permeates. This is followed by strained, hoarse, emotive vocals moving toward an interchanging to-fully-harmonic display. There is little else to say on the structure and style of 'Rusted Friends'. Track three persists with the above formula, with the earnest-ear-worming, enveloping and enthralling gentle guitar tieing you the band's words. The 2:11 is soon over but its a track you'll repeat countless times. The overarching theme of loss, being lost and combatting the resultant confusion on the way to clarity ebb to a close on this surprise three-track.
In truth, this not what I expected from the band. Gone for the most part is the punching harder-Punk so rife and well-executed on Ride The Storm. Good Friend have decided to mellow out in their own way. However, that's not to say that this new EP is alien and too far removed, as that would be unfair. Good Friend still remain the same emphatically honest band and that much is undeniable. They will undoubtedly return to what they are more recognisably "good at" and "known for" soon enough I'm sure. That said and both however and moreover, The Erin Rose EP is still unequivocally what they ARE "good at", it's just represented a little differently and on the periphery of the band thus far.
To be concise, Good Friend have done it again. These three songs in nine minutes and ten seconds are still a double-measure in intensity, they just have a different flavour profile and finish.
Good Friend and The Erin Rose EP out now via Red Scare Industries and Gunner Records.