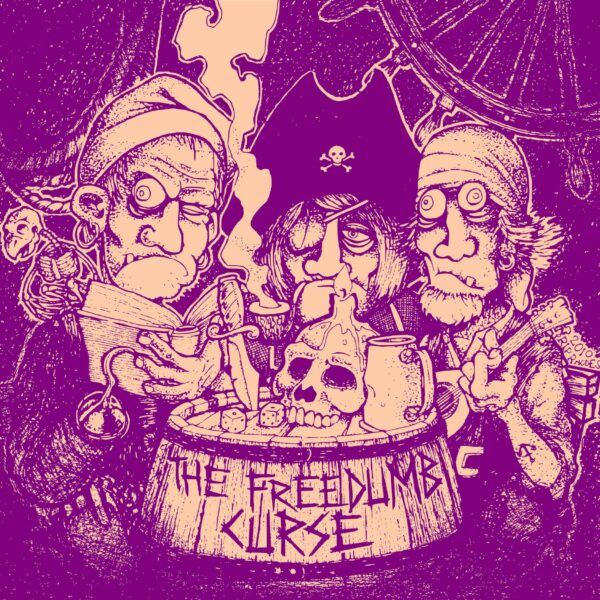 Freedumb and The Freedumb Curse – Reversed are part of a trend. A trend in Punk? OH NO! Stay with me now. That was for dramatic effect. One of the things about bands, of all shapes and sizes, is that much of the music you see, hear and digest is only part of what is often actually a vaults worth of material. This, more so recently and spurred on by the pandemic, is often no longer kept behind closed doors. Bands are releasing off-cuts, b-sides, previous unannounced sessions and I for one am more than present for it.
Freedumb has for the last few releases, pushed a sound heavily leaning on classic Skate Punk whilst supplementing it with both Post and Melodic Hardcore as well as ties to their first Hardcore Punk debut. The latter is why were are here, because Freedumb and The Freedumb Curse – Reversed call back to sessions from 2008, a full year before The Freedumb Curse was recorded. Shall we?
'Weekender' opens upon charged, lightly thrashed Punk that would go on to occupy the Skate Punk Freedumb would embody later before crashing into a vitriolic booze-filled rage in a perpetual cycle of self-destruction. Jagged rhythms and whirling leads fill the time between the next week of drudgery as the alcohol and drugs fly in a flurry of numbing. 'Weekender' was and is a timestamp in the stylistic history of both Punk and Freedumb.
'Brown Eye Vision' calls on a time where Hardcore wasn't quite as rife with guttural screams and overt Metal riffs rather an awareness of the latter and a vintage snarl instead of the former. Track two is another with melodic subtleties cut with brooding anger paired with the refrains that made early Hardcore so powerful at the time. 'Brown-eye Vision' is straight-Punk played faster.
The infusion of quickfire Thrash into Punk across the board is and continues to be a captivating act if done right. In 'Trashtalker' Freedumb's classic Hardcore approach on The Freedumb Curse – Reversed renditions the era where the aforementioned Thrash took far more control in one of the best of these choice cuts from the depths.
'Wasted Youth' continues to cut Hardcore with Thrash but also again eludes the obsession Skate Punk would have with the genre later in the timeline. Not only does this release of deep-cuts cast a different light on the band and incite a desire to listen to the full debut – Here but beckons more interest into their journey. However, track four also quite cleverly and again in a timely fashion, hints at what the band would favour later on. The case for digging up older material continues. 'Wasted Youth' is yet another "best" of this 2008 session.
'Flammen Brenner' ('The Flame Burns') switches to Norweigen after 'Wasted Youth' set the stage for such in its final riff-heavy push. Track five takes the rage of vocals straddling Punk snarl and vintage Hardcore simultaneously and has them leading a triumphant concoction of Skate Punk-Thrash. Five, within this, is also beset with riff-heavy, alternating and complex refrains. Freedumb cut such with serrated Thrash powered by Hardcore, all the while chasing their proto-Skate Punk and Melodic Hardcore inclinations. 'Flammen Brenner' is a song that once again captures how the genre's transitions were so interesting and fantastically fluid. Freedumb know their stuff.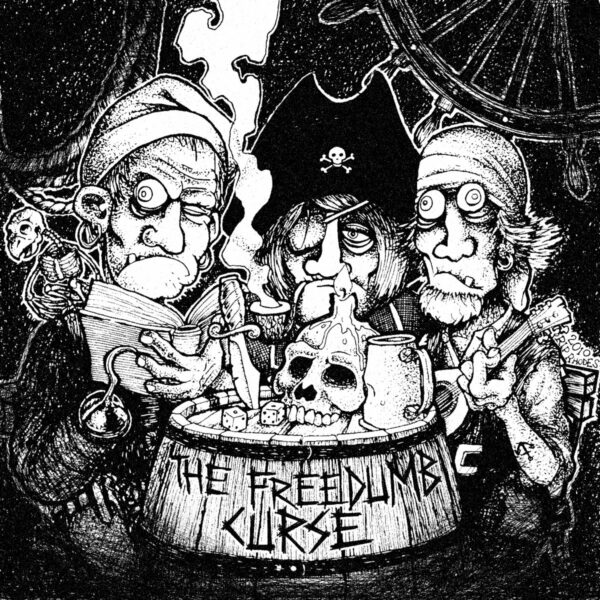 'Mitt Liv Er Basert På En Sann Historie' ('My Life Is Based On A True Story') crashes through a modest 1:32 in a case for how melodic guitar-work can benefit Hardcore at any stage. That, and well, what I would assume is casual trumpet for whatever reason. Track six, akin to the release as a whole, maintains a strong pull for Hardcore fans of the classic and more metallic schools, but also those who lean on both Melodic Hardcore and Skate Punk. Freedumb, in hindsight it seems, were always destined to mix, match and seamlessly hybridise their sound. Six, takes a rumbling Hardcore Punk, streamlines its stripped-back approach and cuts it with thudding, jagged and jabbing riffs just for contrast.
Freedumb and The Freedumb Curse – Reversed end with 'Regninger', which roughly translates as 'Bills' and closes these seven songs in twelve minutes. The band charge forth on a classic Hardcore drumbeat, snarl at what I assume is financial worry while being accompanied and soundtracked by a teasing melodic lead. Of course, this doesn't last. Freedumb, in their final 0:36, crash toward a sudden alternation of heavy-set rhythms to close their natural catharsis.
Fast, simple, effective. Much like Punk in general.
Updates:
Music:
Post-Modern Dark Age Review – Here