Exploding Head Syndrome – Oslo, Norway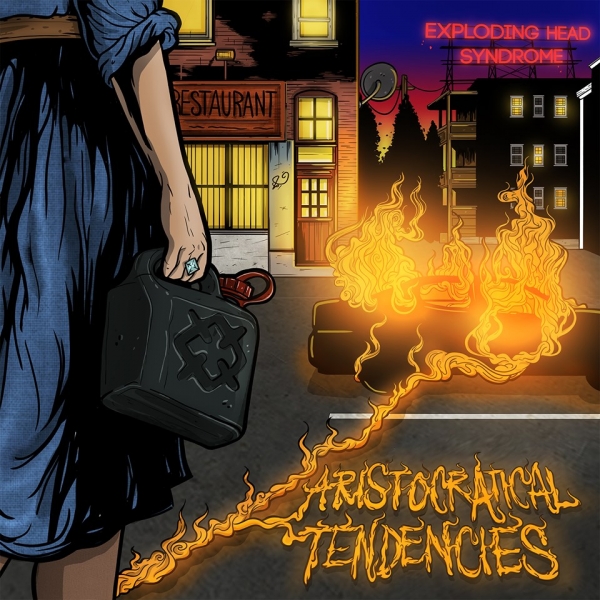 You see or hear the words – "Exploding Head Syndrome" – "Aristocratical Tendencies" and "EP" and you know via the name alone that at least one part of your brain is screaming down the rest via over-clocked intrigue.
Native to Oslo, Norway, Exploding Head Syndrome very much "come at you" via accosting, melodic, emotionally and societally introspective Hardcore Punk in a manner true to the genre's prowess in the early 2000s. Aristocratical Tendencies is the band's sixth release since their debut in 2010 and see's their three-pronged Hardcore sound reach its fullest fruition yet.
Think of the intelligent, unrestrained rage of Modern Life Is War. Cross that with elements comparable to each stage Comeback Kid's robust legacy and supplement that image with a little of This Is Hell and you'll have a clear blueprint in your head.
'Shades' questions the very "question" of Religion today and the exploitation of the innocent via their faith and its use for capital gain. 'The opening voice on Shades is a televangelist who begs for money donations so you won't burn in hell.' – Morten (Guitar/Songwriter). 'Shades' not only opens an EP dead-set in its ideology but with some of the band's fastest classic Hardcore yet.
Classic Hardcore, prong #1, check.
'Hardcore Jesus' was the forerunner for Aristocratical Tendencies and within the context of the EP, departs in a slight fashion towards melodic sing-a-long Punk. Melodic Punk is prong #2.
That's not to say the Hardcore is entirely 'dead and gone'. From the melodic Punk intro to the eerie guitar tone, then onto the foreboding Hardcore cloak of enveloping gloom that is gyrating to an onset groove; the sound of EHS is permeated with the 'core despite their penchant for melody. Rather than simply purveying "Melodic Hardcore" in the serious but not so serious 'Hardcore Jesus', the band chooses to blend Hardcore and melodic Punk rather than even bother with the hybrid above.
'I Got Feelings' catapults you into the maelstrom of conflicting thoughts and temperaments that is the human mind with absolutely no hesitation. Comeback Kid fans will appreciate the dichotomy between vintage foundational bass-work rumbling along rife with low groove and the sudden rasing of the pitch and tone post 1:20 as the point is hammered home. Once again, the band is combing blueprint 'core with melodic Punk in absolute triumph.
'You Have You Dreams (I Have My Nightmares)' is laced with socio-political disdain while displaying how excellent this band is. Overall, they are neither the fastest nor the heaviest and as you've seen are clearly very inclined towards melody that is far closer to Punk-Rock. Yet, despite all this, the intensity of Hardcore Punk is solidly omnipresent.
This penultimate track steps in to provide prong #3 in the Exploding Head Syndrome tirade, Melodic Hardcore. A stylistic that in this case, is comparable to Modern Life Is War yet again.
Exploding Head Syndrome perfect their Melodic Hardcore further with the closing 'All Change Is Bad'. Aristocratical Tendencies is a Hardcore release that even the "toughest" of scenes experts should partake in. For "melodic" is an adjective that EHS unequivocally champion as much as they do the intensity and conviction of Hardcore.
If anyone remembers a band by the name of Sinking Ships then this final track will captivate you. 'All Change Is Bad' sees this Oslo five-piece at their best, as per usual.
Exploding Head Syndrome – 'Aristocratical Tendencies' EP – out now via Big Day Records.
Updates:
Music:
Big Day Records: