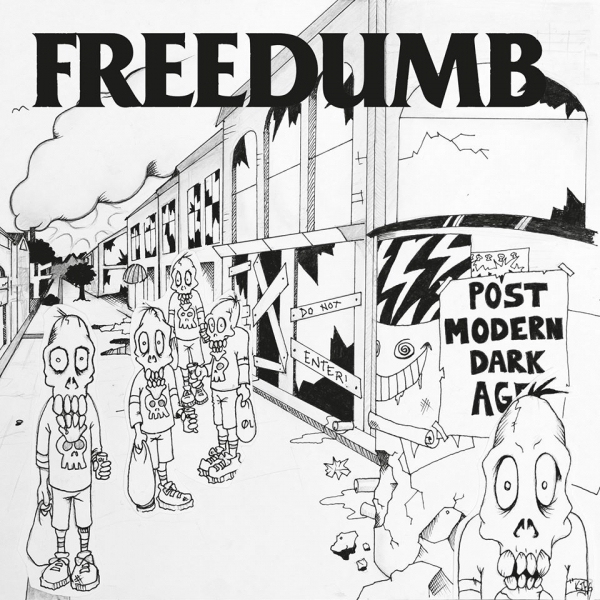 '90s melodic Punk-Rock and Skate Punk are the itch that simply won't go away. Freedumb – Post-Modern Dark Age are a part of that itch. It's an itch that despite repeated scratching only seems to bolden in its determination to always be there and let's be honest now, the Punk scene of the past 30 years would not be the same without it.
So once again, enter Freedumb via Østfold and Big Day Records.
I feel I will be forgiven enough for saying that the majority of the Skate Punk and '90s-esque Punk doing the rounds currently is focussed far more on overt and flawless technical elements than ever before, despite obvious adhering to the immortalised frame-work. This isn't a criticism at all I might add but sometimes you must fall back on classics, which is exactly what Freedumb does for the most part with this latest effort and third full-length. See the aptly titled and genre-classic 'Intro'.
'Let It Slide' wastes absolutely no time in pushing onward via the direct abrasion three-piece Skate Punk is known for. 'Let It Slide' is melodic and playful without losing its edge before subsiding into feedback ahead of the lumbering intro of 'Stuck In A Dream'. Both tracks were chosen as forerunning singles and its hard to see why they wouldn't have been. This third track carries a brooding, melodic guitar tone over a lower-bass that leads into a crunching and darker-Punk sound more than aware of the Post-Hardcore '80s. Find it in one of the EN house playlists – Here.
'Confliction' takes more cues from the decade of golden rhythms but this time far more in the riff-heavy Hardcore-inspired style of Pennywise and Good Riddance, while 'Lend My Hand' rumbles into action teasing at melodic, vintage-Lagwagon-esque Skate Punk before again settling on a Hardcore-led sound. It is in this fourth track that the band constantly segue between the two facets of Punk-Rock and even supplements the Lagwagon resembling parts with some further deep-rumbling reminiscent of Hang.
'Ant Theme' is the melodic '90s Punk anthem of resounding positivity and determination, distancing itself from its predecessors in a way most inviting. Find it in another playlist – Here. However, existential-crisis and isolation-induced madness are here to take over. And they are doing so in a flurry of cathartic explosion via Melodic Hardcore that echoes like-mindedness towards label-mates Exploding Head Syndrome. You can find a review of EHS's latest – Here. 'Inside The Box' and 'Break The Chain' less-so, respectively take the assumed focus away from a record that fooled you into expecting stripped-classic Skate Punk and towards an almost chronology of Punk from that very starting point.
'Running' lends more to the idea that the late '80s is a defining influence on the band, with the words Dag Nasty floating around more and more as the track persists. After the band have let it slide they are ready to eventually 'Let It Rip'. Said moniker surges through its verses over the fast Skate Punk the band effortlessly purvey in another wish for clearer personal skies. The track for the final time on the album brings forth Freedumb's fastest Skate Punk, sharpest Hardcore bite and at-home '90s melodies to close.
Freedumb not only remind you that Skate Punk is still relevant in its purest form but also do a damn-good job at showing what came before and after. Out now digitally and physically on Big Day Records.
Updates:
Music:
Big Day Records: