Down Memory Lane – Montreal, Québec, Canada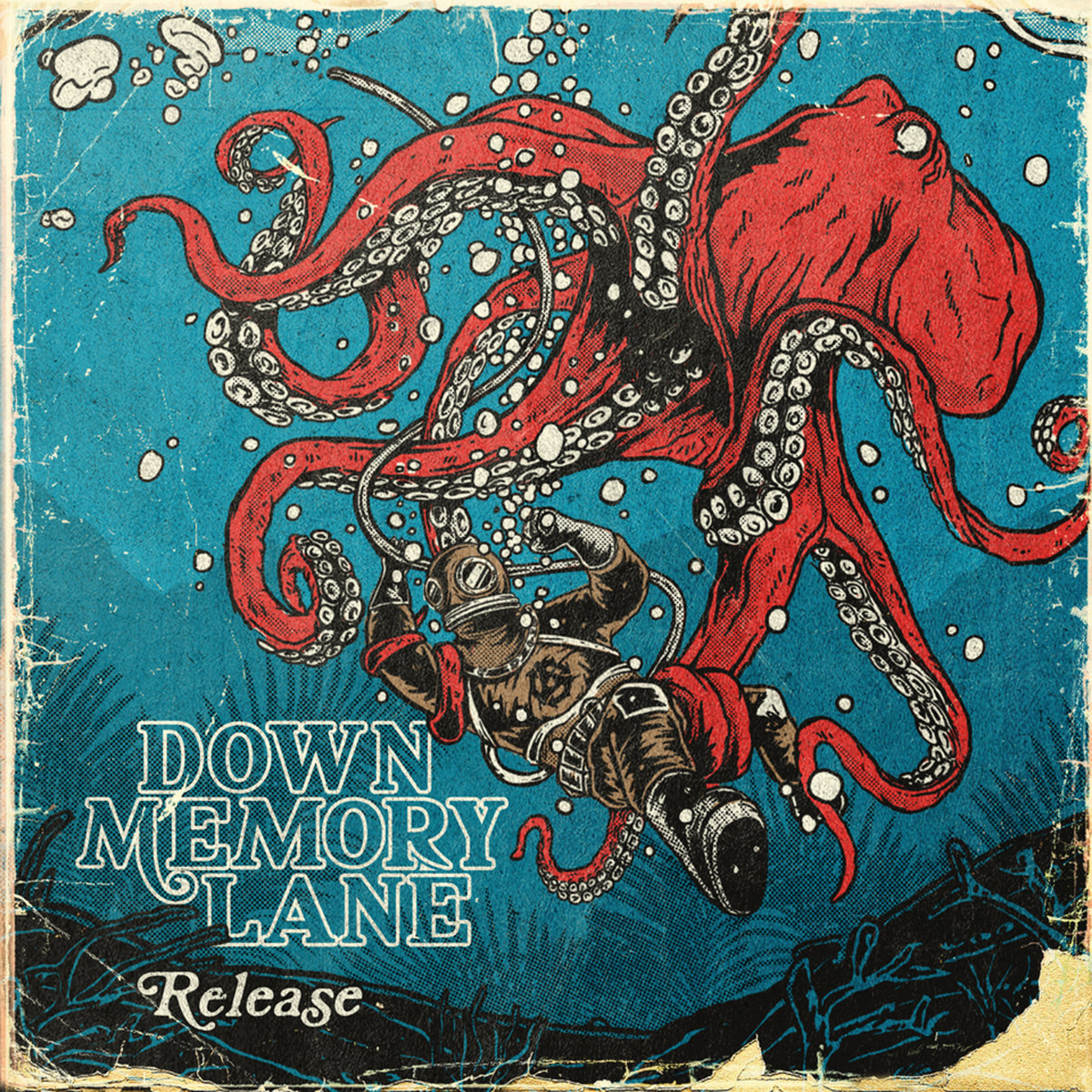 Thousand Islands Records and Montreal mainstays Down Memory Lane have very much been operating on an "release per year" basis since their inception and I sincerely hope they keep it up. Recycled Punk Rockers (2016) was five track refreshing take on Skate-esque 90's Punk music, while the French-language Vice Caché (2017) went half harder, half classic Pop-Punk as the band developed their sound all leading to the release of well, Release.
'The Song About This Song' has an intro quintessentially and vocally Canadian with more harmonies than you can apologise to – I jest, being English, I'm just as bad. But I digress, the vocal intro lends your memory banks towards Beldevere, Mute, Our Darkest Days and all the way over the other side of the world to The Decline in a 90's Punk song chock-full of all those crucial stylistics. Down Memory Lane prop-up this sing-a-long tale with drumming relentless and never missing a beat and driven, a classically-toned Punk bass and guitar's charging off smiling.
'My Last Dance' and it's opening lick becomes a strong line of Pulley-esque 90's Punk before something unexpected but indicative of a band moving forward. The first verse begins off the back of a melodic break-down itself leading to chugging time changes stuck somewhere between Easycore and Tech-Punk, the latter being something clearly more of an influence this time around. Throughout the following verses and huge chorus, the band ply this new found jagged sound into their repertoire and although initially precarious and confusing, it's at home by the end of the track.
'Xenophobic' takes this again new found precision-Punk to a new level in the band's best and most visceral exploration into obvious penchant for hard-Skate Punk yet. Down Memory Lane may well be apparent masters of classic Pop-Punk fuelled mature melodic Punk tracks but it's utterly unambiguous how they shine when charging off into this harder and harsh environment, which is very suited to the issue being discussed.
Classic Strung Out? Yes? Well! If that is something that produced a thought or audible response then fantastic, because the shredding rhythms and soaring harmonies of 'By Leaps and Bounds' very much appeals to fans of such. It's another where the band's technical proficiency from drum-fills to time changes only aids the clarity of the production and vice-versa.
'Miami' is instantly memorable again with the contrast between the overt sound of the classic Punk bass-tone and the shredding yet melodic contemporary Skate Punk. 'Miami' then segues into the band trademark harmonic vocals followed by a slightly harder, lower vocal tone that provides a welcome contrast. The strongest aspect of this penultimate track is very much this, both musically and vocally, the band near constantly alternate between their most melodic and most abrasive, sitting 'Miami' as a contender for the best of Release.
Say what you want about "Punk credibility" and the age old (and tedious) shouting match often beginning with lambasts of "that's not Punk" but Down Memory Lane write a damn good Pop-song. 'Catch and Release' is one-part Skate Punk one part Pop-Punk as the band shamelessly and more importantly, flawlessly chop and change showing the dichotomy of their current craft in a manner hard to criticise.
Down Memory Lane have done it again.
*Note* Don't be fooled by the numbers on the bandcamp tracks, there are only six as of the now. There is a grand plan but unfortunately I am not at liberty to say or I will surely end up like our subterranean diver friend there! 2019 will hold the answers.
Updates:
Music:
Thousand Islands Records: