Disgraceland – Exeter, England, United Kingdom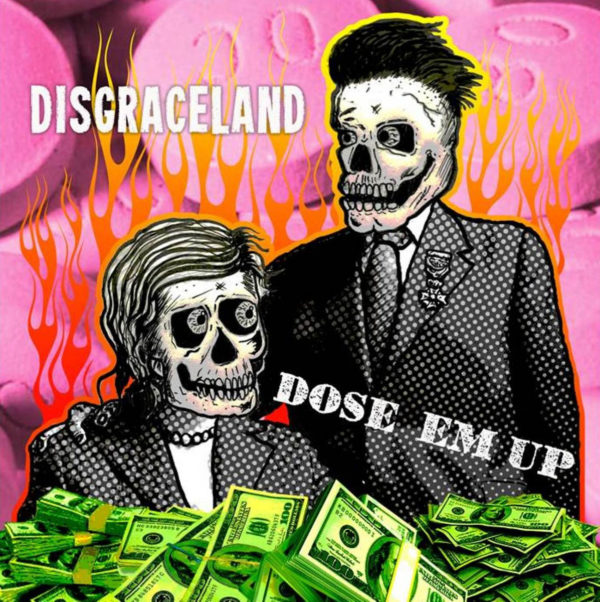 In habiting a plain of existence that pertains to a no-fuss approach to both music and catharsis, we have Disgraceland and Dose Em' Up. The former is a band rife with reckless abandon but also emphatic honesty. The latter being the formers' latest and third blast of down and unashamedly dirty sentient fuzz. The three-piece hail from somewhere around Exeter in the UK southwest and in a nutshell, via a mass of distorted Garage Punk enveloped in thick oozing Blues reverb, fuzz and further fuzz-like substances on top of that, show an obvious disdain for the contemporary way of it all.
The band's previous work spans 2019 across two short EPs. Such put forth an introductory groove-laden grit required for further immersion into the band's no-bull approach. So, once you have caught up and found yourself writhing with as much social-disdain as Discgraceland, we can continue.
Oh, wonderful, you're here! 'Storm An H Cup' is a playful tale about giving a relationship your-all. That is, for the most part, for this is a cautionary tale. Disgraceland also warns of the consequences of absolutely not doing the above though words worth heeding. The band boast a refined and well-produced cut of their foundational Garage Punk riding a permeating Rock n' Roll tone all the way to the terror of big-pharma.
After the cutting, fast Garage-warped Punk-Rock of 'Storming An H Cup', the three-piece provide a history lesson. 'Hillbilly Heroin' is a reference to the Pharmaceutical companies of the '80s and early '90s in the USA prescribing Oxyconton to those between the ages of sixteen and twenty-one. This, of course, had a sinister, fiscally motivated purpose. Furthermore, as history and indeed 'Hillbilly Heroin' will tell, the consequences were dire. Disgraceland ease into groove-drenched and riff-heavy Blues-Rock and sauté it with sardonic Punk. Overall, track two is the standalone "good" entry but within its place on Dose Em' Up is fundamental to its flow.
Track three is the tempo-orientated blast of Punk n' Roll the band are known for. 'Harvey' is another where production and a wholehearted band-wide refinement is felt with a markedly more melodic, streamlined approach. Now, I know such a sentence may result in a pang of worry suggesting that the band have abandoned their charged-grit, but allow me to finish. Onward, then. One of the unambiguous strengths of Dose Em' Up is its seamless dichotomy showing the band sounding cleaner and sleeker in their sonic slithering WITHOUT losing their vintage and dangerous appeal. But what does 'Harvey' concern? Well, I'm sure many of you will have worked it out. So, succinctly, let's just say that rich powerful men often embody the meaning of undesirable. One million-fold. To the gallows with them all.
Disgraceland alternate once more on 'Hard Of Thinking'. The band tease a blast of vintage Hardcore Punk, spasmodically alternating tempo before it is then cut. Disgraceland revert to and maintain a mid-tempo for reasoning that is substantiated by the tracks very inspiration. We are living in times of unprecedented stupidity, mob mentality and a cult of right-wing personality. Disgraceland, it is clear, have had enough. 'Hard Of Thinking' and is a cutting and choppy-Punk-Rock song entirely the product of frustrated catharsis. Disgraceland experiment further with said spasmodic-pace but also a defeated Reggae-beat. Said unexpected deviation acts as the sonic-representation of a deflated, capitulating dedication to educating the lost. 'Hard Of Thinking' is a moment of resonation and consequently a release highpoint.
Despite an overwhelming, exponentially more lucrative existence comparative to that of childhood and adolescence, Disgraceland are under the impression, opinion and experience that being an adult, really isn't "all that". Disgraceland with Dose Em' Up continue their tradition of whirling and timeless Rock n' Roll leads but in tracks such as 'Adult Fuckery', supplements an already refined approach with a notable, crucial and satisfyingly subtle melodic-trim that makes all the difference. Again, Dose Em' Up is a sleek release, but it is through 'Adult Fuckery' that this truly sits unequivocally obvious. In other words, from its heavier reliance on lead and a rhythm section truly at its best, Disgraceland consistently outdo themselves. The band are aware of their dry, sardonic, sarcastic and indeed silly approach and allow this to breathe on its own and permeate their serious inspiration to whatever degrees it wishes.
After a five-track statement of Garage Punk n' Roll, the three-piece pack away their voice boxes for the most part. 'Clint' was inspired by Clint Eastwood but also how the word "Clint" can be scribbled so illegibly that it can resemble the word "Cunt". It is no surprise then, that the tracks instrumental output merges the band's Punk with nods to the Thrash of Anthrax, the Doom of Black Sabbath and a need to surf and star in a spaghetti western all in the same day.
Disgraceland and Dose Em' Up is another release of 2020 that I implore you to indulge in below.