Chalk Hands – Brighton, England, United Kingdom
Chalk Hands and 'Fail, Grasp, Restore' are soon to arrive this Friday. The former, a band hailing from Brighton that akin to many were also active in the before-fore times, have endured, survived and busied themselves against the backdrop of the brave new normal and complete negation of the very concept of time. The four-piece are set to release their debut album, Don't Think About Death in March 2022 via Dog Knights Productions and I had the debut single from the album early. Chalk Hands and 'Fail, Grasp, Restore'. Shall we?
The band's previous work was the chaotic but artistic maelstrom writhing at the centre of the collision point between the legacy of Post-Hardcore, Post-Rock and the complexities that are Math-Rock. Opening with a heavy but tempered crash ebbing the sonic shore dramatically, 'Fail, Grasp, Restore' teases further power. However, after these slow but heavy-set ebbs, prior to comparatively more reserved vocals, the band's Post-Rock provides a small bridge onward set to a cycling beat charging its self for what is to come. Following this and after increased weight across the Chalk Hands ensemble, the band's emboldened Post-Rock structure segues and is absorbed by a dulcet to intense Math-Post-Hardcore hybrid in what can only be seen as a refinement.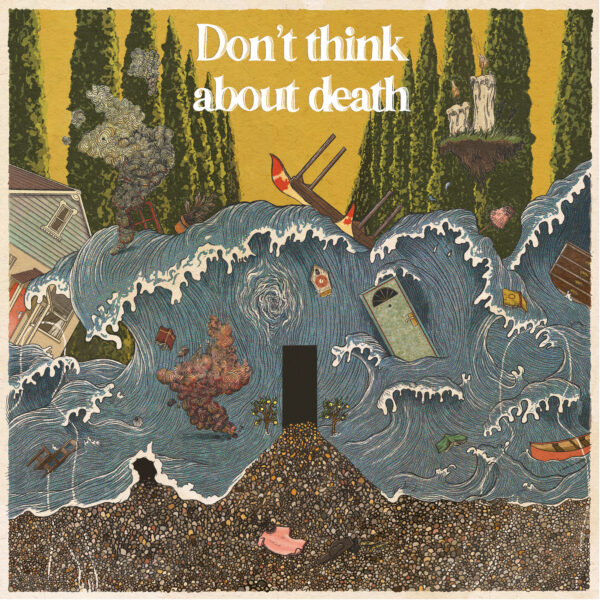 There is beautiful artistry at the intersection of the band's chosen trajectories. Post-Rock is known for its ability to project ethereal and delicate soundscapes as well as to completely remove you from the world. Chalk Hands with 'Fail, Grasp, Restore' increases any previous propensity for this. The band are using their increased penchant for Math-Rock to dart and meader between this further intrinsic push into Post-Rock and the intense power of their Post-Hardcore in effortless precision.
In 'Fail, Grasp, Restore', Chalk Hands introduce who they are now. The four-piece are simultaneously and with no staggered abrasion or transitory teething issues, at their most dulcet and juxtaposing heaviest. As soon as Chalk Hands build toward technical combustion, they are already seamlessly relenting. Vocal intensity guides a move from the aforementioned into the considerably more cumbersome wing of dramatic Post-Rock, itself falling into the genres more recognisable dulcet ebb. These are the stylistics that had been teased before, now fully embodied with the greatest care. From 2:55, Chalk hands restore. The band's sound layers and is guided and encompassed by their combined voices as they motion toward thunderous combustion before a closing, contemplative and reflective ebb.
Chalk Hands are to be ignored to your detriment and 'Fail, Grasp, Restore' is only the beginning of what's coming. Check out a preview and some words from the band eluding to the forthcoming single below.
'Fail, Grasp, Restore' is a song about forever questioning yourself, assessing where you're at, and imagining how your current actions could paint your future.

It's hard to have pure confidence in the choices you make. There may be days in which you feel sure of yourself, but then there are always going to be days where you can't help but battle with doubt. The song, in short, asks if you feel you have made the most out of your time, with the one body you are given. You learn to live with the scars made from bad choices and you carry your achievements everywhere you go. You take all of this forward and it will inevitably take part in who you will become, so who will you become?

Ultimately 'Fail, Grasp, Restore' is a song about acceptance, the desire to be at peace with who you are and about learning to deal with your past in the healthiest way you can, allowing it to improve your future.'

That was Chalk Hands and 'Fail Grasp Restore'. Dog Knights Productions will be handling the release of their debut album set for March 18th 2022. You can find all things Chalk Hands and Dog Knights Productions below.
Updates:
Music:
Dog Knights Productions: