Burnt Tapes – London, England, United Kingdom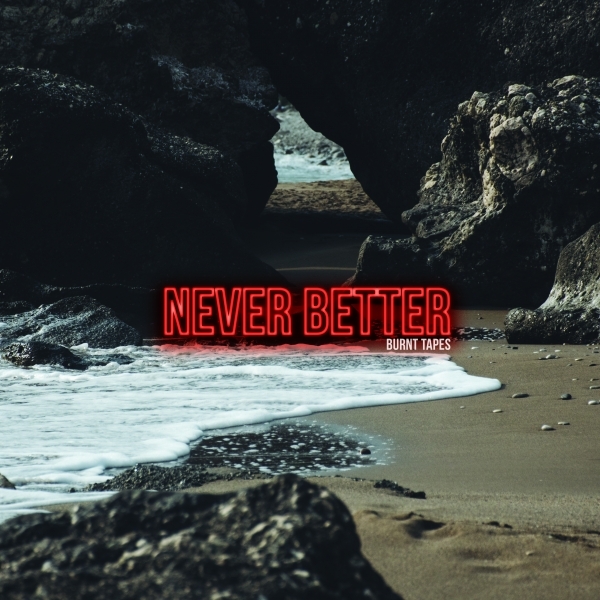 Three Greeks and an Englishman walked into a Bar by the name of London and formed not an uninventive joke or near banal (un)humorous remark but rather a Punk-Rock band, one that has seen said venture through to success and notoriety via their own spin on gruff, gritty yet melodic Punk-Rock – that they have self-dubbed "regret punk" and it's proving to be really quiitw something.
Lockjaw Records (UK/EU) and Wiretap Records (US) have pulled a sly one and will be releasing the highly anticipated full-length via the Burnt Tapes very soon, a full-length Ear Nutrition was luckily given early and with that, lets dive in to this cathartic life and heart-Punk shall we? Never Better eponymously opens and the emotive "regret punk" has your heart strings immediately, especially with the repeated line of – 'I want to be alone but it gets lonely'. Not only does this line envelop you in what the band are feeling and purveying but it also stands importantly as it as bare as possible displays mental health in a nutshell, intentionally or not.
In 'Drift Champ '16', much like its predecessor, the melodic guitar tone the Burnt Tapes are using here is moody, foreboding, yet approachable and up-beat in a fashion befitting to the success and appeal of the Gruff Punk genre. Lyrically, well, in truth, to say this is resonating or real would be a gratuitous understatement considering the imagery these blunt lyrics paint in your mind. Back to the instrumentation on offer, the Burnt Tapes are refined and excellent in a manner hard to separate into band members; this is Punk for the everyday living person plain and simple.
'Don't Make Me Play Bocelli' was the most recent single allowed to breathe in amongst the public sound waves and ear canals and a bold move by the band sitting at the third track. Slower, but just as hard hitting lyrically, the band's melodies and hoarse, strained vocals have always stood them out and do so no less here as they maintain your attention just as well in a slower track.
Placing a track that many will be more than aware of so early in the running order is a precarious move at best and so with that, the Burnt Tapes decided to do it again, immediately after the above with another song even more familiar to public ears. 'Yuzi' was the first taste of this new album and akin to '[…] Bocelli', see's the band at their best and visually descriptive in a manner truly hard to achieve and near-impossibly lyrically quotable.
'Yuzi' has a guitar-tone and '9os Pop-Punk sensibilities plied with playful, sardonic, dry-witted maturity that won't be forgotten easily. 'Maybe I'm A Method Actor' maintains this '90s aesthetic alongside the Tapes' signature "regret-gruff-punk" juxtaposing sadness with cheerful and playful delivery and also finally seeing more of a return or if not homage at least to the scrappy fast-Punk of Wasted History to a point; a point that is motioned past and learnt from it in the best way.
'Dirt Roads' gently (within the context of Gruff Punk) ebbs into play slowly and characteristically. You partly wish the brief burst of tempo would continue but once the chorus, layered vocals and more of that excellent guitar-tone kick in you forget such a critical wish. Never Better might be (partially) lying to you via its title but it's very unapologetic and water tight in its sonic displays.
'I've got so much more to say as I write you off this page' – is another of the infinitely memorable lines this album presents you with as the Burnt Tapes topple all over emotive Punk with ease. A recent review/comment described the band as "pussy punk" or something to that archaic toxic masculine effect; if you ask me, men talking, singing, baring their feelings contrary to a societal norm is unambiguous in its "punk" credentials. 'Birds and Birds, And Animals, And Things' is near-certain to become a fan favourite.
'Forty, Forty-Five' see's the band at their most dulcet and provides the "ballad" track of the release and although unexpected, sits well in the records final performances. – 'Old habits I started to lean on. Time to lean on something else.' I can't be the only one that hears a cross of The Lawrence Arms and Alkaline Trio in 'Robert Cop'. The penultimate number sounds like the familiar Burnt Tapes but carries a difference refreshing to the running order, see for yourself.
'Lost In Transit' closes and I have to say, quite worryingly the track isn't as obviously grabbing for its first seconds of existence but to contrast that statement, its not one that you immediately skip or simply turn off. 'Lost In Transit' has a tone (human and sonic)/line/whatever that holds your attention before the track really comes into itself and Alternative Rock best at the 1:10 mark and all is well again – outside of the context of the lyrics at least. This is an album pure of human emotion across the lyrical and instrumental board, mark its release in your diary.
Never Better is available to pre-order – Here (Lockjaw) and Here (Wiretap) now and will release on the 22/02/19.