Burning Nickels – Red Deer, Alberta, Canada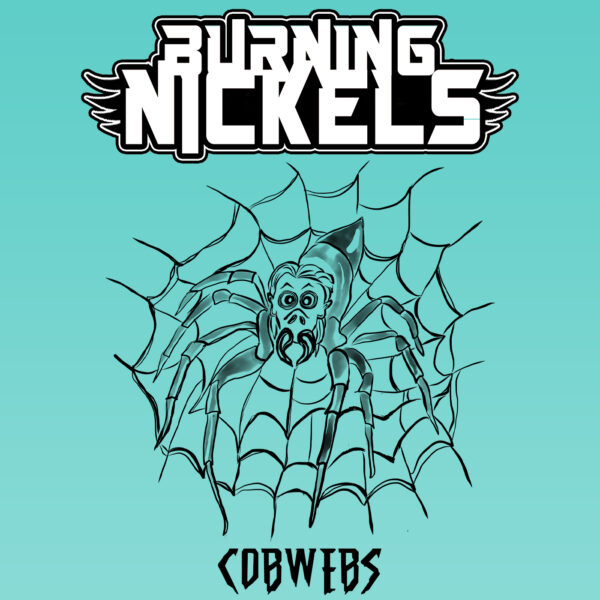 Ah, yes, Punk-Rock that you can sing-a-long with?! That's not very Punk, is it? In the bin! I joke. Burning Nickels and the Cobwebs EP from Red Deer, Alberta would be inclined against such a sadly very common statement and general rhetoric. After all, many of the early Punk bands resembled the popped-nature of Garage Rock as they did its inherent foundational grit and then, of course, the '90s happened. Need I say more?
Cobwebs is the band's latest in their creative, prolific slew of releases set with their Skate Punk-esque classic Pop-Punk sonic mannerisms. Akin to the rest, the band are riding high (but hopefully not chaffing) with High End Denim Records. Burning Nickels, if you don't know, are a three-piece combination of members from Trashed Ambulance, The Moröns, Loser Points, Broken Yolks and Chimp Change. Cobwebs is their latest and the band have recruited some of their contemporaries. Shall we?
The band's eponymous blast rides in over choppy drumming that playfully alternates, completely in control and unquestionably resigned to avoiding complacency. Fans of Trashed Ambulance will recognise Josh's vocals flying high, earnestly so and chased by his own guitar. 'Cobwebs' is very much a shameless number. Burning Nickels soar the Pop-Punk way, seamlessly adhering to the blueprints of classic Punk, whilst singling about life dipping in and out of the genres inherent and ubiquitous gloss. Robbie Morön anchors the band with a majority-low-ridding bass that despite its vintage rumble, still chases the effortless melodies of track one. 'Cobwebs' also features one "Dannyboy" of The Corps adding his own few-pence to the melodious and harmonious proceedings.
Burning Nickels have slowed overall since their 2018 debut. The band's fringe Skate Punk existence can still be traced but with their lyrics now more focused on their life-narrative, the band have fallen into tuneful, mid-to-fast and crooning Pop-Punk sound. The band's sense of humour and Canadian Punk-Rock quirks are still present, but there is a maturity that has been growing towards this release and it's visibly in control. 'Sentiment' borrows two-things. For one, it includes Alex Goldfarb of Debt Neglector contrasting Josh's melodic tones but also, it borrows itself. What am I rambling about? Well, 'Sentiment' is originally a Trash Ambulance track. Which do you prefer?
Each of the bands that make up the genealogical line of Burning Nickels have their own relationship with Pop-Punk. It's safe to say that now this union is cemented within the Canadian Punk music scene, Burning Nickels have found a way to fully indulge in and develop this penchant. 'Bootstraps' borrows Sam Russo from far across the pond and also marks the band's biggest, contrasting and ambitious effort of the four tracks. 'Bootstraps' pushes the band's most melodic, harmonic and overly Pop-Punk effort across the board. However, it is also here that the band allow their Skate Punk-roots to unabatedly crash through the door quicker than you have time for. Burning Nickels eventually balance the two but it is this jump-start-alternation that keeps you enthralled. 'Bootstraps' is an opinion divider and it is unquestionably aware.
It is fair to say that '90s-centric, Canadian Punk is often laced with overt, yet defiantly juvenile-mannerisms that absolutely take themselves nowhere near seriously. This is where the rehashed 'Summer Boner' exists. It's a tale of love-loss and reminiscence and its hard not to smile due to its wording. Burning Nickels and Josh specifically, are experts at telling stories, even when they are taking the silly route to, from, through and the hard way. Pun intended.
Musically, 'Summer Boner' closes an EP that allows its maturity to seep-in from time to time. It's a release that maintains control of this seeping-trickle rather than allowing a full-flow and truthfully owns it. Cobwebs is, in the bluntest of articulation, rather good fun. It's not all serious in the Punka-sphere you know and Burning Nickels are masters of this intrinsic alternation and rise to the occasion. I shall let you decide if I am trying to be funny there or not.
Updates:
Music:
High End Denim Records: