Teresa Banks // Cause A Riot – Helsinki / Järvenpää, Finland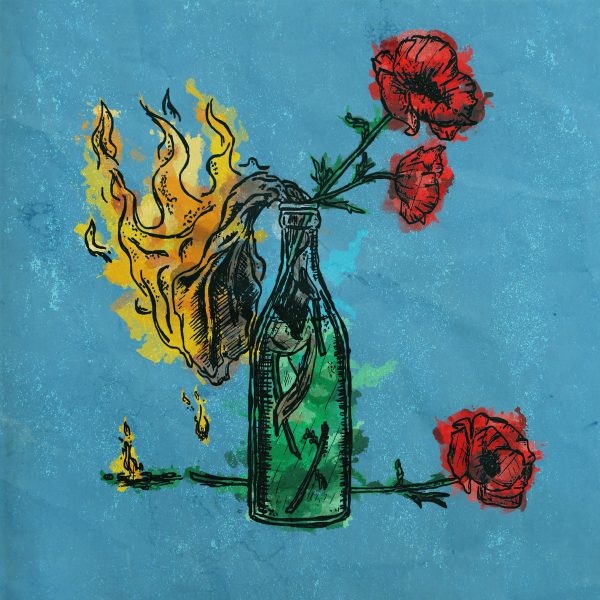 The Teresa Banks // Cause A Riot Split 7″ enters into the lucrative well of Scandanavian but specifically Finnish melodic fast Punk and Hardcore impossible to ignore. The region and again, Finland specifically has seen a huge rise in notable bands this past decade and beyond carrying the torch initially lit by the names I shouldn't need to mention. Earlier this year, via a host of DIY labels within and outside of the European continent, two of these such bands released a split 7″ toasting, supplementing and proliferating this age of Skate Punk and Melodic Hardcore vitality.
Those bands were Teresa Banks and Cause A Riot. Those involved with the release will be listed later but for now, how does the 7″ stack against the backdrop of fast melodic urgency?
Progressively, as each release has passed fast, furious and volatile in its depiction of the world, Teresa Banks have only tightened their already precision-cut repertoire sat teetering over the precipice of Melodic Hardcore and Skate Punk. Though the band favour the latter, the aggro and intensity found on 2020s Nobody's Coming To The Rescue showed a band that though in touch with their more melodic roots, weren't afraid to up the ante. If you haven't heard the album, do so – Here. And for that matter, the band's three-minute 2021 EP, Two Minutes Too Long – Here.
'Until The End' fully embodies the genre's penchant for harmonic, melodic, anthemic and evocative displays. Track one of the Teresa Banks' side of the split is fast and riff-heavy with quickfire refrains and tempo changes charging around beneath a juxtaposing bass and soaring lead. Built off the late '90s blueprint of serrated riffs, layered melodic overlays and artistic bridges of contrasting pace, Teresa Banks accentuate each opposite with a heartfelt infectious power. That was probably a poor choice of words, but as I have COVID as I'm writing this, I'll excuse myself.
If 'Until The End' odes what makes the band tick, then what of 'Rotten To The Core'? Track two of side A is a proliferation of the newer iteration of the band. Both previous releases unleashed a marketed and brooding power that although had been confined for some time, incrementally escaped into TB's craft. With 'Rotten To The Core', the comparative Melodic Hardcore beast bursts from its now decimated confines. Thunderous drumming and the considerably higher octane and harsher vocal urgency seen on the previous two releases matches the powerful Hardcore rhythms and the weighted, incumbent fury of the track as a whole. Teresa Banks refine one arm and flex the newfound power of the other.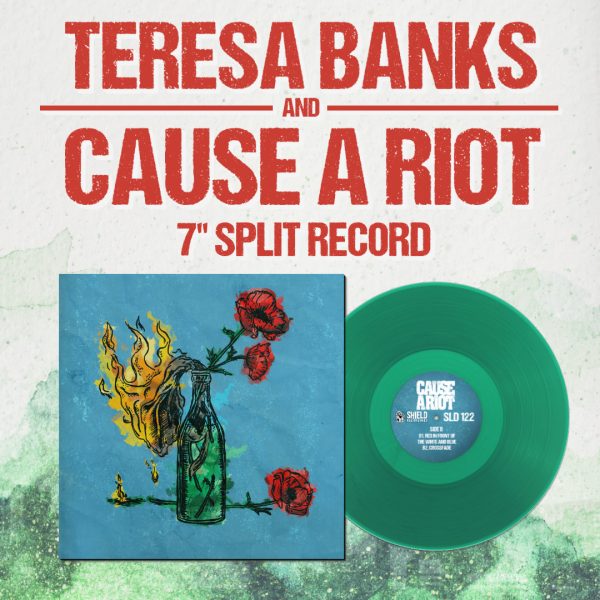 Cause A Riot have been in the game considerably longer. It is fitting that after a Skate Punk band flirting with Melodic Hardcore has played their piece, that a Hardcore band with a propensity for melodic Skate Punk-adjacent jaunts take over. Before I carry on, I would recommend a sequential journey through the band's back catalogue on bandcamp for context on how Cause A Riot hard their cores.
On this Teresa Banks // Cause A Riot Split 7″, however, the latter of the two bands substantiate their decade of being one. With the Hardcore scene as healthy as it's ever been from inclusivity to sonics, Cause A Riot's sound odes a seminal time. One where the early 2000s schooled Punks on how Hardcore could still punch your skull clean from its skin-sack through sheer force and yet still exude permeating melody. 'Red In Front Of The White and Blue' encapsulates this to the highest order. The band's drumming is ferocious and akin to TB's efforts, vocally Cause A Riot nail the fine line between full-Hardcore screaming and urgent melodic vocals.
'Crossfade' kicks down the splintering door frame in the wake of 'Red […]'. Again, the apparent way in which this split has been arranged is both obvious and shines indisputably. Cause A Riot lean considerably heavier on that fine, voracious but rounded line between the two genre's mentioned far too many times in this review. 'Crossfade' hits like a cross of Battery, Be Well and Oh The Humanity! Fast, melodic, determined Hardcore cut with a Skate Punk charged momentum and harmoniously fluid and intricately laced meandering guitar lines, gliding over earnest, one punch rhythms.
The Teresa Banks // Cause A Riot Split 7″ is available from Fast Decade Records (Finland), Shield Recordings (Netherlands), La Agonía De Vivir (France/Spain), Intersphere (Germany), High End Denim Records (North America).
Teresa Banks:
Cause A Riot: