Rosehill – Sheffield, England, United Kingdom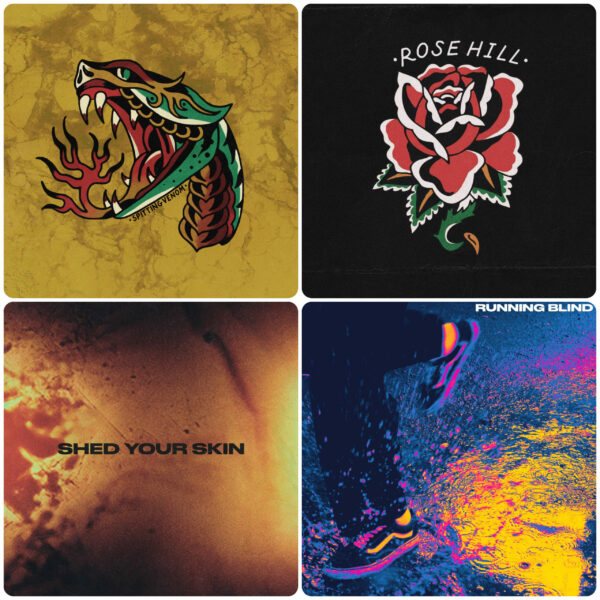 Today's order of audio consumption is that of introducing Rosehill, a band defining one facet of what is now considered "Melodic Hardcore", whilst also simultaneously, straddling the stylistic underpin of the genres' varied Punk and Hardcore bedrock. The Sheffield band have had a busy year, one totalling two singles and two EPs marking their confident debut foray into the DIY Punk and Alternative music scene. So yes, introducing Rosehill then.
The band's self-titled opens with the reverberating and groove-laden 'Dirt'. Track one takes the gyration-inducing ability and addictive vocal interplay from the legacy of "New York" Hardcore and applies a layered, melodic Post-Hardcore aesthetic in line with the current phase of the genre. 'Cold' marks a slow lumbering catharsis, simplistic but dynamic in its own controlled right, taking the weight of Hardcore further down this gloomed, melodious route. There isn't for one second a lapse in the brooding nature of the band's cycling torque across the debut, which is especially the case with the crucial contrast between the nigh-on relentless barrage of 'Solitude' and the deceptively powered, yet standout, melodic amble to gleaming overlay to this power in the following 'Warm'.
Rosehill may centre around the pummeling rhythmic clout Hardcore's offshoots are known for but it would be foolish for one second to assume they don't know their history.
'Running Blind' plies the grounded model the band have presented with a vintage, early 200os charge, echoing the likes of Rise Against and an era that inspired so much. That said, perhaps, in a contemporary sense, on 'Running Blind' a comparatively more serrated Be Well, the harder edge of Germany's Phantom Bay or fellow UK fresh-blood Without Love come to mind. Atop this, apply a thick, grizzled and appropriately metallicized tuning, an almost innate production and an unabated comfort and you have an EP that would have been more than enough for 2022.
The latest Spitting Blood EP, however, obviously didn't care for any prospective semblance of that sentiment. 'Spitting Venom' doubles the allure of Rosehill's threading and meandering leads breaking the band's rhythmic fervour in another rendition of old-school Melodic Hardcore cut with today's relevancy. 'Shed Your Skin' then battles adrenalized, keenly sharp and escapist guitar work with the band's bedrock clout in an aggravated blast of metallic Post-Hardcore Punk yielding a considered cross-section of their repertoire.
'Willow' and the closing 'I Lie Awake' then pull it in, with the former presenting a more reserved vocal display resigned to staying put, though not without the emotive confines being shattered by the band's underbelly. The latter on the other hand closes the band's 2022 (I should think) with a sleep-devoid, contemplative slow jam filtered through Rosehill-brand Melodic Hardcore.
Introducing Rosehill, that'll do, for now. Find the band below and investigate all those mentioned.