Year Of The Dragon – Los Angeles, California, USA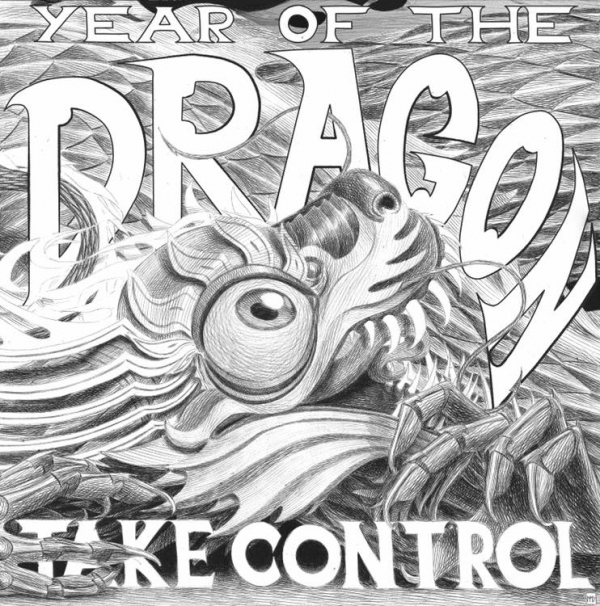 Cover Photo: Josh Coffman – Here.
Year Of The Dragon, where do I start? They began in 2006 and have been culminating, developing, honing and ultimately perfecting a sound sat somewhere in, around and utterly dominated by west-coast Punk and Hardcore, riff-heavy Hard Rock, a Funk-lack of seriousness to contrast the serious socio-political Punk assault and a penchant for the geographical locales penchant for Thrash Metal shredding. Oh, they're from Los Angeles if that helps.
2019 sees their latest effort in the form of the visceral yet oh-so inviting quirks of Take Control taking a slither of the abstract weirdness of the early, way-back-when Red Hot Chili Peppers and applying it to the above. Beginning with Funk-fuelled, low ridden metallic Hard Rock riffs and vintage spitfire vocals humourously deconstructing modern life and simultaneously introducing themselves, the band open with the statement of 'Fly Or Die'.
'Fly Or Die' did leave its hints at "the metal" however and the classic Crossover Thrash of 'Fitz and Shitz' is more than welcome, showing the band's combined influences and homework well. Take Control has your attention by this point and all before the all-important eponymous number. 'Take Control' enters the room atop thick chugging somewhere between their combined sound yet similarly edging closer and closer towards classic, quirky, rough cut yet driven Black Flag-esque Hardcore before again giving way to abstract weirdness before resuming that playful rumble. Year Of The Dragon are a Punk band for 2:47 and you will struggle to find and respectable qualms over such.
In a melodic yet eerily demonic and also playful way the band announce the reckoning via the same albeit with a slight spelling change. Metallic Hardcore is your guide and plays you in and out of Year Of Dragon-brand quirks as someone clearly has it coming. Year Of Dragon have very classically inspired yet serious points to utter, shout and scream yet do so in a way very much serious in meaning but immersive and humour-laden enough that it soaks in just nicely. Yep, nicely, you heard me and it also tributes everybody's favourite galactic good vs. evil conflict. What's not to love by this stage in the record?
'Hammertoe' will appease the Iron Maiden fans in clear NWOBHM tribute via a little injection from the influence Hip-Hop has had on the world of Hardcore vocals – Hardcore being where the track quite subtly segues into without losing its vintage Metal edge.
'Hammertoe' is hard to sit still to and 'BadAss Beyond' sounds like something from the Borderlands game franchise in name but overt and shameless in its Funk-Metal-Hard Rock amalgamation. Year Of The Dragon are an ambitious band in their quest to reintegrate Funk into Punk and Metal but you can't fault their determination in the balancing of rage, humour and thick-riffed groove.
Groove is very much something unambiguously omnipresent in the world of Year Of The Dragon and tracks such as 'Junkie' are again balancing real-world issue reality with the need to groove. The band make more use of melodic guitars as the release goes on and again, you really can't argue with it. 'Junkie' is a contender for the best of within Taking Control yet stands precarious in this due each and every other track. This is very much the case with 'Damn Shame' a track that very subtly shows off more of the band's relation to legends Fishbone.
'Politricks' cleverly lambasts their home of the USA but with a title such as that, you already knew that. For any like myself who really aren't one for Hard Rock as a general but not ultimate rule, Year Of The Dragon may well set the new standard for what you feel more attracted towards in 'Simple Man'.
The band close with exactly what I and quite possibly you would have predicted in 'Destroy Us All'. Raucous, abrasive, jagged and breakneck Hardcore Punk-Rock stamped with all the hallmarks that make Year Of The Dragon so appealing.