Uphill Struggle – Copenhagen, Denmark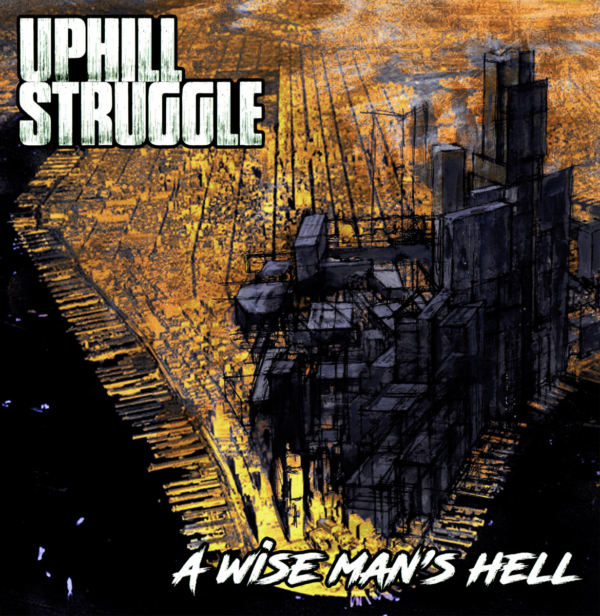 "Uphill Struggle – A Wise Man's Hell" is a collection of words that denote to a release by a '90s-inspired Skate Punk band. At a glance, the combination of band name and album title also sounds akin to some sort of motivational proverb about struggling on through it all, but what do I know, eh?
A Wise Man's Hell is the band's second release in total and sees the band shamelessly call back to the much of the music that brought them so much joy. Released in the year that saw Skate Punk shine increasingly on as it has done for the last decade, A Wise Man's Hell is a neo-classic entry into the world of fast, technical melodic Skate Punk that has built on the '90s blueprint. But, is it any good?
Well…
'Slow Down' is the slingshot that takes us back to the late '90s where laziness was still as much of a problem and buzzkill on motivation as it is now. Contrasting lyrics of mental blocks and downtrodden loops of everything but productivity, Uphill Struggle's tour of the late '90s brings forth memories of Adhesive and Cigar, as well as Life On A Plate and For Monkeys-era Millencolin. – 'Why do I slow down, when I hate standing still!'
'Losses' brings forth cathartic melody in a song of personal strife. Uphill Struggle, despite their two guitars, hold truer to the classic shredding and vintage crunching wing of Skate Punk and in a scene is that more and more focussed technical prowess. That's not to say that the band isn't skilled, because they more than are, they just choose to kick it old-school for lack of a better term.
'Primary Psychopath' is best described as an alluring Pulley/Cigar hybrid of fast, frantic and pseudo-indecisive drumming matched which crunching riffs, permeating guitar-lines and melodies alongside clever lyrics and playful pop-sensibility ala the decade many simply don't shut up about. All in one sentence apparently.
The band's decade-specific neo-classicism is techy enough for all those stop-start, guitar-noodling and break-down lovers, however. For the style in which Uphill Struggle is effortlessly purveying is very much where much of that existed in its proto-form. See 'Products Of The Industry'.
'By Myself' is the '90s Punk anthem of defiance that every band living such a genre stylistic should write and really, really, should have been on a Tony Hawk's Pro Skater soundtrack. I have spoken.
Closing with 'Deserve It All', the four-piece end it all the same way they came in and ultimately answering my earlier question with a simple and concise response.
"… is it any good?" – Yes, yes it is and it's via Copenhagen.
A Wise Man's Hell is out now digitally and will shortly be released on 12″ transparent yellow vinyl and is out now on cassette, so keep an eye out for it all below!