The Overjoyed – Athens, Greece.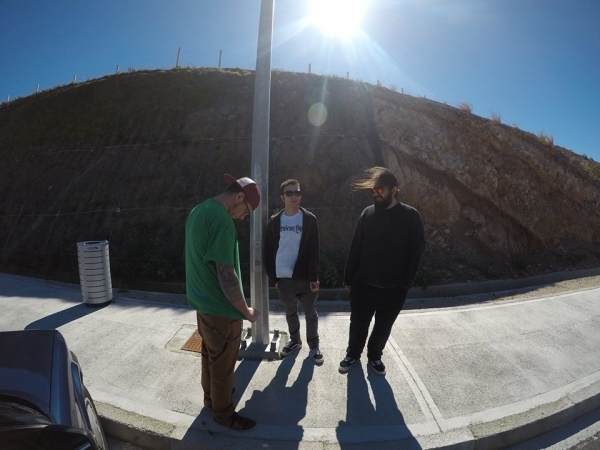 The European Punk music scene is really something to behold, from Spain to Germany, Finland to France and onward to Greece. The wide-array of bands and styles this genre has birthed is constantly growing big and strong. A juvenile term but one no less true than something more refined and intelligent.
This is where Athens natives The Overjoyed emerge with an all encompassing 90's Punk sound taking the speed of Skate Punk, the sing-a-long Pop-Punk renditions of classic Punk and a dose of Goldfinger-esque Ska just because. Match this well-sourced menu with a contemporary continental quirky approach to Punk and you have something well cooked, presented, eaten and digested. Especially as the band are today premiering their new video via little old Ear Nutrition.
'Defanged', sonically speaking for a moment, takes us to a very classic, very expected and nothing new approach but that said, you'd be wrong to take any of those words negatively, for this is perhaps a very late entry to the end of year highlights reel. 'Defanged' is very much pure 90's Punk. I would be here for an eternity if I was to even attempt to list all the seminal bands you can hear nods to within 'Defanged', so for now, we will just say NOFX, Bad Religion, Pennywise, Face To Face and Lagwagon.
'Defanged' has it all, guitars toned to both Rock n' Roll and sombre yet cathartic Skate Punk, vintage drumming, bass-lines with a nigh-on perfect tin-like-tone and lyrics indicative of youthful frustration, internal battles and self-destructive behaviour that does nothing but propagate and fuel such a vicious circle. In short, 'Defanged' is very much an epitome of the modern mundane-to-insanity day to day headspace.
And how do they depict such in audio visual form? Tongue-in-cheek? Naturally. In a way resonating with their age group? Of course! In tribute to a celebrated world where anything goes? Exactly that! The band have crafted a loving, entertaining and honouring tribute to the Grand Theft Auto franchise in perhaps the best video of the year.
The band's next record, Aced Out, will released on 02/01/19 and according to the band:
Consists of 10 songs.
Ιt will suck a bit less than the last one.
Ιt's going to be on Vinyl.
Ιt was mixed by two guys with the same name.
Ιt's Punk-Rock but as you know we are also Pop slaves.
Ιt includes tupa tupa tupas.
The Overjoyed will be releasing Aced Out in conjunction with Nasty Cut Records and a little help from both Cannonball Music and Keep It A Secret and if that wasn't enough of a collection of words depicting good news, the band will be playing fellow Greeks Hoi-Poi Farplane Wind, who you can find out two (or more) words on – Here. However! another excellent set of Greek musicians in the form of the London based four-piece Burnt Tapes, will be joining the band for a run of three sure to be fantastic shows before they return to their second home.
In short, The Overjoyed are quite likely overjoyed to be where they are and even more so to be moving forward. So sit back, enjoy the video and prepare for Aced Out.