The Donald Trumpets – Perth, Western Australia, Australia.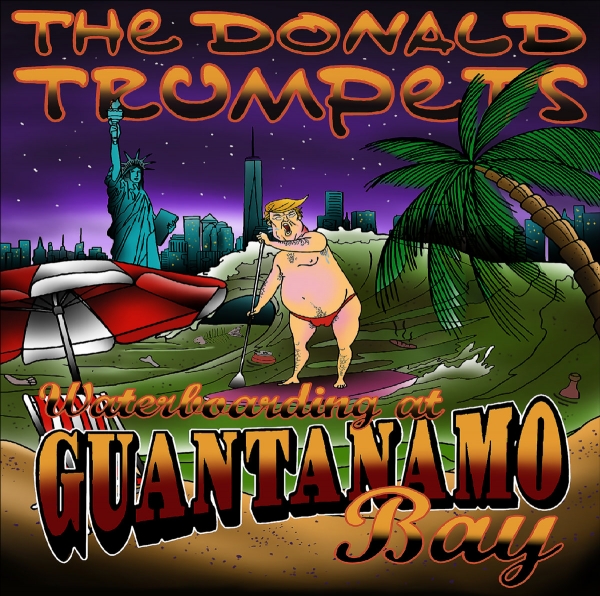 In truth, Ska and Ska-Punk have had a proportionally less prevalent presence in my play order and apparent never ending ear abuse for quite some time now. I find the genre very hit and miss and not as engaging as I once did and I'm not afraid to admit such. That's not to say that the scenes bands and fans aren't bloody excellent, because they very much are but I often feel that the polarised nature of this facet of Punk is very much that.
It is fairly common to see bands not quite balancing the genres penchant for unadulterated fun with harder Punk and or more mature sounds and lyricisms and often displaying an overt and OTT craft. "Fairly" common and not something you really find with Perth satirical lot The Donald Trumpets.
The bands latest release, Waterboarding At Guantanamo Bay, may well be the very setting of an example onto how to approach the genre in the best way possible and is obvious from the very first few seconds of audio dynamite. 'Bummer Fest' begins with a slow, brass-led Mad Caddies-esque gentle groove where socio-politcial lyrics sing flatly and resolutely.
As you will hear, the band take the speed from Punk-Rock but use not its stylistics, bar its playful drumming in the opening tracks latter half as the the point of which 'Bummer Fest' pushes really hits home. 'Coping Mechanisms' is the up-beat driven Ska-Punk single the band chose initially to show us what they have. Approaching contemporary issues in life from daily monotony and self-destruction, to more specifically the loss of a loved one to the band due to the ever real issue of suicide amongst the Trans-community, and in greater scope, the evil that is suicide in general. This is a band that are aware and purvey such an awareness nigh-on perfectly in this fist in the air, "lets make a change" Punk song.
Now, you can't be in a band with such as a name as these Australians and not write a song such as 'Guys, I'm Syrias'. Once again, the band balance Ska with 90's Punk exceptionally and their upbeat repertoire is never too much. Hats off to the band for this, not just in relation to my earlier statement but because through doing this, their applicability to more varied Punk bills is all the stronger. The band's adoration of The Suicide Machines is notable and any fans of such a legendary name in Ska-Punk should note it down as one more reason to indulge in these donalding-trumpets or trumpeting-donalds.
'The More You Know' is more the the same for the most part but that should not garner any real criticism. The inclusion of dumbed-down strings and light drumming contrasts the token brass in the best way. Structured towards Folk-Punk in this way for the time that it is leaves you satisfied but not comparable in any way to their falling-with-style approach towards the thick Skate Punk riffage playing you out.
'Beer Party', ah – the drinking song! You, I, Steve, Steve's Mum and her friend Sharon on the phone to her cousin of ambiguous actual relation over in the Yukon all knew it was coming. Stuck somewhere between Ska (Duh), Black Flag's 'Six Pack' and the Bouncing Souls, The Donald Trumpets play you out in style.