Sam Russo – Haverhill, England, United Kingdom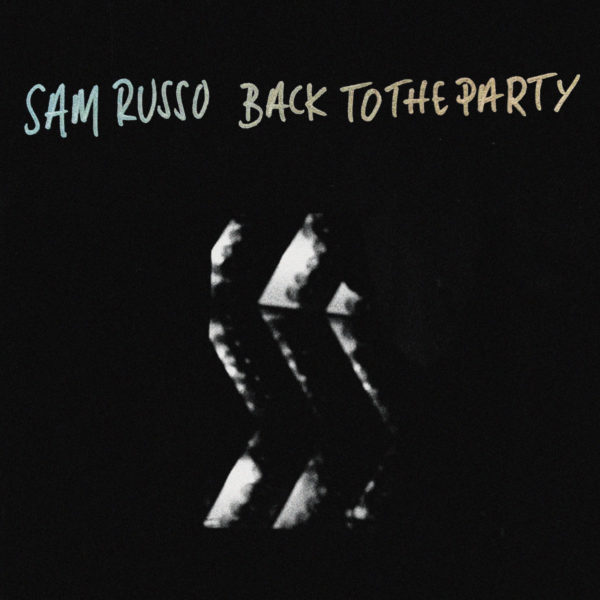 2020 has been an odd one and continues to be so. Changes are rife for both the better and worse. Sam Russo and Back To The Party landed in the way-more-than-I-can-handle Ear Nutrition email box recently as a part of the only positive consistency many have taken this year. That of 2020's near-constant stream of releases. Sam Russo's Back to The Party initially came to fruition in March of this year during the FIRST lockdown due to this pandemic. It is only fitting I am writing this the day many of the UK Pubs and Bars are reopening. Solidarity to those working and to those getting hammered with no care. Do have a word with yourselves.
Ah, the beauty of being your own boss. Moving on! Sam Russo is a name known to provide periodic acoustically-lead intro and extrospection alike prompted by the ins and outs of human life and his own life experiences born via a stripped-back wing of contemporary Punk music. Russo opens with an ominous muted riff that teases a full-band but starkly resumes his normality over (mostly) acoustic strings. 'Purple Snow' is emotive, driven, and anthemic in its acoustic equivalent of melodic Punk-Rock. 'Purple Snow' is a sad lament to a time passed and opportunities missed in a rebellious tirade of warm comfort. A comfort that is ultimately found in these lamentations turned happy recollection. 'The Window' furthers this grounded "punkier" drive and applicability to a parallel universe, full-band format.
Despite being only two tracks in, there is a marked difference from the prior work of the Haverhill solo-artist. Notably, fans of the Skiba-centric-wing of Alkaline Trio will specifically find something in 'The Window'. This influence continues into 'Always Lost' where although Russo retreats onto a single set of acoustic strings, this newer-found raucousness is still increasingly obvious. 'Always Lost' is a simpler song but one that will both resonate and sit as a release highlight. Four tracks in and Back To The Party becomes more emphatic regarding various forms escapism as they permeate the need to do what is right. 'Good and Gone' sees these feelings compounded into one determined trajectory.
'Darkness' falls back on emotive and melodic layering in lieu of Sam Russo's previous efforts. 'Darkness' is a chilling and harrowing depiction of inner mental strife. Track five is the shortest on the release for a reason and captures the very often inescapable mire of the modern mind. 'Young Heroes' calls for rest in further retrospection but only finds a difficult introspective lamentation. The want to escape is rife within Russo here and yet, his upbeat melodic-Folk only helps it to hit you ironically all the harder. The gentle ebb of 'Anne' is another stylistic callback.
Track seven is a modern, but sad nonetheless, tall-tale of the post-adolescent break-up. Stylistically, the tracks regular change in mood benefits the crossover of this album thus far. 'Anne' is appealing and recaptures the specific part of your attention that was roused in 'Purple Snow'. I would hazard a guess that 'Anne' was a painful topic to rehearse. The dynamic, mood and tempo changes along with the excellent semi-plugged-in approach, truly allow you to slide into Russo's shoes and again, stands as yet another prominent high-point.
'Tears' further reflects on regret and painful memory. Although Back To The Party very much draws on much of what Sam has done before, this latest foray undoubtedly increases in conviction through his instrumental and lyrical displays alike in a manner no less than exponential. 'Tears' ebbs into 'Corporeal Gloom' and an early start. The penultimate number employs the crooning and inviting melody that Back To The Party has championed throughout, paired with indispensable gusto in a playful yet serious symbiosis.
Truthfully, albums within the spectrum of the solo-singer-songwriter-verse are a risk as per their very being. I have never entered a release more than five or six-tracks without this in mind and I think that is a reasonable standpoint. That's not to invalidate such efforts but lacking variety is always a risk. However, it is not a risk that this record has any close proximity to. Back To The Party never fails to maintain itself or your attention and 'Corporeal Gloom' yields some of the best lyricisms of the lot.
I should I think I've written enough already so I will keep this short. 'The Basement' closes an album I didn't expect to enjoy as much as I ultimately did. Sam Russo's approach to Folk and Acoustic Punk-music sees Back To The Party more than substantiate the five-year gap.
Back To The Party is out now via Red Scare Industries.
Updates:
Music:
Red Scare Industries: