Our Souls – Leicester, England, United Kingdom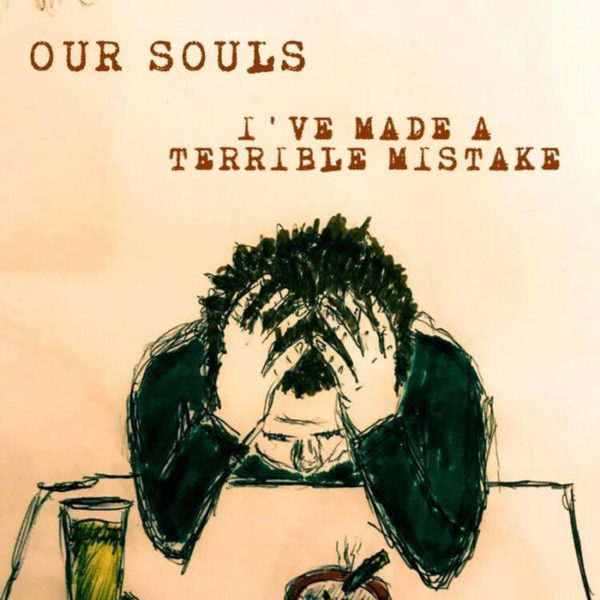 Parallel to the rise in fast melodic Skate Punk, "Gruff-Punk" has also risen in prominence. This is where Our Souls and I've Made A Terrible Mistake finds itself in the fuzzy-cathartic mood-lighting. The band's debut can be found – Here – comprehensively (I think) broken down for your reading and listening pleasure.
Once you're acquainted with the 2018 I Might Drink Myself To Death we can continue. You're done? Excellent. Exactly a year later in November of 2019, the band followed their raucously gritty "life-punk" with I've Made A Terrible Mistake, which truthfully, I missed the first time around. However, rectification has always been something I like to think I'm good at. Oh, and they're from Leicester, by the way.
Instantaneously, the clarity in which the band have employed here is of exponential improvement. A fast, melodic '90s Punk guitar-line leans into contrasting chugging and a welcome albeit slightly more melodic vocal tone. I've said it before, but fans of the seminal Nothington are required to indulge. 'To Wound and Wander, Destitute' is a modern existential anthem.
In lieu of my mention of fast melodic Punk, it seems that '12312341' may have heard me. The second track is an unstoppable mix of jagged, adrenalised classic Hardcore-esque Skate Punk lathered in Our Souls' gusto. This is Our Souls in an entirely new light and aided by the better production, is outstanding. – 'Lost myself? Well I never knew who I was or what I am […]'.
The band's debut echoed the OG-days of melodic Pop-Punk but reassessed and applied it as a mild gloss. This is often the case with much in their vein of approachable yet bare-all cathartic Punk music is and no different here. 'Histrionics' is the intrinsic combination of the previous stylistic but holds the all-important approachability and flow of this second EP.
If there's one thing this EP has unambiguously mastered. It's the art of the melodic Punk intro. Our Souls lead-in with another ear-worming line that goes on to permeate much of the track in 'Mental Health'. The production on I Might Drink Myself To Death and its living-room approach aided it's very being. And its the same here, but this time via more onset clarity. Our Souls still maintain all the DIY Punk appeal yet still manage to ease themselves into your ear canal all the easier. In fact, such an ingrained skill allows the tirade of thoughts that is 'Mental Health' to utterly and bitterly resonate.
Our Souls were pissed off and sick of what they could see from their respective windows previously and are more so now. However, this time, supplemented and near-ruled by the reflection facing back. Life isn't just outside of your head and respective home, it can be just as disagreeable and devoid of positivity on the inside. For me at least, this is the message of I've Made A Terrible Mistake. Our Souls haven't just doubled down stylistically speaking but have conveyed sheer emotion via the increasingly weighted and aggressive sound. Pair this with the unrivalled honesty in the lyrical accompaniment and you have some serious food for thought.
The 1:07 blast of 'Beer Bullet' is writhing mass of near-classic Hardcore Punk that is about exactly what you'd think it to be. Just not positively.
'I'm sick of being siik – a sickness that I self inflict I'd quit but I don't quit – firing beer bullets
Beer bullet / Bullet / Beer Bullet / Beer Bullet – Into my achin' brain'
Our Souls and I've Made A Terrible Mistake. Don't sleep on it like I did.
You can find four tracks by Our Souls in the 'PunkDayEvery' playlist – Here.