The Expanse Of The Internet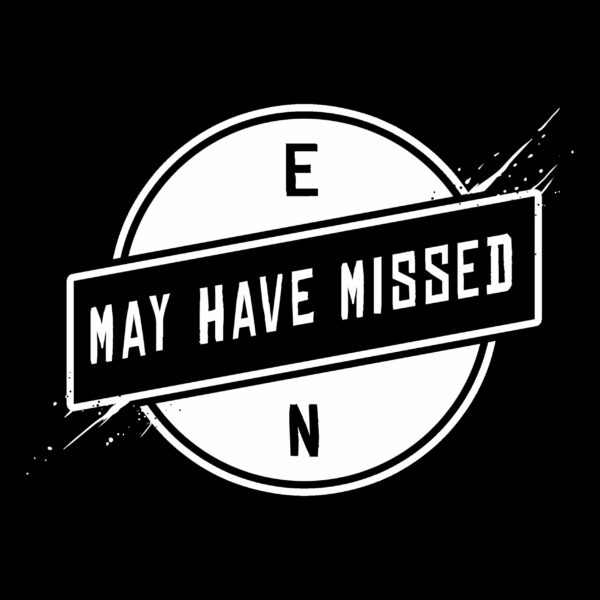 "May Have Missed Volume 7" is an attempt to counter the volume of requests I receive in the various Ear Nutrition inboxes as I type away. The venture of EN, when it boils down to the barebones of itself, is a spare-time hobby. I try to do what I can, as, after all, there is only so much I can electro-scribble down on a screen. Some don't fit, others are simply irrelevant to the site but overall, if they pique my interest or fit the site and whatever trend it's pursuing at that time, they get featured. I obviously don't have the time to cover everything and even though I would if I could, it's just not possible.
So, without further waffle, here is some music that I haven't had the time to sit down with-proper. The purpose of this series is to provide some varied new noise as an enticement to indulge in the plethora that is the underground music scene worldwide. "May Have Missed Volume 7" consists of cuts from the inbox, but also outside of it. Enjoy!
Volume 6 and the past volumes of May Have Missed can be found – Here
---
LAS RATAPUNKS – FRACASO, AÑO DE LA RATA 2020 (March 2020/August 2021)
(Hardcore Punk/D-Beat)
It wouldn't be a "May Have Missed" without at least one entry pertaining to Hardcore Punk. This time, it is in the form of the Peruvian four-piece LAS RATAPUNKS whose 2020 release is yet another I was asked to look at that I sadly didn't get around to. Is there any point now, later on? Yes, absolutely. Music doesn't just disappear after a few weeks of being "new", you know. FRACASO, AÑO DE LA RATA 2020 translates as "Failure, Year of the Rat 2020" and with the band's European tour cancelled due to COVID and the mess that was 2020 outside of the pandemic, its title makes fantastic sense.
The band's Spanish-language tirade is a form of pure Hardcore devoid of theatrics. A vintage form of stripped back, raucous, warped D-Beat-favouring Punk that takes no prisoners. FRACASO, AÑO DE LA RATA 2020 exists for just over eleven minutes but what a six tracks it is therein. LAS RATAPUNKS toast, live and own a time where Hardcore didn't take itself too seriously and worried not about prominent melodic leads laid over the raucous, cathartic and turbo-charged classic Punk. 'Apatia' opens shamelessly in this vein.
The anti-governmental and EP highlight 'Ministerio' captures this early and raw rendition of Hardcore Punk but through a modern and streamlined gauze. LAS RATAPUNKS are playing Hardcore but its near latter-timeline melodic approach throws them into the ear-worming descriptive realm of "catchy", without losing their inherent and aggravated punch. There is a notable variety within this six-track release despite its classic approach, however. 'Los Ladrones' for example, toys with you either side of bouts of pure adrenalised DIY and D-Beat dirge with its bouts of classic, no-shame '77 Punk, whilst 'La Pieza' dances upon the fringes of Crust. I could go on listing adjectives concerning LAS RATAPUNKS but I shall simply shut up and say this. This is a release you will play again and again.
FRACASO, AÑO DE LA RATA 2020 released physically via Kibou Records and No Front Teeth Records in the UK and Amok Records in Germany.
LAS RATAPUNKS: Facebook / Instagram / bandcamp / Spotify / Apple Music / Deezer / YouTube Music
---
ShortCuts – ShortCuts EP 2021 (August 2021)
(Skate Punk/Melodic Punk)
Moving on and back again for another cliché statement cut with some truth. But fast. It REALLY wouldn't be a "May Have Missed" without a Skate Punk band making an appearance. Enter, ShortCuts of Ipswich. Chances are if you were knocking about the UK Skate Punk scene in the early 2000's and perhaps a few times later on, names such as The 4130s, Luvdump, Devilment or Paper Champ may well ring a bell and if not, you're here for ShortCuts now regardless.
The Ipswich three-piece are, akin to the entry above, in many ways a "what you see is what you get" situation. Hitting somewhere between Bad Religion, Pennywise, Pulley, Consumed and 88 Fingers Louie, give or take a cover of Madonna's 'Like A Prayer' and a refrain you may recognise from elsewhere tucked away, the band's debut is as thus. The ubiquitous offshoot of '90s Skate Punk is a fast and melodic forty-plus-year exercise that despite what it has morphed into and inspired, perpetually cycles in full-circle and at full-gallop. This is where the debut of ShortCuts comes in and is epitomised with the vintage and anthemic, 'Find Us'.
'Seeds Of Doubt' unlike its (original) predecessor 'Find Us', supplements ShortCuts anthemic drive with a keen tempo deviation. Track three of the debut is fast but thicker, harder and heavier through its rhythm section in its verses. However, it isn't long before the inherent, upbeat legacy of the '90s appears and alternates between playful jabs and harmonious fist raising. 'You're The Worst' pushes the upbeat nature of '90s melodic Punk further with yet more seamless ease. ShortCuts are very much and shamelessly so at that, playing both what they know and what we know and it's one of those releases that just works.
Need I say more than that? I know! It IS possible for me to write comparatively simple reviews away from my usual and needlessly verbose bullshit. Who knew?! I bet it doesn't last.
ShortCuts: Facebook / bandcamp
---
Bruise Control – 'Taxman' (July 2021)
(Garage Rock/Garage Punk/Punk-Rock)
If you mosey on over to – Here, you'll find a review on the debut from Manchester's Bruise Control. As you'll discover if you read it, the five-piece's variant of Punk-Rock is one that is as multi-applicable as it is raucous. It's as rambunctious as it is chaotic and as pissed off as it is unpredictable. The penultimate descriptor there being the operative, superlative and constant quantifier. Oh look, it didn't last.
Bruise Control are easily lumbered, lovingly so that is, within the realm of "pandemic bands" regarding their 2020 debut and since then, have pushed and refined their defiantly derivative Punk sound. The band's previous double (triple?) single 'HMRC' and 'Bottom Feeder/Not Very Far' provided yet another blast of manically-grinning idiosyncrasy in the form of riotous UK-centric socio-political and Post-Hardcore-spun Garage Punk-Rock n' Roll. That was a long sentence. Understood? Good. Because 'Taxman' carries the flaming torch of pissed off existentialism with its serrated grin back a few decades, in a near-full embodiment of Garage Punk-Rock.
Bruise Control imbue their work with discordant grit and nuances to their Garage-foundation on the regular. However, with 'Taxman', they kick-it pissed-off and old school. The band's grasp on what inspired much of Punk-Rock is keen and well-researched and yet cleverly ties itself to the now and all the wealth of experience since. This sonic knot is excellently subtle and comprised of contemporary Garage-fuzzed Indie-Punk guitar work and an ironically exuberant bounce.
'Taxman' flows through its playfully sardonic yet topical escapism with Bruise Control safely back in their Garage, bullshit-detector in hand.
Bruise Control: Facebook / Instagram / bandcamp / Spotify / Apple Music / Deezer / YouTube Music
---
Knife Crime – Spilt Milk EP (March 2020)
(Hardcore Punk/Post-Hardcore)
Next in the defiant time machine that is "May Have Missed" we have Birmingham's Knife Crime and their Spilt Milk EP. Released on DIE DAS DER back in March 2020, the midlands three-piece are a force of warped Hardcore Punk cut with all the chaos of Post-Hardcore and some finely serrated metallic blades. The band's debut 'Shoulda Bloody Known' and 'Remove The Heart' provided pummeling rhythms, discordant and eerie psychotic leads and vocal urgency well worth your time. However, it is their most recent and lockdown EP Spilt Milk that warrants your attention as you, yep, "May Have Missed" it.
'Clsr2ThGrv' reverberates around its misanthropic rant through an almost primal power of heavy-set Post-Hardcore Punk that is determined to stay fully alone, sharpening its strings to a slight yet sharp metallic edge. Track one of Spilt Milk is snotty and vitriolic without screaming in rage, rather smiling, quietly and unsettlingly to itself.
'Reality Calls' then makes use of the same pummeling power but breaks from its confines respective of reality calling, kicking in the door and allowing your pipe dreams to dart for the exit and promptly fall away. Track two is melodic and driven but no less unsettling or spasmodic. In fact, 'Reality Calls' with its fast, layered complexities and reckless charge, might well be the best on the release as a whole. Knife Crime are just as chaotic on this second release but exude said chaos in a controlled fashion, without losing their foreboding volatility.
The band's existentialist-core focuses its thundering Metallic Hardcore-disdain onto capitalism and artificially-incepted need in 'Trash U Dont Need'. Knife Crime's Metal-edge is tempered, slowed and tactically reserved but no less powerful. Think of it as the snarling beast beneath all the dirge. Think of the word "powerful" but used again and again until this band makes sense. 'This Saturday' then skillfully meanders through the representation of where Knife Crime are now, that being yet another band actively twisting the legacy of Hardcore Punk to their whim.
Knife Crime: Facebook / Instagram / bandcamp (label) / Spotify / Apple Music / YouTube Music / Deezer
---
Boltergeist – Maybe Next Year EP (June 2021)
(Melodic Punk/Pop-Punk)
If there's one thing that pervades a huge swathe of contemporary "gruff" and melodic Punk-Rock it's existentialism. This is often paired with lyricisms pertaining to daily drudgery, hindsight and mental health conundrums just to name a few. I could easily list more adjectives there, but that's what the music is for. Onward, to resonation.
Boltergeist are another from the High End Denim Records family and are about to do and illicit very much that. The three-piece are comprised of staple names in the Canadian Melodic Punk and Skate Punk scenes by the names of Franx Dux!, Trashed Ambulance and Burning Nickels, the latter of which can be found in review form – Here.
'Glory Daze' is born from the school of sombre, infectious and poignant Punk. An emotionally drenched, dark, yet anthemic guitar tone motions from a sad defiant drive onward to an eventual, momentary smile throughout a tale of isolation and lapsed memory flanked with positive recollection. Though Boltergeist are not by majority a Skate Punk band, their genealogy conditions 'Glory Daze' with a sonically sharp and lyrically applicable urgency.
It's tough not to hear the lasting legacy of mid-to-late career Alkaline Trio in the driving 'No, You're An Idiom'. Two, intelligently, with the quirks inherent to Canadian Punk, lives up to its moniker in an entertaining tale of "not quite". 'Hometown Hostage' then playfully embarks on a different rendition of the "I hate this town" ubiquity. Though amusingly, track three is by definition Pop-Punk, it is so to the classic, Skate Punk-aware and maturity-sieved hindsight variety. Life, eh? What a mess. Three is the overthinking mid-life crisis Punk song that may glide fancy-free but only in sound.
'Saving Daylight' closes and is another pull on the heartstrings akin to 'Glory Daze' and that is where I'll leave you.
Boltergeist: Facebook / Instagram / bandcamp (label) / Spotify / Apple Music / YouTube Music / Deezer
---
Top Left Club – Shoulders At 90 (May 2021)
(Garage Rock/Garage Punk/Synth Punk/Rock n' Roll)
And so almost passes the latest in a series that highlights my inadequacy to keep up with music. I "May Have Missed" this and hundreds of others but it's a wonderful problem to have. Top Left Club are another unit to release a debut in 2020.1 and are quite likely comprised of those who have wrestled their way through the scene from corner to tasty corner. Champion or no.
Shoulders At 90 and Top Left Club as whole are indicative of a sizeable gyration toward Garage Rock and Garage Punk that has been steadily accumulating across the DIY Punk scene for quite some time. This writhing, resolute and raucous offshoot of Rock n' Roll is known to corrupt the pallet with its gritty, pithy textures from aggy-Hardcore to fuzzed Alt. Rock and Grunge to straight-up Ramones-esque Punk. Give or take a few synths that is. 'Talk Talk' opens the debut with its unashamed blast of synth-flanked Punk n' Roll and is proud of it.
'RIP' was the band's debut single and it's plainly obvious why. The driving rhythms and the seminal, vintage "fuck-you" fuzz that caused so much havoc back in the day gives absolutely no semblance of any shits onward to its subterranean escapism.
It is true that in today's vibrant music scene that albums such as Shoulders At 90 can seem repetitive but though limited to its unkempt-self, Shoulders At 90 captures classic charm so well that it keeps rollin' by with little perceivable obstruction. Tracks such as 'I C U Tonight', 'Piss' and 'Teddy Biscuits' successfully task themselves with juxtaposing the synth's ubiquitous electronic grin with an unapologetic Ramones and (The) Spits-esque Punk. Elsewhere, the namesake lambasting Garage-Pop of 'Shitbag' captures the seminal era's legacy of fuzzy-Pop that was so interchangeable with early Punk-Rock. "Pop" what is "pop", we're big tough Punks in here!
Top Left Club, though consistent and practising smug avoidance of the dreaded complacency, do nuance themselves a little. The penultimate number trades Proto-Punk for Proto-Grunge juxtaposing and forebodingly looming over TLC's majority-upbeat sound. This is all before foreshadowing what can only be described as the Psych-Grunge of the closing 'Tie Me Down'.
Listen to this album. It's fuzz-tastic.
Top Left Club: Facebook / Instagram / bandcamp / Spotify / Apple Music / Deezer / YouTube Music
---
Much akin to "May Have Missed Volume 6", this one has been considerably Punk-focussed but that's just how it be. Though I am not writing as much as I have been previously, there will be another in good time. In the meantime, I should probably note that this will be published piece 541. On the 20th August just prior, Ear Nutrition was three years old. That date also approximately marked over seven years of writing about underground and DIY music. Should I have made some sort of video for it to commemorate such an "occasion"? Perhaps, but that's depression for you.
Either way, thanks for getting this far. It's been quite the journey.
As perpetual always, thanks to Laurence Crow for the continued and amazing work for all things Ear Nutrition art.
Laurence Crow Illustration: