The Expanse Of The Internet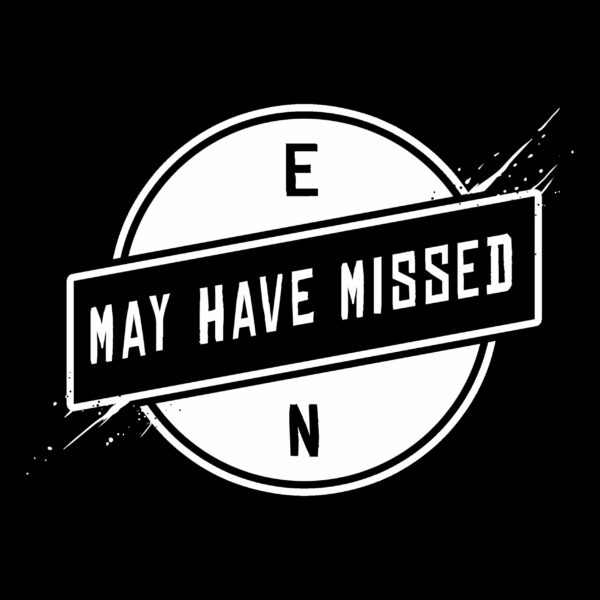 "May Have Missed Volume 6" is an attempt to counter the volume of requests I receive in the various Ear Nutrition inboxes as I type away. The venture of EN, when it boils down to the barebones of itself, is a spare-time hobby. I try to do what I can, as, after all, there is only so much I can electro-scribble down on a screen. Some don't fit, others are simply irrelevant to the site but overall, if they pique my interest or fit the site and whatever trend it's pursuing at that time, they get featured. I obviously don't have the time to cover everything and even though I would if I could, it's just not possible.
So, without further waffle, here is some music that I haven't had the time to sit down with-proper. The purpose of this series is to provide some varied new noise as an enticement to indulge in the plethora that is the underground music scene worldwide. "May Have Missed Volume 6" consists of cuts from the inbox, but also outside of it. Enjoy!
Volume 5 and the past volumes of May Have Missed can be found – Here
---
TV Tragedy – The Fall (June 2021)
(Hardcore Punk/Street Punk/Ska-Punk)
With Punk music and ethos as healthy as it's ever been and being the veritable mass of stylistics it now is, this first entry of "May Have Missed Volume 6" takes it back a bit with a modern take on the vintage. Arizona's TV Tragedy have been cutting the shit with as many serrated words as they have the same but in chords and driven Street Punk since 2013. This very 2021 saw the band release the aptly titled The Fall, an album of fifteen tracks soundtracking our societal downward spiral.
Corporate greed, the military-industrial complex, impunity to act without repercussion, these are all themes that have occupied Punk-Rock since its beginning. No matter the sonic stylistics in play, these very themes pervade the scene to this day. With this in mind and The Fall, TV Tragedy have opted for a blast of Punk and Hardcore classicism with notable nods to Skate Punk, Crust, D-Beat and even (guitar) Ska to discuss them. The band's Street Punk foundation is snarling, sharp, simple and yet refined with key sense of where they are in the timeline, despite their foundational callback.
'Nuclear Shadows' and the DIY Punk championing 'X-Ray Audio' flirt with the warped melodic leads of Crust Punk. 'Wake Up' then teases a stomping New York Hardcore edge with this very Crust-esque coating before pushing on to the aforementioned Street Punk foundation. 'The Arsonist' flairs around in American guitar-Ska either side of a pummeling chord progression with the later 'War Inc.' then following suit. The band's latest is rife with nuances of its core.
The Fall and TV Tragedy as a whole in many ways epitomise their own existence in a USA that either side of the removal of the giant orange despot, is caught in a rapid period of socio-political war and division. This is perhaps best found in 'Qualified Immunity' where the tragic death of George Floyd and all that followed and was exposed are represented in a rousing Punk anthem.
TV Tragedy: Facebook / Instagram / bandcamp / Spotify / Apple Music / Deezer / YouTube Music
---
The Musicians Of Bremen – Intolerance (February 2021)
(Post-Hardcore/Post-Punk/Punk/Alternative Rock/And The Rest)
Contrary to their moniker, The Musicians Of Bremen are actually based in Glasgow. Do they have any affiliation either direct or otherwise to the Belgian city? Who knows?  You can ask them if you like, for we are not here for that rather for their presence on "May Have Missed Volume 6". Which, is entirely due to how their concoctive Punk sound is something you may well need.
The band's debut album Intolerance is social commentary intertwined in a mass of Post-Hardcore, Post-Punk and Grunge-esque Alternative Rock beyond its boiling point. Though anger is often synonymous with fast and heavier Punk, as the latter parts of "May Have Missed Volume 6" will show, the fluidity of the musical medium is as lucrative as ever. Both 'Awakening' and its reverberating, pounding Post-Hardcore Punk and light Fugazi-esque refrains and the following 'Breathe' with its rhythmic, layered and discordant spasmodic amble are rousing battle cries. They are the first two of nine.
Intolerance is an album of social observation, interpretation and exists to solicit conversation to negate its namesake. The Musicians Of Bremen are very much in command from the very first note. Track three, 'The Terrible Tale Of Tom Brown' meanders through an easy semi-acoustic Indie-Folk whilst 'The Nature Of Balance' deviates into a dark, brooding Post-Rock amble with a foreboding, almost Psychedelic intermittent wobble. The equally subdued, worn down vocals slowly find their feet as the band's instrumentation moves through progressive layering toward a whirling mass of intricately spun, enveloping and beckoning Post-Hardcore and then some. The rest of the album, as you would expect, cascades over whatever stylistic school the band require to make their socially conscious point.
Oh, and this is only part one of a debut double-full-length. Enjoy.
The Musicians Of Bremen: Facebook / Instagram / bandcamp / Spotify / Apple Music / Deezer
---
Glorious – Unashamed (July 2020)
(Hardcore Punk)
Glorious are a band that warrants going back in time somewhat. At the end of 2020, amidst a myriad of messages, press releases and PR Emails, I received one pertaining to "bands to watch in 2021". So, here we are, only a little late. Time is meaningless now anyway and I am but one human. Shall we?
The band are comprised of members of both Employed To Serve and Renounced, so if Metal, Metalcore and everything in between tickles your fancy, do note those down. However, the project 'formed for the sole purpose of having fun and creating high energy music', that being Glorious, child of Church Road Records, is why we are here. The band's brand of Hardcore despite being some way from their collective accolades is still closer than you think and intrinsic to both itself and the current wave of heavy music and notably Hardcore Punk.
Glorious-brand Hardcore is a child of the Melodic and Post-Hardcore world. A time where bands such as Gorilla Biscuits were imbuing more and more deviation and melody into their fast Hardcore. Post-Hardcore and its spasmodic and nuanced Punk emotion was permeating everything and the violent stomp of New York Hardcore and various intrusions into more Thrash and general Metal-scapes were taking off. This is Glorious, all of it and more, with the very "more" denoting to their own unique gusto.
'I'll explain myself to no one, excuse me if I live for myself and not for you'
It's easy enough to compare the band to the past above but also to the now. Think contemporary bands such as Burning Flag, War On Women or Kicked In The Teeth and you have both homework and a bill that would unequivocally slap. Unashamed and its five tracks in fifteen minutes begin eponymously and within seconds, it's repeated listens are almost premeditated. Said eponymous blast is a "fuck you" of the highest and most seamless order. Justine Jones' constant odes to classic shouted Hardcore vocals are cut with further vintage gang shouts and contrastingly more modern screams, paired perfectly with the brash but precision-cut assault from the instrumentation. And that, that is just the first track. There are four more and the debut ends with an excellent rendition of Type O Negative's 'I Don't Wanna Be Me'. Enjoy, break some shit with a smile and do so repeatedly.
Glorious: Facebook (label) / Instagram / bandcamp / Spotify / Apple Music
---
Shooting Daggers – Demo 2019  / 'Humanity Waste' (August 2019/April 2020)
(Hardcore Punk/Crust Punk)
Now that shows are back to the forefront in most places, London's Hardqueer Punk three-piece Shooting Daggers are doing their abrasive rounds and continuing to make a name for themselves. Much akin to the entry above, we have gone back in time again. I discovered the three-piece in the very same email that I did Glorious. Though I have regularly lost, forgotten and rediscovered said email under the weight of the others that will likely remain "unread" for an indeterminate amount of time, as I work more hours in my "low income" state of employment in order to offset the recently announced Tax and National Insurance hike, I knew I was going to get back to it eventually. "It" being the email, not my hatred of the Tories. That's ubiquitous. Unlike that big red bus.
A N Y W A Y. In the most D-Beat and metallic Crust Punk-ed nutshell, Shooting Daggers-brand Hardcore Punk is both violent and wonderfully so in the most natural way. If you were to compile reasons why the Hardcore scene is now one of the most inclusive (and within that the best) within the greater Punkasphere, Shooting Daggers' Demo 2019 would be one of many playing loudly as the list was compiled and then orated. The band's debut opens with a slow amble of accumulating dirge in 'H O S T I L E'. Their kinetic energy then charges before their heavily distorted and aggravated tirade chases an anthem for introverts defiantly out to stand proud as it fights back.
'G O L D E n R U L E S' cleverly build in tempo as it lays down gig etiquette hammered home but a Grunge-esque Hardcore before a looming vitriol takes hold on 'M I S (S) a n DRA'. Track three of the demo cycles its power through a New York-esque Hardcore before falling to the intrinsic dirge the band execute so well. Demo 2019 is a six-minute and thirty-eight-second blast that is beyond easy to play again and again. The band returned in 2020 with 'Humanity Waste' and in doing so, substantiated the proof that their nuanced Hardcore is a blend to watch. I'm not going to cheapen the message of 'Humanity Waste', though let's just say, it's beyond imperative. Digest and take heed.
Shooting Daggers are a band I hope to catch live sooner rather than later.
Shooting Daggers: Facebook / Instagram / bandcamp / Spotify / Deezer / YouTube Music
---
The Rumperts – Escapism (August 2021)
(Melodic "Gruff" Punk/Punk-Rock/Garage Punk)
"May Have Missed" is an excellent way for me, you, your dog, Steve's cat and Judith's goldfish to discover new bands. Well, in reality, it just elicits a feeling of inadequacy in me that I haven't the time to write as much as I used to. Ah well, gotta pay those taxes. The rich need to die with what they don't need. The Rumperts are another part of the ever-widening SBÄM Records battle-line of overlapping Punk-Rock shields. The Austrian four-piece, though existing since the last year of relative normality, have just released what might be one of the most fluid and fun albums I've heard this year.
'Volcano Of Hell' was the previous single and yet stands indisputably as the header for the nine-track cascade through glorious Punk n' Roll and then some. The band jibe, jab and accost morons with smiles as their socio-politcal frustration spills in sardonic Punk-Rock humour, driving riffs and attitude-laden everything. 'Opioid Boogie' cuts in with tales of opioid woe to a hybridised Garage-Hardcore Punk that becomes wonderfully more obvious and obnoxious as the track persists. This is a band dead-set on fun but through a gauze of seriousness.
Escapism does have a few other stops in its evacuation plan, however. The melodic, "Gruff Punk" of 'Fill The Cup' depicts chanting waving crowds crammed into a small venue as 'Hangman' waits, fidgeting at the stageside to the same honesty-saturated catharsis. If Banner Pilot took the piss a bit more perhaps? There isn't a time where this debut album isn't entertaining despite its meandering and exuberant serious-to-silly-and-back-again gyration-enducing ensemble. See 'Girlfriend' and 'Great Balls Of Fire'.
In fact, please just "see" the whole album.
The Rumperts: Facebook / Instagram / Spotify / Apple Music / Deezer / YouTube Music
---
A Little Off – Symptomatic (October 2020)
(Alternative Rock/Skate Punk/Post-Hardcore)
A Little Off hail from Denver, Colorado and are yet another band from a city whose Punk scene regular pushes out bands of note and another whose contortion of Punk-Rock requires your audible metabolism to set to work.
Symptomatic, in many ways, captures the essence, stylistically speaking that is, of modern Punk music. The typically "Rock" foundation most of it sits on is now so diverse to the point of expected but not unwelcome nuance. 'Cauterized' rumbles through a heavy-set, floor-bedraggling lack of motivation as reinvention takes its toll to an increasingly jagged, Post-Hardcore, Alternative Rock hybrid. Hot Water Music, Ship Thieves fans take note. 'Hypchondria' reactively embodies the tempo of its namesake's default state, as the looming, brooding Post-Hardcore tones of the previous are charged with a welcome, cathartic jarring Skate Punk cut with the prior (and seamless) complexities.
'Amygdala' continues the Mental Health discussion and uphill adversity that Symptomatic so honestly pertains to. Track three, though impeccably tight, renditions a late '90s Skate Punk with subtle nods to the warped Punk of the previous tracks and despite its contrast, feels not just home, but easily symbiotic. A Little Off's control over their art is impeccable. The band's slow-motion through what feels like a historical stylistic tour is only so until they marginally, yet crucially, change the sonic narrative. 'The Fight' charged by the lineage of late '90s Skate Punk, borrows from early 2000s Melodic Hardcore and provides yet another sub-sound for the band to follow later.
A Little Off close Symptomatic with what they are undeniably good at. Their spasmodic, genre-meandering Punk deviation at this stage has lulled you into such a level of shifting comfort that it plainly shows how skilled they are as a unit. 'The Space Between Us' in a manner that needs not an explanation, merges guitar-Ska, Post-Hardcore and gloomed Emo-ish Alternative Rock with a violently abrasive metallic edge. That'll do.
A Little Off are not a band to ignore.
A Little Off: Facebook / Instagram / bandcamp / Spotify / Apple Music / YouTube Music
---
And so passes "May Have Missed Volume 6", sixth of their line and considerably more Punk focussed than I had intended. Oh, well! What a shame! The list for volume seven is written and quite hilariously the same way inclined so hopefully, that will appear soon. I have very little allocated time for Ear Nutrition these days so any reads, clicks, shares, scorns and verbal articulation put into circulation about the project is always welcome.
This will be published piece 536. You never know, you may find something you like. Check out the other volumes of this series and thanks for reading.
As perpetual always, thanks to Laurence Crow for the continued and amazing work for all things Ear Nutrition art.
Laurence Crow Illustration: