The Expanse Of The Internet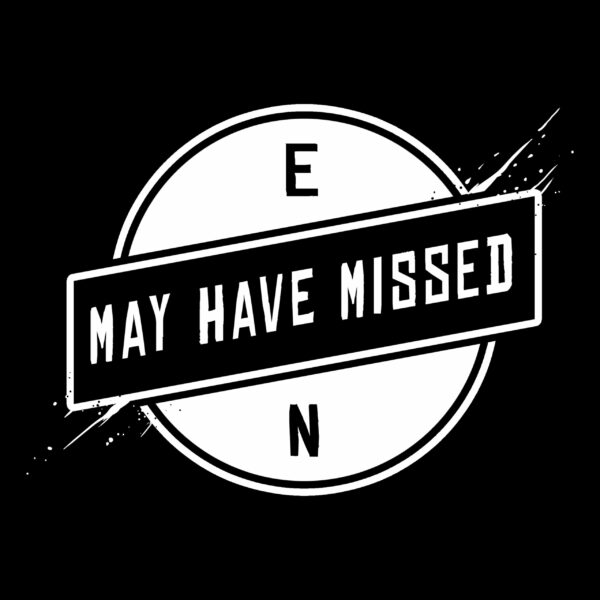 "May Have Missed Volume 3" is an attempt to counter the volume of requests I receive in the various Ear Nutrition inboxes as I type away. The venture of EN, when it boils down to the barebones of itself, is a spare-time hobby. I try to do what I can, as, after all, there is only so much I can electro-scribble down on a screen. Some don't fit, others are simply irrelevant to the site but overall, if they pique my interest or fit the site and whatever trend it's pursuing at that time, they get featured. I obviously don't have the time to cover everything and even though I would if I could, it's just not possible.
So, without further waffle, here is some music that I haven't had the time to sit down with-proper. The purpose of this series is to provide some varied new noise as an enticement to indulge in the plethora that is the underground music scene worldwide. "May Have Missed Volume 3" consists of cuts from the inbox, but also outside of it. Enjoy!
Volume 2 and the past volumes of May Have Missed can be found – Here
---
Wrong War – Fixed Against Forever (November 2020)
(Hardcore Punk/Post-Hardcore)
Wrong War capture the raw nature of early Hardcore Punk in a captivating manner. The band embody this thickly riffed chaos, spasmodically unloading in frustration to anyone that will listen. Think the early chaos of Black Flag and the Circle Jerks and then ply that with an aggravated and consistently fast tempo and along with some whirling melodic leads and you'll arrive (un)safely within the band's debut, Fixed Against Forever. However, as you settle, you'll discover that you really haven't without noticing the crucial maniacal nature the band borrow from the raw and comparatively more Melodic Hardcore and Post-Hardcore sound Rites Of Spring would lend the genre later in the timeline. Once you've melded with such an assault and relocated your ears to Chicago, you have FINALLY arrived at Fixed Against Forever. 
The band's lead single and video 'First Shot Misses' was inspired by the attempts of the American Nazi party to disrupt the Chicago Pride Parade in 1982. The video showcases how the LGBTQ+ community, labour movements and 'other purveyors and love, inclusion and justice came together in a show of unity to stop them' and is a must-watch.
Fixed Against Forever is nothing if not visceral and energetic true to the legacy of the exuberance of Punk-Rock. The band's debut is a thrill ride of abrasive and warped Hardcore but doesn't resign itself to such wholly. There are lashings of melodic strings throughout to break the cycle of dirge but also deviations in tempo. 'All You Ever Knew' opts for classic Punk grit, upbeat but still laden with conviction. 'Escape Clause' is another release-highlight where the band's ferocity is perpetually cycling and alternating in further spasmodic jabs. However, it is the closing 'We're Through' in its gritty Dag Nasty-esque warped Dischord melodies and leads contrasting the refined 'core on offer that steals the show. Do yourself favour and indulge in some Wrong War below via Council Records.
Wrong War: Facebook / Instagram / bandcamp / Spotify / YouTube Music
---
Less Than Nothing – The Death Of The Forest Is The End of Our Life (October 2020)
(Prog-Rock/Post-Rock)
One of the bonafide positives of the digital age is the availability of new music and for me personally, that notably extends to how the realm of Progressive and Instrumental guitar music has not only grown but increased in inherent quality. This is where the Post-Rock foundation but progressively minded tones of the UK's Less Than Nothing enters on "May Have Missed Volume 3". The project has been steadily releasing tones from dulcet to intense since 2010 and it is in 2020 that the environmentally-inspired The Death Of The Forest Is The End of Our Life built steadily on Less Than Nothing's work so far. Post-Rock itself is a foundation from which a band or artist can enthral and entice other stylistics into the fold with ease and that is entirely what Less Than Nothing does here.
They has always been a heavier Alternative Rock and Grunge penchant to Less Than Nothing. The project plies such as an included and alternating weight alongside the Post-Metal inclinations the genre is known for and its very much a selling point. The opening 'The First Streaks Of Light' refines the melodically-led heavy-set sound of previous work while 'Fragments' employs a cello and an onset Orchestral twist to it's more classically orientated Post-Rock. 'Lost Trails, Lost Cities' persists in the above but also, ala the nature of Progressive Rock, supplements the increasingly complex and diverse sounds of the record. Track three effortlessly builds layers of Math-Rock-style leads before merging and alternating this with a stark but welcome Classic Rock-esque display.
As stated before, much of this release was written with the contemporary erosion of the environment in mind and in places, specifically that of the Amazon Rainforest. 'Ruins In The Jungle' via both its moniker and heavy-set instrumental Grunge (with a very minute but notable metallic edge) very much captures this existential dread, worry and anger. It is here specifically but album wide that LTN's drumming must be praised. For its fantastic ability contrast and dictate the mood of the album is nothing but stellar. 'State Of Decay' showcases perhaps the best example of the dichotomy dulcet to-heavy sound of Less Than Nothing as well as some of the best warped, dramatic and immersive guitar-work. That said, given the strength of the final three tracks, such a crown is at risk of regicide.
I could indeed go on for a good while breaking down this release, but for now you have you taster. The rest is up to you.
Less Than Nothing: Facebook / Instagram / bandcamp / Spotify / YouTube Music / Deezer
---
Swash – Osiris Reaps (January 2020)
(Alternative Rock/Grunge/Indie-Rock)
This entry is the furthest back for May Have Missed Volume 3 and likely the also furthest back the series as a whole has gone. In many ways that categorically displays the very ethos, goal and operative nature of "May Have Missed". Music is ubiquitous and there is a gargantuan amount of it out there. Digression aside, this entry is about Copenhagen's Swash. The four-piece self-moniker as Indie-Rock but their playful yet abrasive sound is in reality so much more. Indie-Rock's status as a distant cousin of Punk-Rock is keenly substantiated in the amalgamative sound of Swash. The four-piece take the legacy-grit of Punk, supplement it with sluggish-Grunge disinterest and then connect the two with a middling connective layer of brash Alternative Rock.
Osiris Reaps is as oozing with ironic mainstream applicability as it is cutting rhythms, discordant lo-fi production and punching riffs. The band constantly lace their work with discordant variants of noodling, high-pitched, playfully-toned Indie-Rock leads in perpetual contrast to how deceptively rough-cut they are. Vocally, they are tuneful but in the most relaxed and almost accidental way. That, I would like to clearly state is not a criticism. The likes of 'Gravity Slider' is very much the poster-track for this and just about every description within this very paragraph. Swash are constantly on the edge of displays that are heavy-for-heavies sake in the most positive way. See 'Family Computer'.
'Not Much' boast 1:51 of Alt.Rock Punk-isms hiding in plain sight within the band's Indie-quirks and is a wonderful slice of warped-Bedroom Rock. Osiris Reaps ends on the smiling-lumbering Grunge to spasmodic Swash-Punk it was always going to.
Swash: Facebook / bandcamp / Spotify / YouTube Music / Deezer
---
Jools – 'Crossing-Dressing In A Freudian Slip' (November 2020)
(Post-Punk/Alternative Rock/Post-Hardcore)
"May Have Missed Volume 3" wouldn't be worth its time in the series without further socio-political jabs at the way of it all. This is entirely where the raucously combustive UK-based Jools enter. To nail the band's sound down as simply Post-Punk is acceptable but only on the surface. The band's socio-political and expressive gender, sexuality and Art-Punk political stance of accosting, open and emphatic honesty is so much more than that. The legacy and outspoken nature of Punk-Rock is often forgotten when the stylistic of Post-Punk or any of Punk's derivatives are mentioned. In an aggy-little nutshell, this is not only wrong in general, but very much so regarding Jools.
The band's first single, 'Hysterical Starving Naked' took a hybridised and heavy-set Post-Punk and Post-Hardcore Punk-Rock as its defiant debut while 'Spineless' (my personal favourite) further developed the latter. 'How Can Some Experience What Pride Is Without Liberation For All?' infused gloomed discordant melodies with Punk-gusto and Alt. Rock weight between bouts of societally introspective Spoken Word. This most recent single ahead of 'Crossing-Dressing In A Freudian Slip' is highly arguable as the stylistic precursor of the latter's very existence.
'Crossing-Dressing In A Freudian Slip' opens with a looming bass tone flanked playfully with a layered New Wave-esque warped line. The band's Spoken Word is more earnest this time, as it argues the sheer vibrancy and relevance of art in the socio-political sphere and how its always at the forefront of the good fight. Jools are absolutely nothing but laden with a powerful conviction and are cleverly quotable. The inherent weight of the band's Alternative Rock is ubiquitous throughout their sound and its placement in this most recent single is of the most natural and timed occurrence.
Jools boast a huge, clever and varied sound and are definitively one to watch.
Jools: Facebook / Instagram / Spotify / Apple Music / YouTube Music / Deezer
---
Ridgeview – Sometimes You Have To Leave (November 2020)

(Emo/Alternative Rock/Post-Rock)
"May Have Missed Volume 3" returns to the country from whence it started but this time in Sacramento, California. The above-listed genres and stylistics are three that you wouldn't necessarily think you'd see listed sequentially but then again here we are. Emo as a genre is very much multi-faceted at best and its reach in the contemporary music scene is impressive. Whether it is merged with Pop-Punk, Post-Hardcore, Indie or Math-Rock the three-letter-word has stood the test of time. Sometimes You Have To Leave openly embodies the dulcet, easy listening melodies of the genre, merging them with the inextricably linked Pop-Punk elements. This then follows on into the hardened complexities of Post-Hardcore witn an over-arching foundation around Alternative Rock but the band's debut has one more crucial element. That of the words "Post-Rock" listed above.
Ridgeview tick-off the storytelling nature of Emo and resoundingly inherent much of the genre's tendencies of the last twenty or so years but again, the aforementioned crucial element of Post-Rock is of huge influence. 'Terminal B' opens the band's seven-track with a discordant yet melodic Alt. Rock intro before the harmonic Emo takes over. Within moments and throughout track one, Ridgeview employs an ethereal reverb and guitar-tone, ebbing and flowing ala Post-Rock and constantly furthering the band's enveloping sound. 'On Leaving' takes this meandering technique and delicately leads the tracks painful yet tuneful hindsight and regret.
'Short Stories' takes the band's hybridised Emo-Post-Rock further as they utilise more of the dramatic, elongated and illustrative soundscapes the genre is known for. 'Dependence' takes the band's most aggressive and driven Alt. Rock onward to yet more symbiotic displays of the above and is utterly testament to the skilful and complex dominance of the Ridegview's drummer.
There isn't a single moment on Sometimes You Have To Leave where Ridgeview lose their intensity. The band's debut is utterly enthralling, capturing much of what modern Emo-Rock tunefully aims for. This is particularly true in the vocal and lyrical effort and although it is indeed very well done, there is no one thing that stands this band out.
For they do that as a whole.
Ridgeview: Instagram / bandcamp / Spotify / Apple Music / Deezer / YouTube Music
---
That's the end of "May Have Missed Volume 3". I hope you enjoyed the above and found something new to nourish your ears with. I've just finished compiling the list for Volume 4 so keep an eye out for that.
In the meantime, check out the other volumes of May Have Missed and the other four-hundred and forty-plus pieces across the site, as well as the handful of Spotify playlists.
As always, thanks to Laurence Crow for the continued and amazing work for all things Ear Nutrition art.
Laurence Crow Illustration: