Maisonette – Brighton, England, United Kingdom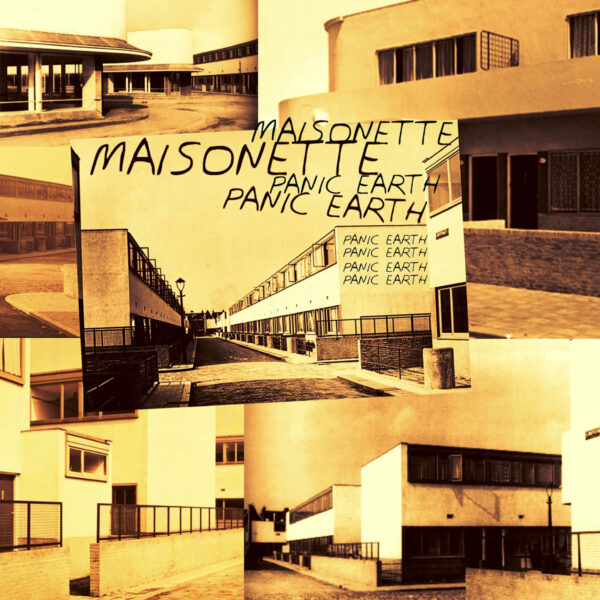 Maisonette, Panic Earth and the rapidly growing DIY Punk label INiiT Records. The former's gruff, sardonic and Post-Hardcore-spun existentialism-encumbered Punk is the latest acquisition of the latter and that's today's deep dive. The Brighton four-piece have a handful of warped, discordant and poignant Emo-lacquered Punk that they have managed to record in bedrooms and other places thus far and you can find it – Here. However, that isn't why I'm likely inducing tedium into your craniums already. You may as well be polite and stay now. For it's time for Maisonette and Panic Earth. Let's go.
Though you can associate the sound of Maisonette with bands from certain eras, it is hard to compare them to said bands specifically. Maisonette capture the rage and repurposed energy of early Post-Hardcore and merge it with a keen awareness of the expansive latter umbrella of "gruff-Punk". Merge that with warped yet melodic latter timeline cliché-less Emo and you have the opening 'Lifeboat'. Track one is resoundingly in this camp and more so than the band's previous work almost collectively. Maisonette constantly juxtapose themselves between broodingly heavy-set Post-Hardcore led by a discordant sad-smile and an approachable contemplative Alt. Rock ebb. Track one is slow amble. Maisonette cascade through self-reflection with an alternating intensity, marking not only their OG Post-Hardcore conditioned trudge of shifting dynamic and simple but clever layering, but an exact soundtrack to these emotions.
Emo, in reality, isn't as much of the over-driven media-frenzied "scene" affair it is thought to be. In fact, in its organic and most dated form, it can still be found well-positioned on the expansive Punk tree. 'My Tired Brain' is one of these. The band's Punk lineage is clear, easy-going and happily, notwithstanding the mania, channelling itself through a stable Alternative Rock. Two is sardonic catharsis with the very purpose of momentary alleviation and a side effect of infectious ear-wormery. Is that a word? Likely not, but reason will prevail. Does that make sense outside of a certain context? No, but I am an expert in bird law. References. Alright, alright, alright. Digression aside, two was the obvious choice for a single. Especially after an occular pat-down.
The prevailing and warped '80s lead of Maisonette and Panic Earth thus far rides the three-piece wave into track three. The band's three bodies are a charming foundation. Maisonette are rough around the edges in an again, charmingly and confidently teasing manner. The production of Panic Earth does nothing but aid this. Panic Earth is a natural EP and 'Constant' might be the best of the lot. The brooding power, rage and vintage off-beat arrangements that Post-Hardcore brought to Punk are renditioned with ease.
'Constant' is itself in a constant state of ambling repression juxtaposed with need to vent and this goes across the board. Soaring guitar strings approach a prog-like state of distorted being while a reverberating and cumbersome bass followed by resolute and resigned drumming prevents the cycle of negative feeling from gaining any reprieve. Ryan Mansell's vocals are their best and chased by distant semi-harmonised interjections prior to it all combusting from 3:02 to the end.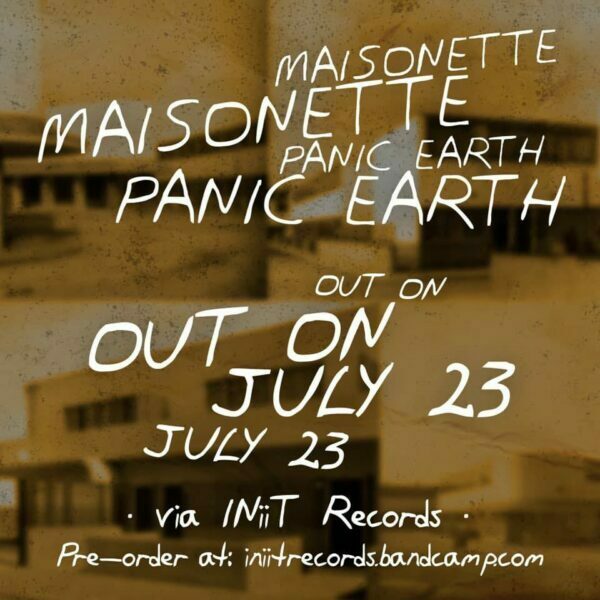 'I Feel So Empty' echoes the band's earlier work and the faster, brash sound it boasted. Panic Earth is an EP focussing on developing the contrasting, Emo, Post-Hardcore and Alt. Rock wing of the Maisonette tirade. It is still very much the same band that wrote and unleashed the Punk-Rock-centric Post-Hardcore of 'Burn The Past', 'Miserable', 'A-OK', 'Serotonin' and 'Dirt Beneath Your Feet' but one that has chosen to refine other crucial aspects of their sound.
'I Feel So Empty' is yet another refinement; the hybrid linking these eras of Maisonette together and a statement of versatility and comfort. You could say that Panic Earth is lacking this harder, up-tempo grit and that wouldn't be unfair. However, with the closing number being what it is, this isn't too much of an issue. The quality is also undoubtedly present here and Maisonette are simply testing the water, but with no need for repeated paddling.
Maisonette and Panic Earth release via INiiT Records on the 23th July. Find all details below. I didn't bore you too much, did I?
Updates
Music:
INiiT Records: