FEMUR – Sheffield, England, United Kingdom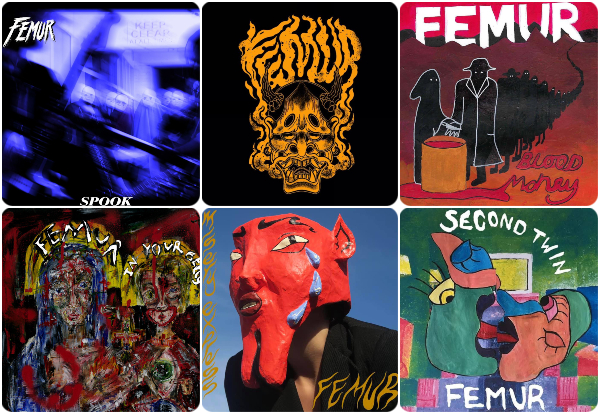 Introducing FEMUR and how they sound before falling head-first into their moody, melancholic, maelstrom of Psych-Grunge is the easy bit. The Sheffield four-piece and their chosen genre-hybrid, isn't really that much of a hybrid at all, at least in some ways. Think of Grunge and Psych-Rock as kindred spirits. The genres are both moody, we have established that. However further in, they are both disaffected, nihilistic (at least in tone), warped, brooding and maniacal. Think of them as the two fringe-human beings at a party who find solace together before the room wakes up to see how notable they really are. This is the sound of FEMUR.
2017 was their "birth year" as it were and the fuzzed-aggression and confusion of 'Spook' was the debut. The band spun their Psych-Grunge amalgamation as the soundtrack to a mind mired in strife. The lingering aggression Grunge took from Hardcore Punk is painfully present in the best way possible as whirling Psychedelia hammers home the immersive madness. FEMUR's constant changes in tone, dynamic and tempo, although never moving beyond a heavy set trudge, are and were an enthralling foundational sound. 2018 then saw the debut In Your Belly EP opening with the brilliantly titled 'Sharkoflage'.
With the Grunge of FEMUR's sound acting as the drive, the Psychedelic Rock is its conditioning. Track one of the debut makes more use of this calmer, yet uneasy display and yet FEMUR seem always poised to combust. Which of course they eventually do. 'Chunk' enters via a wild-west-esque Psych-tone in a tale of sexual frustration, want and fear of hurt. 'Chunk' favours the band's heavy-set and cathartic Grunge displays and provides the argument for how close the two styles can align. 'Tidal Child' is perhaps best of the band's amalgamation on the EP. Track three hones the spasmodic complexities that become more obvious as you trek through the band's work and 'Start Again' is simply the band at their most satisfyingly unrestrained.
'Second Twin' emerged in 2019. Within seconds of its warped jabs, rhythmic plod and tuneful vocals, you know what's coming. By the 0:37 mark, the relative calm is expunged. The band's bass looms and the rest channel their all into a discordant mass of disappointed catharsis before falling back into introspection. This is a band that you must enjoy chronologically at first listen. This may seem somewhat "throwaway" but it's simply the most immersive way to go about introducing FEMUR to yourself or others. The latter of which I hope I am doing adequately.
'Second Twin' is another argument for the intrinsic and reluctantly toned unification of the two genres. They may well both manifest their warped-world view in their own way but in tracks such as 'Second Twin', they represent the aforementioned solace.
2020 saw both 'Blood Money' and the most recent 'Misery Express'. FEMUR are at an unambiguously entertaining strong-point when they release their unabated Grunge. That much is impossible to negate. However, that said, 'Blood Money', with its Post-Punk gloom, is resoundingly more mature and yet just as maniacal. The mentioning of Post-Punk as you go through the band's chronology is something you won't want to mention due to not being sure. That said, in 'Blood Money' even for the short time that it is apparent, it is very much bonafide. The band's warped-Psychedelia also changes here. FEMUR remain abrasive but are tighter, better produced and refined. That's not to say they lose their edge, however, because that would be a lie. It is within this refinement though that they ironically morph the aforementioned staple of their sound into a Noise-Rock-ism I hadn't expected.
The most recent and original version of 'Misery Express' markedly embodies this forward-facing Noise Rock-infusion. 'Misery Express' doesn't forget the band's past, it just has its mind elsewhere. The resulting abrasion interchangeably accosts you with visceral and unrestrained blasts of Noise-Hardcore Punk. 'Misery Express is also notably beset with the band's most aggressive vocal display yet. FEMUR then harken back to their roots with Psych-bridges with brilliantly placed vocal contrasts before exuberantly unleashing again and again. Make no mistake though, "the Grunge" lives on in FEMUR.
The track, this very 2020.1 was also given a remix by a certain Jarvis Cocker, which you can also find on Spotify.
That was my take on introducing FEMUR. The rest is up to you.