High Visions – Leeds, England, United Kingdom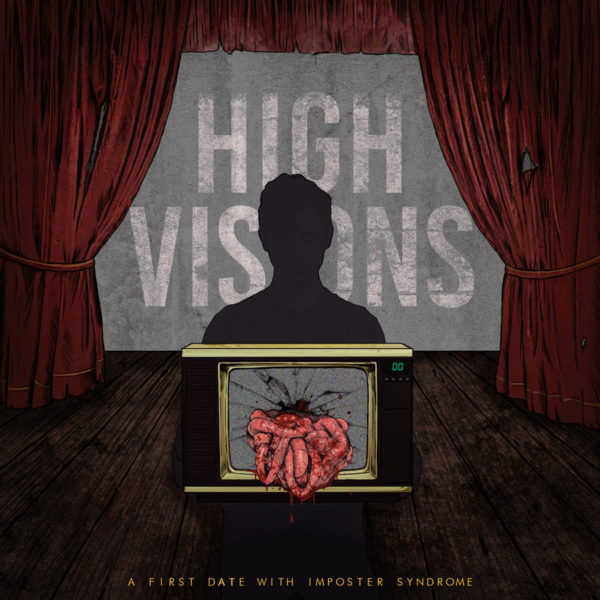 High Visions and A First Date With Imposter Syndrome enter into 2020 via INiiT Records. This is notable for two reasons. Primarily, the above is the latest in the chronicle of the contemporary melodic Punk hybridisation that is the Leeds based High Visions, but also that this third release is the debut for the fledgeling London label. And finally, in further contemporary and indeed crucial societal relevance, all proceeds from the release are and will be donated to the Black Visions Collective who will be linked at the end for your perusal.
The journey of High Visions is one of refinement but not of complacency. The band's melodic, predominantly high bpm concoction is one of Skate Punk permeation, Pop-Punk youthful exuberance and Melodic Hardcore abrasion. To date, two EPs and number of singles incessantly segue between these stylised waypoints rife with juxtaposing vocal interplay, harmonies and spasmodic and momentary stylistic deviation. High Visions aren't another archetypical Skate Punk band and although there is nothing wrong with such, as a precursory spoiler, if that is what you seek, you won't be fully satiated here. Structures are there to be bent, demolished and rebuilt. 'When I'm Dead, Just Throw Me In The Trash' is very much this mission statement.
The EP enters via day-to-day existentialist gripes are guided via a jagged yet melodic and harmonised mass of '90s Skate Punk, maturity filtered Pop-Punk that thankfully isn't too close in proximity to Easycore and vintage early 2000s Melodic Hardcore. That will do it. *Insert "change my mind meme" here*.
The sound of High Visions is respective of their age. If you are currently anywhere from 21-35, the same seminal bands will likely crop-up in your influences and comparison lists. I shouldn't need to write you a full list. This is the world the band inhabit and 'When I'm Dead, Just Throw Me In The Trash' is the proof. The spasmodic alternation between in-Punk stylistic likely wouldn't exist without post-2020 Sum 41 or Rise Against for example. 'Checkpoint Charlie' was another forerunner and yet another indicative of the vibrancy of the band's influences.
Track two employs the further excellence of drummer Alex and his seamless complexities. Alex's performance alternatively said, is crucial beyond the fact he is tasked as the drummer. There is no reason to downplay the band as a whole, but, truthfully, the band's ambitious vibrancy is owed much to such an effort. 'Checkpoint Charlie' is defiant and features some of the standout vocal harmonies and heavily accented vocal interplay often missing from Pop and Skate Punk hybrids.
'Anywhere // Anyone' partially invalidates my precursory statement. The middling number epitomises the lasting influence of melodic Skate Punk with considerable nods Lagwagon's own legacy specifically. However, the contemporary Tech-led Melodic Hardcore tendency of Skate Punk emerges from its tentative confines in prospective directional hints. This progressive, precision penchant surfaces in 'Isolated, Unstable, Disillusioned'. Here, High Visions feel the need to show off. Admittedly there is a strong contrast with the predecessor and its notably classic sound but this anthem of introspection substantiates such a shift.
The band then push an intricate lumbering Post-Hardcore infused Alt. Rock number that dangles over the precipice of explosive combustion. High Visions further lean on the technical skill and away from the predominant Skate Punk formula. Whirling crescendo leads, adrenalised and chaotic drumming and floor-shaking bass tones unify in a layered cacophony Melodic Hardcore catharsis. High Visions match their feeling to noise and further expand their idiosyncrasies.
High Visions and A First Date With Imposter Syndrome at this stage, could end in any number of ways. 'My True North' is another in the theme of inner mental struggle beset with marginal but crucial hope. Musically, with the EPs given variety, again, it could end in any way given the band's shifting parameters.  'My True North' is set to emotive mid-paced, Punk and Alt. Rock over a stark yet simple dichotomy of tempo and dynamic. Lyrically, continuity considered, the track ends this EP well. Instrumentally, the chosen arrangement more that suits this but I can't help but feel a pang for something considerably more tenacious.
At least for myself, this understandable criticism was mostly then debunked. This is not a straight running release. High Visions have never been "about" such and with each release, become less so. The token characteristics are indeed well executed and wouldn't be quite so tall without the overarching commitment to emphatically baring their all so intrinsically. Despite these stark, consistent and ambitious deviations prompting uncertainty unto what was next not once was I not enthralled by this EP. In a short, barely more succinct array of words, High Visions and A First Date With Imposter Syndrome are more than apart of this scene via a set of rules the very product of their own volition.
A First Date With Imposter Syndrome is out now via INiiT Records with all proceeds going towards the Black Visions Collective. Find them below!
Updates:
Music:
INiiT Records:
Black Visions Collective: