Fake News – Gold Coast, Queensland, Australia.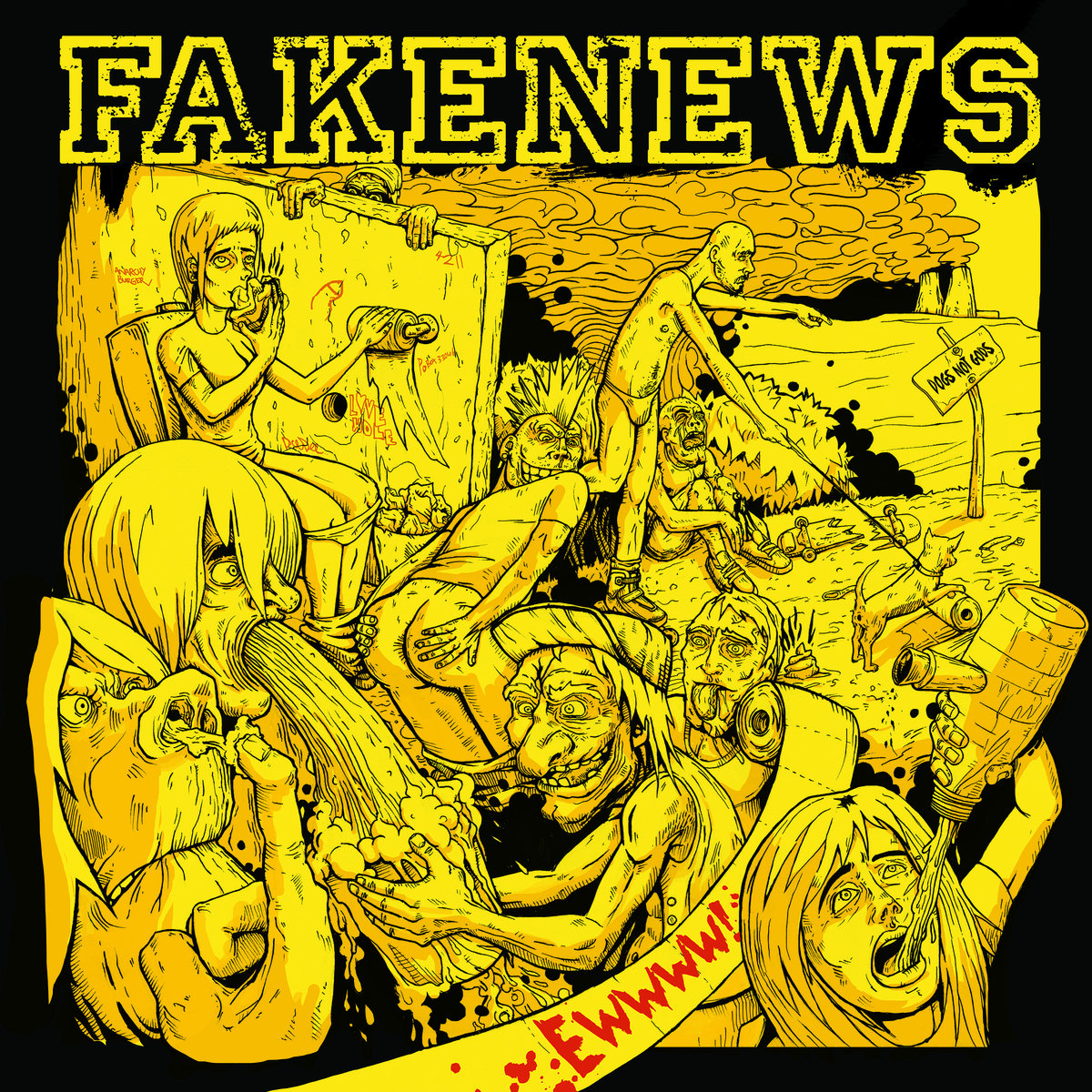 In the interest of both saving time, doing a band justice and in the fashion of how this EP sounds, I'll get straight to the point. Hailing from the Gold Coast and playing a Skate Punk sound healthily infected with both classic Hardcore Punk and the driven melodic variant of the early 2000's, Fake News very much aren't their name sake, rather are up-tempo fucking-loud news.
EWWWW! begins via fast, classic Melodic Hardcore with soaring melodies running parallel in a race for supremacy against a looming threat from anthemic Skate Punk. This is until the chorus where the anthemic penchant of Fake News supplants the jagged Hardcore-roots just enough for it's message to be heard.
'Backwards Hats and Black T-shirts' rolls out and 'Lead Balloon' rolls in. It is here that both facets of Fake News' sonic output realise they are better together and that walls are a little archaic and should not stop the fair free movement… of sound. 'Lead Balloon' is laden with soaring Skate Punk melodies, vintage shedding, layered vocals and more than welcome gang vocals. And if that wasn't enough, from the 2:24-2:38 mark, Fake News give way to Hardcore Punk lovingly broken up by some stellar, jagged contemporary Skate Punk.
If by now you have hankering for some Pulley, Ten Foot Pole or Strung Out style melodic Punk-Rock then 'South Lamar' is the refrain from the previous onslaughts. Stylistically the pure Skate Punk of 'Tiny Chin Guitars' is immensely satisfying but within it's lyrically content however it is utterly biting and painstakingly real in it's portrayal of mental health.
'A Trip To Toowoomba to Pick up Cat' I'm sure has an interesting story but overall stands as the under one minute classic Hardcore track of the release we all knew was coming. – 'Drove up the mountain and back down again A trip to Toowoomba to pick up a cat'.
'20 Failures' carries all the hallmarks of Fake News but follows this lighter more late 90's, early 2000's sound lovingly plied with classic Pop-Punk melodies just enough for it to be noticed as the band sing of the infamous writers block. '20 Failures' is another excellent standalone track and maintains the record well but if I'm honest, for this reviewer it's very much the "good track" on an excellent release. See what you think.
'The Long Haul' is slower, emotive and brooding. I say slower but within the context of the band rather than anything outside of contemporary Punk and Hardcore. 'The Long Haul' takes the band's jagged guitar work and in places experiments a little more with Post-Hardcore in a way that leaves them sounding akin to what a turbo-charged Dag Nasty – a band who weren't exactly slow – would sound like.
EWWWW! by Fake News is by far one of the best Punk EPs I have heard this year and that is not something said lightly. It might even be Fake News.
It's not and it's not is out now via Set The Fire Records AU (Australia).
Updates:
Music:
Set The Fire Records Australia: