Douglas Firs – Portsmouth, England, United Kingdom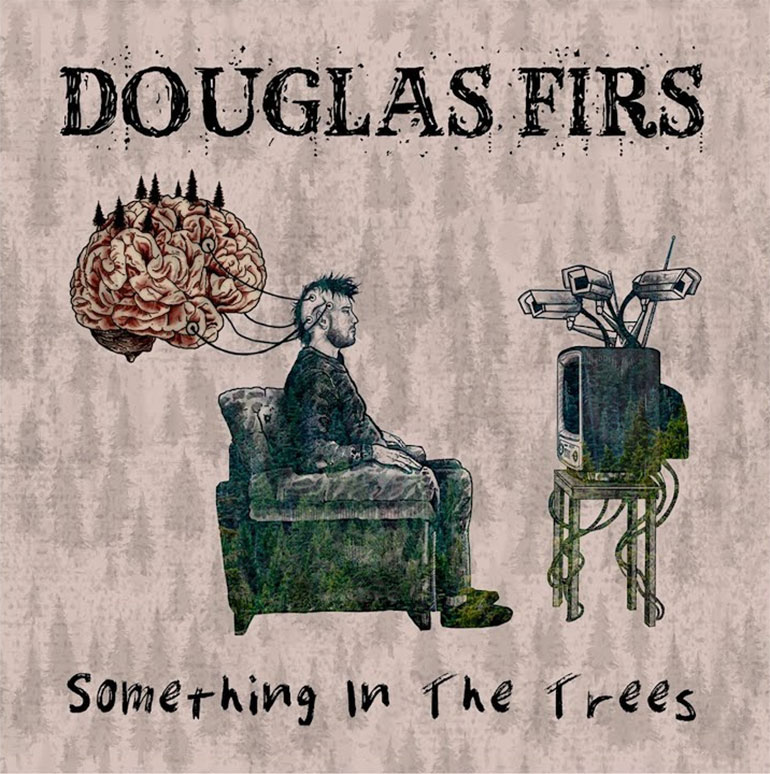 Douglas Firs with Something In The Trees emerged from the audio-terra-firma sometime in early 2021, after previously knocking around, sprouting and making use of the comparatively easier but still dwindling photosynthesis of the before-fore times. The world is invariably fucked but that doesn't mean there isn't any pleasure to be taken from music. Punk-Rock, if you're inclined, fills that void with its societal intro and extrospection alike.
Now, the Douglas Firs are sadly not four sentient trees able to converse (albeit slowly) and upheave the very foundation of self-aggrandising and hubris-engulfed white men with beards. However, they are a Punk-Rock band. One with a genealogy comprised of UK names you will know. Sombulance, Captain Trips and Fenside make up these familial links to UK fast Punk. So, Douglas Firs and Something In The Trees, shall we? To Portsmouth!
After a soft, playful Jazz intro that ends on quite the foreboding and juxtaposing note, Something In The Trees stirs. The eponymous single then furthers this juxtaposition with its grounded, jabbing and aggressive rhythmic verses. This bottom layer is rounded and separated from the harmonic and classic Pop-Punk-esque choruses depicting a dangerous, heavily surveillanced and exploited truth with a brilliantly deployed lead. Track two constantly cycles from a deep rumbling Melodic Hardcore-esque edge to this harmonic ease speaking of our grim reality. 'Mutiny' then completely alters proceedings in the starkest and most confident way. The band's lineage from Sombulance speaks for its harder, heavier and aggravated self but the band are also easily comparable to the likes of Strung Out.
This latter comparison echoes the seminal band's own ease at transitioning from abrasive, tightly wound Metal onward to a seamless melodic Punk. However, just as a hybridised, Metal-infected Skate Punk plays out the last of 'Mutiny', the band lighten the mood with 'Millhouse Tonight'. A rambunctious technical lead meaders and pervades a 0:39 '90s-spun classic Punk track that proves it really is coming up Millhouse. Jokes aside, 'Body On The Tracks' returns to the form you'd expect from a band with such credentials. Douglas Firs encroach on the harmonic territory of The Human Project and match the tightly layered standard of UK fast and technical Punk. It is easy to see then, why the band chose it for the album's mid-point.
There is no hiding from the fact that on Something In The Trees, Douglas Firs are disjointed and challenging. However, as much as this is true, there is a resounding confidence. 'Death Music' is one of these very intentional teases whilst also eluding to a wide array of influences. The 1:01 dulcet ebb of track six segues into a powerfully metallic Alternative Rock prior to a jagged, precision-cut of latter '90s Skate Punk in a poignant display where the tale and mood of the track equates its musical backing with undebatable synchronicity.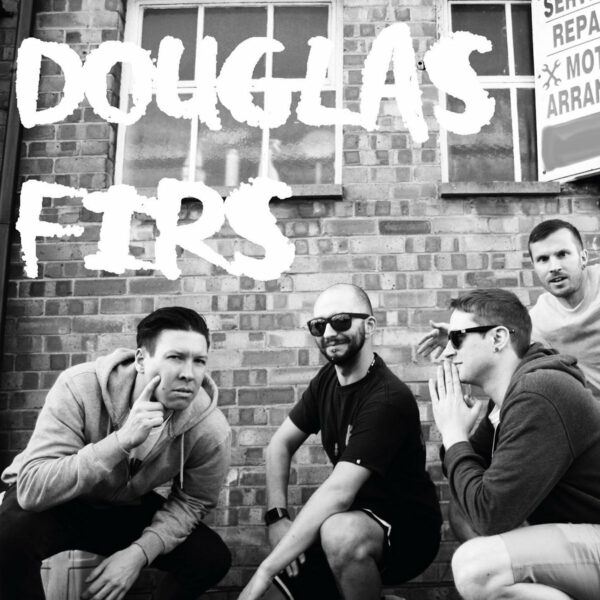 No one likes ants, or rather the prospect of an invasion of the impressively industrious beings. However, the 'Giant Ants' of Something In The Trees may well work their way in for the Strung Out (or Propagandhi for that matter) fans reading this and (soon to be) listening to this album. 'Pool Cue In The Brain' then deviates again in favour of a bout of almost New York Hardcore. This sudden injection of Hardcore Punk, though not entirely unexpected, further displays and consolidates the voracious variety of the four-piece.
The perpetual question of "whatever next" is then answered with the Post-Hardcore-inflection of 'Dear John Mcclane'. This full embodiment of a stylistic that has been waiting in the wings for so long, marks nine's fervent existentialism as another highpoint on a record that refuses to comply to any one epoch. Douglas Fir's brooding, compressed and violent metallic edge populates 'Dear John Mcclane' as much as the band's penchant for harmonic melody, with the latter treading on some unexpected and very wiggly Math Rock-toned toes. That, and an effervescent charge of metallic Skate Punk to close. Obviously.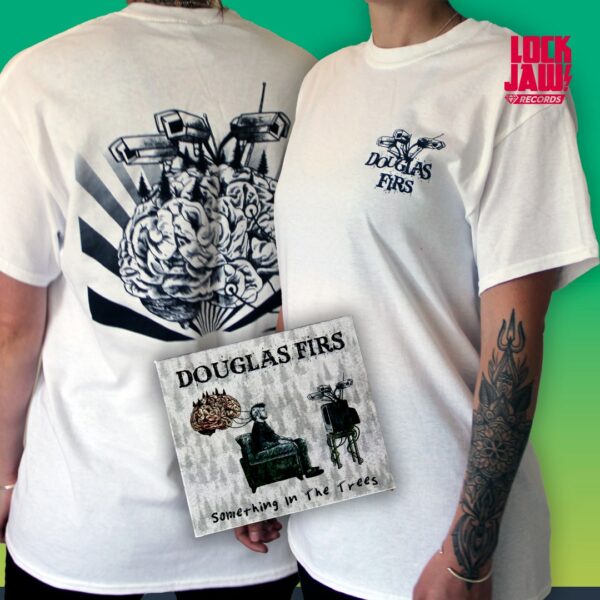 'E.S.R' navigates its way from melodic '90s Skate Punk with its clever metallic nuances to an unquestionably UK-centric gruff and melodic Punk. The objective power of Something In The Trees lies in its ability and transient variety from not only track to track but within each individual effort. At any stage, you can hit play on any of the eleven and you'll hear another unquestionably natural band. One strong enough to mislead you into believing a different stylistic underpin at nigh-on every point. This is a pure-as-any testament to the skill of the Douglas Firs.
'Swan Song', featuring one Maddie Christy of Bath's All Smiles In Wonderland (Here) and Safe With Sound (Here) closes this debut full-length. For a band as harmonic as the Douglas Firs, the addition of a third voice box adds an even greater depth. 'Swan Song' is defiant, well humoured and focused on the act of "letting it fall" as much as it is encouraging self-reparation. The cleverly sardonic line 'this is our swan song, shut your mouth don't singalong' is but one of many lyrically entertaining, resonant and clever lines from a song on an album in complete equation of the same.
Douglas Firs and Something In The Trees is a challenge. That much is true. However, it is one that beams boldly at you the whole time and provides a much-needed nuance to fast melodic UK Punk. That said, no one really cares what I think.
Updates:
Music:
Physical Copies & Merch: